Treatment
Approach Considerations
As a rule, the presence of an abscess is an indication for incision and drainage. Watchful waiting while administering antibiotics is inadequate. Clinical suspicion of anorectal abscess warrants aggressive identification and surgical incision and drainage. Delaying surgical intervention results in chronic tissue destruction, fibrosis, and stricture formation and may impair anal continence. Simple perianal abscesses may be treated in the emergency department (ED); more complex perirectal abscesses are treated by an experienced surgeon in an operating room.
Some surgeons advise performing a complementary colostomy to facilitate management of complex anal fistulas. This may be of some benefit in selected cases, but the perirectal infection may continue despite a diverting colostomy. Adequate drainage of the abscess is the most important factor in controlling progressive perirectal infection.
A patient with a perirectal abscess should be admitted to the surgical service unless other medical conditions or complications from the abscess necessitate a primary medical admission, with the surgeon acting as a consultant. Consider admitting a patient with a perirectal abscess to a medical service with the surgeon as a consultant should be considered if the patient is elderly, febrile, hypotensive, or immunocompromised or has significant comorbidities.
Transfer, if warranted, may be safely carried out if the patient is hemodynamically stable. Instability resulting from a concurrent condition or sepsis makes transfer to another institution inappropriate (and possibly illegal under the Emergency Medical Treatment and Active Labor Act [EMTALA]) unless transfer to allow delivery of a higher level of care is in the patient's best interest.
Guidelines for the management of anorectal abscess have been published by the American Society of Colon and Rectal Surgeons (ASCRS), [22] as well as by the World Society of Emergency Surgery (WSES) and the American Association for the Study of Trauma (AAST). [32] (See Guidelines.)
Pharmacologic Therapy
The need for routine use of antibiotics in patients with anorectal abscesses has not been established; they have not been shown to improve healing times or reduce recurrence rates. In most of these patients, therefore, adjuvant medical therapy with antibiotics is considered unnecessary. However, concomitant use of antibiotics may be warranted in patients with conditions such as the following [1] :
Systemic inflammatory response or sepsis

Extensive cellulitis

Diabetes

Immunosuppression

Heart valve abnormalities or prostheses
Predisposing or comorbid factors may guide empiric antibiotic selection. If antibiotics are considered, the increasing prevalence of methicillin-resistant S aureus should be taken into account; according to a 2009 study, both vancomycin and trimethoprim-sulfamethoxazole provide excellent coverage. [9]
Surgical Intervention
Preparation for surgery
Because of the acute nature of anorectal abscesses, preoperative bowel preparation is not possible and typically is unnecessary.
Tetanus immunity status should be ascertained. When acceptable immunity cannot be established, the currently recommended guidelines for high-risk wounds should be followed.
Adequate analgesia before aspiration is mandatory. Lidocaine 2% with epinephrine injected subcutaneously over and around the periphery of the abscess and intramuscular (IM) or intravenous (IV) narcotics are recommended. Ethylene chloride spray applied to the suspected area immediately before aspiration may also help decrease the discomfort of aspiration. The cooling effect of ethylene chloride renders pain receptors temporarily unable to transmit pain signals to the cerebral cortex.
Conscious sedation is also an option if the physician is trained and prepared to manage the airway. If this route is taken, cardiac monitoring, pulse oximetry, and airway management equipment must be available, including suctioning devices, bag-valve-mask, and endotracheal intubation equipment. This technique should be used only by physicians highly skilled in cardiac and airway management.
Management of abscess
Treatment of anorectal abscesses involves early surgical drainage of the purulent collection. [33, 34, 35, 36, 37, 38, 39] Primary antibiotic therapy alone is ineffective in resolving the underlying infection and simply postpones surgical intervention. Any delay in surgical intervention prolongs infection and augments tissue damage, and it may impair sphincter continence function and promote stricture or fistula formation. The ability to drain an anorectal abscess depends on patient comfort and on the location and accessibility of the abscess.
When the abscess is perianal or superficial, drainage can usually be accomplished in the office or ED with local anesthesia. A small incision is made over the area of fluctuance; to shorten the length of any fistula that may form, the incision should be made as close to the anus as is compatible with safety. [1] Pus is collected and sent for culture. Hemostasis is achieved with manual pressure, and the wound is packed with iodophor gauze.
After 24 hours, the gauze is removed, and the patient is instructed to take sitz baths three times a day and after bowel movements. Postoperative analgesics and stool softeners are prescribed to relieve pain and prevent constipation. Typically, the patient follows up with the physician in 2-3 weeks for wound evaluation and inspection for possible fistula-in-ano. (A short fistula-in-ano coursing through a minimal amount of external sphincter is best treated with a fistulotomy.)
The formation of fistulous tracts (see below) is an important potential complication of anorectal abscess drainage. The type of organism cultured from an anorectal abscess is an important predictor of fistula formation after surgical incision and drainage. Underlying anal fistulas are present in 40% of abscess cultures that are positive for intestinal bacteria; however, cultures growing Staphylococcus species are associated with perianal skin infections and typically indicate that there is no risk of subsequent fistula formation.
Treatment of ischiorectal, intersphincteric, and supralevator abscesses typically requires general or regional anesthesia. To drain an ischiorectal abscess, a cruciate incision is made at the site of maximal swelling. Pus is drained and cultured. The ischiorectal fossa is probed with a finger or hemostat to disrupt loculations and facilitate drainage. Placement of a drain is indicated only for the management of complex or bilateral abscesses.
To drain an intersphincteric abscess, a transverse incision is made in the anal canal below the dentate line posteriorly. The intersphincteric space is identified, and the plane between the internal and external sphincters is exposed. The abscess is opened to allow drainage, and a small mushroom catheter is sutured in situ to assist drainage and prevent premature wound closure.
The optimal drainage technique for a supralevator abscess is determined by the location and etiology of the lesion. Failure to take the primary etiology into account in the management of a supralevator abscess may lead to iatrogenic fistula formation. Evaluation with magnetic resonance imaging (MRI) or computed tomography (CT) can exclude intra-abdominal or pelvic pathology as possible sources.
If the supralevator abscess evolved from the extension of an ischiorectal abscess, external drainage through the ischiorectal fossa would be indicated. If the abscess resulted from an upward extension of an intersphincteric abscess, appropriate drainage would be created through the rectal mucosa.
In cases of posterior supralevator abscess collections, a transverse incision is made in the posterior anal canal below the dentate line. The dissection extends from the intersphincteric plane through the puborectalis sling and into the posterior anal space. A mushroom catheter is then sutured in place to ensure adequate drainage.
Anterior supralevator abscesses are superficial and are more common in women than in men. Surgical drainage may be accomplished via an anteriorly directed transanal incision or by way of a transvaginal approach entering the posterior cul-de-sac. A mushroom catheter is placed to ensure adequate drainage of the abscess collection. Patients with systemic signs of toxicity are admitted to the hospital and treated with IV antibiotics.
If the patient's clinical condition does not improve over the following 24-48 hours, reevaluation of the supralevator abscess by means of CT or reoperation may be indicated. Some patients with recurrent, severe supralevator abscesses may require a diverting colostomy for optimal management. [40]
Management of fistula
Although the anal fistula has been reported since the time of Hippocrates, there is little systematic evidence to establish optimal management. Different treatment modalities have been evaluated in more than 400 reported trials. Approaches that have been researched include the following:
Fistulotomy versus fistulectomy

Marsupialization

Glue therapy

Anal flaps

Radiosurgical approaches

Fistulotomy/fistulectomy at time of abscess incision

Intraoperative anal retractors
Two reported meta-analyses compared incision and drainage alone with incision plus fistulotomy. Evidence suggests that after fistulotomy, marsupialization reduces bleeding and permits faster healing. Results from small trials indicate that healing rates after flap repair may be no worse than those after fistulotomy, though this has not yet been proved. [42] Failure rates may be higher when flap repair has been combined with fibrin glue treatment of fistulas. [43]
Radiofrequency fistulotomy results in less pain on the patient's first postoperative day and may permit faster healing. [44] However, a great deal is not yet understood about surgical treatment of anal fistulas. [36]
Decisive management of anal fistulas relies on therapeutic interventions. Healing rarely is spontaneous, and failure to achieve adequate treatment often results in recurrent abscess, persistent drainage, and even malignancy. The main paradigms to follow in the management of anorectal fistulas include the following:
Determine the anatomy of the fistula

Provide adequate drainage

Eradicate the fistula tract

Prevent recurrence

Preserve sphincter function (preservation depends on maintaining the integrity of the anorectal ring)
Once the external opening of the anorectal fistula has been identified and the surrounding tissue has been palpated, probing of the fistula tract is warranted. To prevent formation of false channels, aggressive probing is discouraged. By using a blunt probe (eg, a small lachrymal probe), the internal origin of a primary fistula can be identified in the majority of cases.
When one is searching for a fistula tract's opening in the anal canal, the Goodsall rule is an excellent guideline. This rule states that an external opening anterior to a transverse line drawn across the anal verge is associated with a straight radial tract into the canal, whereas an external opening posterior to the transverse line follows a curved fistulous tract to the posterior midline rectal lumen (see the image below). Horseshoe fistulas occasionally are associated with anterior and posterior openings in the anal canal.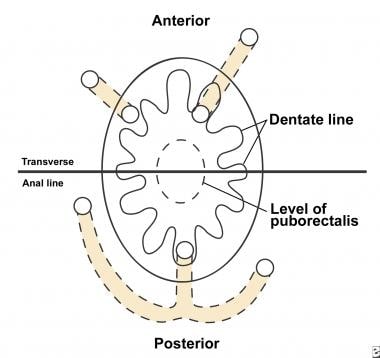 Goodsall rule for anorectal fistulas. Note curved nature of posterior fistulas and radial (straight) orientation of anterior fistulas.
Treatment options for the management of fistulas are aimed at providing definitive therapy while minimizing the morbidity of the procedure. For example, two widely accepted treatment interventions are fistulectomy (removing the entire fistula tract along with the surrounding scar tissue) and fistulotomy (unroofing the tract without excising all surrounding tissue).
Studies have demonstrated that fistulectomy results in a larger wound, prolonged healing time, and higher risks of incontinence. As a result, the more conservative procedure, fistulotomy, is usually preferred; it decreases the risk of incontinence and fistula recurrence and also shortens wound healing time. Fistulotomy is performed as a primary procedure for superficial fistulas that require minimal dissection of the fistula from the surrounding sphincter musculature.
In contrast, simple fistulotomy is contraindicated as primary treatment of high-level (ie, transsphincteric and suprasphincteric) fistulas. For high-level fistulas, the use of loose setons is warranted to reduce the risk of incontinence or in cases where poor wound healing is anticipated.
Setons may also be used as temporary initial intervention in the management of a fistula. A seton is a nonabsorbable nylon or silk suture that is guided through the fistula tract and tied exteriorly, in this way compressing and maintaining suture placement in the tract. A soft vessel loop may also be used for seton placement. The seton suture must be left in place for a prolonged period (weeks to months).
The ischemic compression created by the seton and the local inflammatory reaction of adjacent tissues initiate fibrosis. Once fibrosis of the surrounding tissue develops, it helps to maintain the integrity of the sphincter musculature during subsequent fistulotomy. Setons often are used in patients with fistulas secondary to inflammatory bowel disease (IBD). In addition, setons allow epithelialization of the fistulous tract, thereby preventing secondary closure and facilitating the drainage of abscesses.
Another commonly used type of seton is the cutting seton, which can be used to gradually transect the anal sphincter musculature underlying the fistula by externally tightening the suture to induce pressure necrosis. Typically, the seton must be retightened over a period of several days; this can be done in the outpatient setting. Use of a cutting seton may eliminate the need for subsequent fistulotomy. Whereas the cutting seton can be an effective therapeutic option for high-level fistulas, it is contraindicated in patients with IBD.
Other treatment modalities include resection with coverage by advancement tissue flaps (used for more complex cases) and placement of a bioprosthetic fistula plug (made of porcine submucosa). The plug technique is indicated in selected cases with long fistulous tracts; the success rate is variable (50-70%).
Patients with anal fissures can be treated with topical nifedipine gel and onabotulinumtoxinA injections. Occasionally, sphincterotomy (incision of the lateral internal anal sphincter) may be necessary.
Postoperative Care
Postoperatively, analgesics are given for pain, and stool bulking agents and stool softeners are given to prevent constipation. After appropriate wound care, patients may be discharged home with instructions for sitz baths and routine follow-up. Adequate outpatient analgesia (eg, codeine with acetaminophen or an oxycodone-containing compound) should be provided. Outpatient antibiotics may be indicated and are best chosen on the basis of culture and sensitivity testing of pathogens derived from the abscess.
Consultations
Simple perianal abscesses can generally be managed in the ED. When the diagnosis of a more complex perirectal abscess is made or is being entertained, however, expeditious consultation with a surgeon is mandatory. Timely and appropriate operative treatment prevents more serious complications, such as extension of the abscess or serious systemic infection. Appropriate surgical treatment of perirectal abscess should not be undertaken in the ED. General or spinal anesthesia is necessary to obtain the optimal result.
Long-Term Monitoring
An otherwise healthy patient with a simple isolated perianal abscess may be treated in the ED with incision and drainage and released with timely follow-up care. If inpatient surgical treatment is required, surgical follow-up is necessary; acute abscesses recur in 10% of patients, and chronic fistula-in-ano may occur in as many as 50%. [1] Typically, the patient follows up with the physician in 2-3 weeks for wound evaluation and inspection for possible fistula-in-ano.
If any unusual symptoms arise, such as persistent pain or fever, patients should be advised to return immediately to the ED or to another provider.
What would you like to print?