Presentation
History and Physical Examination
The clinical presentation of perianal granuloma may vary widely, ranging from asymptomatic with minimal physical signs to recurrent or persistent problems that are highly distressing. Manifestations of disease may range from an asymptomatic nodule to a simple fistula or a draining sinus to the complex presentations of multiple, draining fistulas or sinuses and wide involvement, with undermining of previously normal tissues. [20]
Crohn disease
In about 9% of patients with Crohn disease (CD), anorectal manifestations are the first indication of the disease (see the images below). The lesions are usually abscesses or fistulas and may be solitary or multiple, simple or complex. Crohn fistulae may look relatively indolent in comparison with the more typical chronic fistula-in-ano. [21, 22]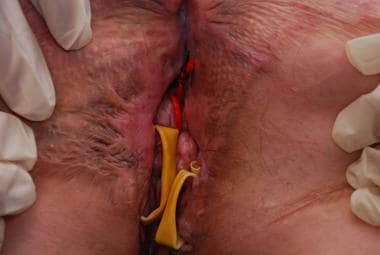 Perianal granuloma and multiple fistulous tracts in patient with severe perianal Crohn disease. Note noncutting seton in place.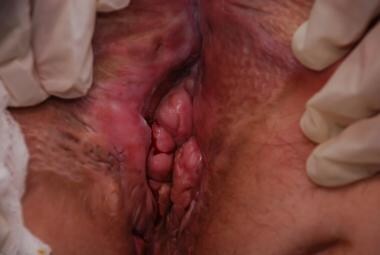 Perianal granuloma in patient with severe perianal Crohn disease.
Tuberculosis
Anorectal tuberculosis often manifests as complex fistulous disease that has not been sufficiently well managed by initial surgical therapy. Approximately 10% of patients with anorectal tuberculosis have active pulmonary tuberculosis as well, and nearly all of the remaining patients have evidence of old pulmonary tuberculosis on chest radiographs. [23] The diagnosis of tubercular anorectal disease should be considered whenever anorectal fistulas or abscesses heal poorly or recur after initial therapy.
Most cases of anorectal tuberculosis are primary presentations, though secondary infection of the pilonidal sinus has been reported. The most frequent presentations are suppurations and fistulae, but the disease can also present as anal pain, fever, weight loss, or perianal nonhealing ulcers. [18]
The typical histologic lesion is the epithelioid and giant cell tubercle around a zone of caseous necrosis, but the pathognomonic presence of caseation is not constant and presents a diagnostic challenge, especially in cases of coexisting CD with perianal localization. [24]
Other
The remaining causes are clarified with the help of tissue biopsies for histopathologic, serologic, and other special testing.
What would you like to print?