Workup
Laboratory Studies
In general, for all patients diagnosed with proctitis, a routine workup should be performed to rule out infectious etiologies. The laboratory workup includes stool cultures, ova and parasite analysis, and fecal smears.
In patients at risk, obtain and send an anorectal swab for gonococcal, chlamydial, and herpes simplex viral proctitis. Darkfield microscopy and Venereal Disease Research Laboratory (VDRL)/rapid plasma reagin (RPR) tests should be performed for suspected syphilitic proctitis. Additional tests (eg, polymerase chain reaction [PCR], serologic studies, and nucleic acid amplification tests [NAATs]) may be performed, depending on the suspected etiology.
If the patient is immunocompromised, perform fungal and viral cultures. (Note that fungal and viral anorectal infections are rare in the immunocompetent population.)
Regarding pseudomembranous proctitis or colitis due to C difficile, send the stool for C difficile toxin titers for any patient with a history of current or recent use of antibiotic usage. This must be sent three times to ensure an accurate result; many of the tests have a sensitivity of only 60%. Sending the collection and cultures in accordance with the laboratory specifications is important because the specifications may vary from hospital to hospital.
Entamoeba histolytica is diagnosed by finding the amoeba in the stool; one must send three stool samples for the analysis to be valid. In addition, serologic tests exist, including indirect hemagglutination, indirect electrophoresis, and an enzyme-linked immunosorbent assay (ELISA).
Imaging Studies
Generally, no imaging studies are needed if the inflammation is known to be limited to the rectum and the anus. However, if the possibility of inflammatory bowel disease (IBD; that is, either Crohn disease or ulcerative colitis) or ischemia exists, then further imaging studies may be necessary.
If Crohn disease is a possibility, a contrast upper gastrointestinal (GI) radiograph with a small bowel follow-through may reveal terminal ileal disease and jejunal ileal strictures. A baseline computed tomography (CT) scan of the abdomen and pelvis may also show enteroenteric fistulas and bowel wall thickening consistent with Crohn disease.
In infectious colitides, if the patient has been admitted to the hospital, a CT scan may be obtained, which may show colonic and rectal wall inflammation. This may help in determining the diagnosis.
In ischemic proctitis, a CT scan of the abdomen and pelvis with oral and intravenous contrast is obtained. The most common finding is mural thickening confined to the rectum and the sigmoid colon, which is associated with perirectal fat stranding.
Endoscopy
The diagnostic procedure of choice for patients with proctitis and anusitis is endoscopy, including anoscopy, sigmoidoscopy (rigid or flexible), and colonoscopy. (See the image below.) These tests allow the provider to view the mucosa of the anus and rectum as well as the area above the rectum into the sigmoid. In addition, tissue biopsies may be taken with these procedures. A full colonoscopy is recommended for patients with proctitis; biopsy specimens obtained from the right side of the colon may show hallmarks of IBD, such as cell metaplasia.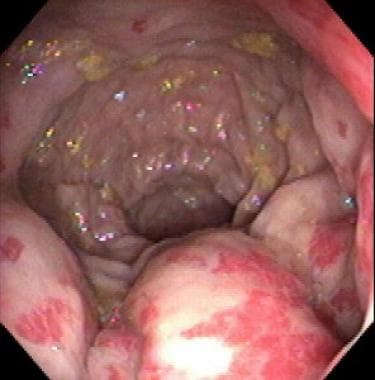 Proctitis seen on flexible endoscopy.
Histologic Findings
Histologic findings are usually consistent with inflammation. However, detailed histology leading to the etiology is often not possible. Severe inflammation destroys the specific histopathologic findings of other diseases, such as IBD or C difficile infection.
Regarding infectious etiologies, diversion colitis, or radiation proctitis, the inflammatory histology is not pathognomonic. The one exception is cytomegalovirus colitis in patients who are immunocompromised, in which inclusion bodies may be seen.
What would you like to print?