Workup
Approach Considerations
No specific laboratory test includes or excludes the diagnosis of inferior vena cava (IVC) thrombosis (IVCT), though evaluation of the clotting and fibrinolytic systems and assessment of the thrombin antagonists may be helpful.
The ideal imaging modality to help diagnose an IVC anomaly must have high diagnostic accuracy and also be safe and reproducible. It is difficult to establish a diagnosis of any IVC anomaly by means of ultrasonography (US). However, various clues are recognized on radiologic imaging that could help diagnose an absent IVC or anomaly.
One of the more common and helpful clues is well-developed and possibly dilated intrathoracic hemiazygos or azygos continuations. These collateral circulations, as well as other retroperitoneal venous pathways, are usually well developed before symptoms present. [44] However, plain radiography should not be used as a primary diagnostic tool.
The most reliable noninvasive methods for establishing a diagnosis of IVC anomalies are computed tomography (CT) with intravenous (IV) contrast and magnetic resonance imaging (MRI). CT, unlike US, is a good imaging modality for the retroperitoneal space. [45] Another accurate, albeit more invasive, imaging modality is venography, which is particularly useful if any surgery is planned.
Although other modalities may have a more primary role, IVCT may still be diagnosed intraoperatively in patients who were treated with laparotomy for their primary problem.
IVCT remains a challenging process to diagnose and treat. Opinions differ among critical care physicians, surgeons, radiologists, and other physicians regarding the optimal diagnostic study for this condition.Technologic advances in US, endovascular US (EVUS), CT, and MRI, as well as endovascular procedures, have increased the detection rates of vena cava anomalies and venous thrombosis. [46] Bilateral lower-limb venous duplex US coupled with MRI is an optimal noninvasive approach in most patients. [47] However, the current general consensus is that contrast venography remains the criterion standard.
Go to Deep Venous Thrombosis for more complete information on this topic.
Laboratory Studies
Assessing the clotting and fibrinolytic systems may be helpful. Confounding factors include variations caused by heparin and warfarin therapy, and dynamic factors involved with acute thrombosis may also alter measured parameters because of the active consumption of factor by the thrombus.
Gayer et al recommended that all patients with an IVC anomaly be screened for a thrombophilic disorder. [14] In their series, seven of nine patients with an IVC anomaly and deep vein thrombosis (DVT) had a positive thrombophilic screen. Thus, protein C, protein S, antithrombin III, and anticardiolipin studies may all be helpful, but many of these assessments can only be made after the fact.
However, there have been three case reports in the English-language medical literature of thromboembolism due to an IVC anomaly (absence of the infrarenal portion of the IVC, infrarenal IVC hypoplasia), in which the thrombophilic screen was negative in all cases. [48, 49, 50] It was hypothesized that multiple emboli from DVT in the common and superficial femoral veins migrated through the well-developed hemiazygos or azygos system to the pulmonary circulation.
Contrast Venography
This imaging modality is the criterion standard for diagnosis of DVT. Two access sites may be required to document the extent of a thrombus in situations of IVC occlusion by clot. However, the caudal extent of the clot may be overestimated because of preferential flow into collaterals.
Advantages of contrast venography include the following:
Limited false-positive study results

Access for therapy, thrombolytic agents, or caval interrupting device

Access for pulmonary angiography (if indicated)
Disadvantages of this technique include the following:
Invasiveness

Possible need for more than one puncture

Possibility of postprocedural DVT
Duplex Ultrasonography
Advantages of duplex US include the following:
Noninvasiveness

Portability

Efficacy in helping diagnose DVT at the femoral level and, to some extent, at the distal iliac level

Possible ability to help in visualizing dilated collaterals

Possibly more accurate assessment of the extent of thrombus than venography
Disadvantages of this imaging modality include the following:
Operator dependence

Anatomic limitations

Less reliable diagnosis within the abdomen because of greater difficulty in assessing venous compressibility

Loss of respiratory phasicity above the renal veins because of retrograde transmission of the cardiac cycle through the valveless IVC
Go to Bedside Ultrasonography for more complete information on this topic.
Computed Tomography
CT scans are often obtained as part of the diagnostic evaluation for the primary process (eg, malignancy). The use of IV contrast materials is typically required. Pseudothrombosis, particularly of the infrarenal IVC, is generally thought to result from the variable amounts of contrast in the cava above and below the renal veins. It may also result from collapse of the IVC at the diaphragm when patients are supine.
The very limited data from the literature suggest that, in cases of an absent IVC in young people (in some data, patients younger than 30 years; in other data, patients aged 20-40 years), an abdominal CT scan should be performed (see the images below). False-positive study results sometimes occur.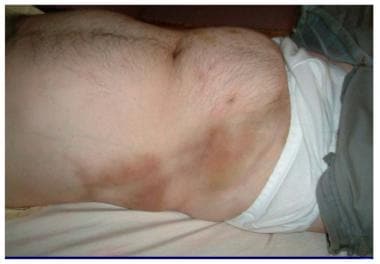 Photo showing dilated superficial abdominal veins (upper quadrant), with bruising and thrombosed large abdominal veins (lower quadrant).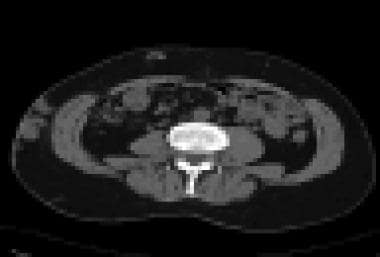 Abdominal CT scan shows absent inferior vena cava with thrombosis of very prominent collateral veins in the abdominal wall, corresponding to right side of abdomen as seen in earlier photo.
Magnetic Resonance Imaging
MRI allows examination in multiple planes and estimation of the thrombus age. Reconstructive imaging technology can generate images similar to those seen with venography.
Advantages of MRI include the following:
Noninvasiveness

Lack of any ionizing radiation

Ability to help determine the proximal extent of thrombosis
Disadvantages of this imaging modality include the following:
Cost

Less accessibility

Possibility that turbulent flow may be read falsely as a clot
What would you like to print?