Workup
Laboratory Studies
The diagnosis of a thymoma usually is clinically based on radiologic findings. Laboratory studies generally are not indicated.
Imaging Studies
Radiography
Posteroanterior (PA) and lateral chest radiographs can detect most thymomas. On the PA view, the lesion typically appears as a smooth mass in the upper half of the chest, overlying the superior portion of the cardiac shadow near the junction of the heart and great vessels.
The mass usually projects predominantly into one of the hemithoraces. On the right, the silhouette sign is present and the ascending portion of the aortic arch is obliterated. Conversely, if the thymoma is on the left, the silhouette sign is obscured and the aortic knob is identified behind the mass.
Computed tomography
Computed tomography (CT) may delineate a mass further or may detect a smaller tumor that was missed by radiography (see the image below). Chest CT is the imaging procedure of choice in patients with myasthenia gravis (MG). Thymic enlargement should be determined because most enlarged thymus glands visualized on CT represent thymomas.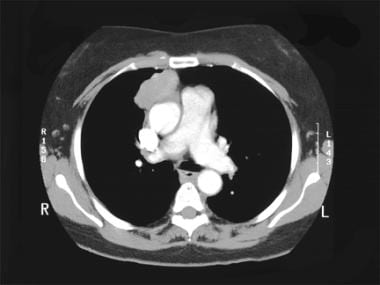 CT scan clearly illustrates mass in right anterolateral mediastinum.
CT with intravenous contrast dye is preferred to show the relations between the thymoma and surrounding vascular structures, to define the degree of its vascularity, and to guide the surgeon in removal of a large tumor, possibly involving other mediastinal structures.
Positron emission tomography
A case report found positron emission tomography (PET) to be invaluable in confirming the diagnosis of an invasive malignant thymoma. [5] Although CT revealed evidence of an anterior mediastinal mass, PET showed a hypermetabolic mass consistent with this location, thereby raising suspicion of malignancy. Subsequent resection of the mass revealed a minimally invasive thymoma due to capsular invasion. PET should be added to the armamentarium as an available diagnostic modality to aid in staging and excluding extramediastinal involvement. [5]
Fine-Needle Aspiration and Biopsy
If a patient presents with atypical features or is found to have an invasive tumor and is under consideration for induction therapy, a preoperative biopsy is indicated. The limited anterior mediastinotomy (Chamberlain approach) is the standard approach that typically is performed over the projection of the tumor. A thoracoscopic approach for biopsy also can be used.
Controversy exists over the efficacy of fine-needle aspiration (FNA). FNA has been reported by some to be beneficial in making the diagnosis of a thymoma. Performing a core biopsy in conjunction with FNA is a modality that can increase the accuracy with which thymomas can be differentiated from other neoplasms, such as lymphomas and germ cell tumors.
Histologic Findings
Traditionally, thymomas have been classified into three histologic types according to the cell type that is predominant—lymphocytic, epithelial, or lymphoepithelial. A pathologic classification was developed by the World Health Organization (WHO). In a study conducted in Japan between 1973 and 2001 of a series of 100 resected thymomas, prognostic categories were distinguished by using this WHO classification (see Table 2 below). [6]
Table 2. World Health Organization (WHO) Pathologic Classification and Associated Prognostic Categories (Open Table in a new window)
Type

Histologic Description

Disease-Free Survival at 10 years,* %

A

Medullary thymoma

100

AB

Mixed thymoma

100

B1

Predominantly cortical thymoma

83

B2

Cortical thymoma

83

B3

Well-differentiated thymic carcinoma

35

C

Thymic carcinoma

28

*Series of 100 thymomas resected in Japan between 1973 and 2001 using WHO classification. [6]
Staging
The Masaoka system is the most commonly accepted staging system for thymomas (see Table 3 below).
Table 3. Masaoka Staging System of Thymomas and Corresponding Therapy (Open Table in a new window)
| | | |
| --- | --- | --- |
| Stage | Definition | Treatment |
| I | Encapsulated tumor with no gross or microscopic invasion | Complete surgical excision |
| II | Macroscopic invasion into the mediastinal fat or pleura or microscopic invasion into the capsule | Complete surgical excision and postoperative radiotherapy to decrease the incidence of local recurrence |
| III | Invasion of the pericardium, great vessels, or lung | Complete surgical excision and postoperative radiotherapy to decrease the incidence of local recurrence |
| IVA | Pleural or pericardial metastatic spread | Surgical debulking, radiotherapy, and chemotherapy |
| IVB | Pleural or pericardial metastatic spread | Surgical debulking, radiotherapy, and chemotherapy |
See Thymoma Staging for more information.
What would you like to print?