Presentation
History and Physical Examination
The classic presentation of a benign salivary gland tumor (SGT) is a painless, slow-growing mass on the face (parotid; see the first image below), the angle of the mandible (parotid tail, submandibular gland), the neck (submandibular gland; see the second and third images below), or the floor of the mouth (sublingual gland). One may also appreciate medialization of the palatine tonsil in cases of tumor originating in the deep lobe of parotid and extending into the parapharyngeal space.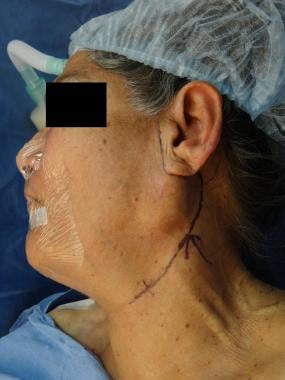 Parotidectomy. Left parotid mass; preoperative marking of modified Blair incision on skin.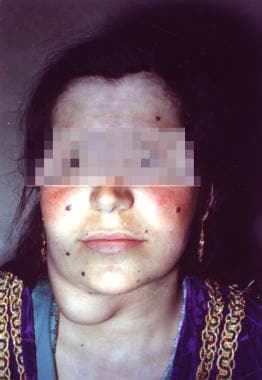 Right submandibular benign salivary gland tumor in 42-year-old woman.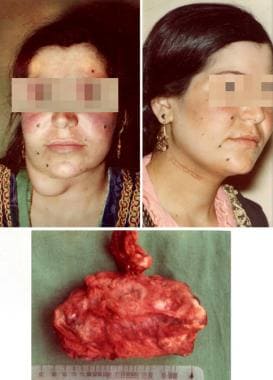 Pictures before (above, left) and after (above, right) treatment for benign mandibular gland tumor. Specimen picture of gland (below).
A sudden increase in size may be indicative of infection, cystic degeneration, hemorrhage inside the mass, or malignant degeneration. In contrast to malignant SGTs, benign neoplasms are slow-growing, are almost always freely mobile and not fixed to the skin, and generally do not cause neural palsies (facial nerve dysfunction, pain, hoarseness, etc). [9]
Tumor Classification
Tumors of the salivary glands are classified on the basis of their cytologic, architectural, and biologic characteristics. The 2017 World Health Organization (WHO) classification of head and neck tumors groups SGTs into the following five categories [1] :
Benign tumors (see below)

Nonneoplastic epithelial lesions (sclerosing polycystic adenosis, oncocytic hyperplasia, lymphoepithelial sialadenitis, intercalated duct hyperplasia)

Benign soft-tissue lesions (hemangioma, lipoma, nodular fasciitis)

Hematolymphoid tumors (mucosa-associated lymphoid tissue [MALT] lymphoma)
The 2017 WHO classification of benign SGTs is detailed in Table 1 below. [1]
Table 1. World Health Organization Classification of Benign Salivary Gland Tumors (Open Table in a new window)
Pleomorphic adenoma
Warthin tumor
Oncocytoma
Basal cell adenoma
Myoepithelioma
Lymphadenoma
Cystadenoma
Sialadenoma papilliferum
Ductal papillomas
Sebaceous adenoma
Canalicular adenoma and other ductal adenomas
Pleomorphic adenoma
Pleomorphic adenomas (benign mixed tumors) are the most common tumors of the salivary gland and are most often located in the tail of the parotid gland. When they are found in the minor salivary glands, the hard palate is the site most frequently involved, followed by the upper lip. (See the images below.)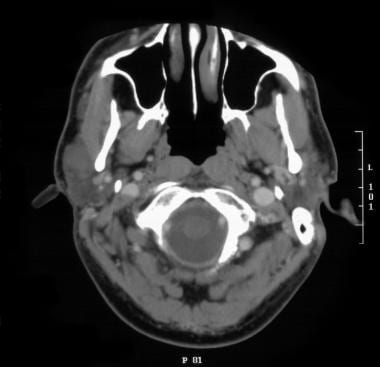 Note 12-mm right parotid, smoothly marginated, multilobulated, solid lesion, without focal calcification or necrosis. This was proven to be pleomorphic adenoma.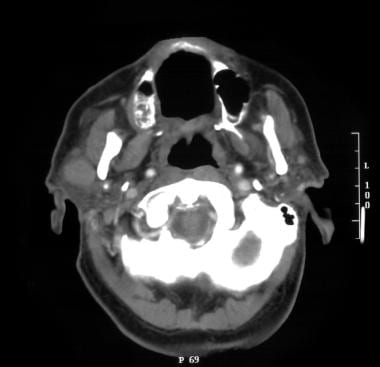 Note 2- × 1.5-cm uniformly enhancing, smoothly marginated mass in superficial right parotid gland without necrosis or calcification, which is consistent with epithelial neoplasm such as pleomorphic adenoma.
These tumors were termed pleomorphic because of the epithelial and connective tissue components that compose them in varying degrees. Their gross appearance is a round, smooth mass with a thin, delicate, incomplete capsule. Notably, pleomorphic adenomas that arise in the minor salivary glands usually lack a capsule.
These tumors grow slowly, though they may become larger than other SGTs. The thin, delicate capsule may have pseudopod projections into the surrounding parotid tissue. This is of particular clinical significance because obtaining clean margins and avoiding spillage are mandatory to minimize recurrence.
Microscopically, benign mixed tumors are characterized by variable and diverse structural histologic patterns. Frequently, they have growth patterns of sheets, strands, or islands of spindle and stellate cells, with a myxoid configuration occasionally predominating. Treatment of benign neoplasms involves the complete surgical excision of the affected gland. If the parotid gland is involved, superficial parotidectomy with standard facial nerve dissection and preservation is the procedure of choice. Enucleation is contraindicated because of the tendency toward tumor spillage and recurrence.
Warthin tumor
Warthin tumor (papillary cystadenoma lymphomatosum or adenolymphoma) was first recognized by Albrecht in 1910 and later described by Warthin in 1929. In gross appearance, it is a smooth, soft parotid mass. It is well encapsulated when located in the parotid gland and contains multiple cysts.
Histologically, the Warthin tumor has a heavy lymphoid stroma and aciniform epithelial cells that line the cystic areas with papillary projections. Malignant transformation is exceedingly rare, and surgical excision is typically curative, with an excellent prognosis. The Warthin tumor tends to be bilateral in 10% of cases and is usually found in the major glands.
Oxyphilic adenoma (oncocytoma)
Oxyphilic adenoma (oncocytoma) was first described by Duplay in 1875. Oncocytomas of the salivary glands are very uncommon. Such neoplasms occur more often in women than in men, with a female-to-male ratio of 2:1. Patients are older than 50 years, and the superficial lobe of the parotid gland is the most commonly reported location. Oncocytomas rarely, if ever, occur in the minor salivary glands. They manifest as small (< 5 cm in diameter), firm, slow-growing, spherical masses. Bilateral oncocytomas of the parotid glands have been described.
Histologically, oncocytomas are large and spherical and have a distinct capsule. Uniform cells are arranged in solid sheets. These tumors recur if excision is incomplete; with complete excision, the prognosis is excellent. [10]
Myoepithelioma
Myoepitheliomas are much less common benign tumors that originate as a monomorphic cell type. These tumors may display a spindle pattern of growth, a plasmacytoid pattern, or a combination of the two. Any recurrence after surgical excision is typically the result of incomplete resection, and the prognosis is generally very favorable.
Ductal papilloma
Ductal papilloma (DP) is a small, tan, fairly smooth lesion that is usually found in the submucosal layer. Microscopically, DP consists of a cystically dilated duct partially lined with a cuboidal epithelium with complex anastomosing papillary fronds of variable size filling the cystic area. DP of a minor salivary gland is a rare lesion that has been described only in various case reports.
Histologically, the differential diagnosis of DP includes papillary cystadenoma, which is commonly but erroneously diagnosed as DP. In papillary cystadenoma, intraductal hyperplasia occurs, and the dilated duct contains some papillary folds and projections. However, this occurs much less frequently than in DP.
Basal cell adenoma
Most basal cell adenomas arise in the major salivary glands and are composed of basaloid cells with scant cytoplasm. As with other benign monomorphic tumors of salivary gland origin, recurrence is uncommon after appropriate surgical excision, and malignant transformation is very rare.
Other benign salivary gland tumors
Additional benign SGTs include the following:
Lymphadenoma

Cystadenoma

Sialadenoma papilliferum

Sebaceous adenoma

Canalicular adenomas
What would you like to print?