Overview
Background
A digital rectal examination affords access to several key structures (see the image below) and enables an observant clinician to identify several disease processes pertaining to the rectum, the anus, the prostate, the seminal vesicles, the bladder, and the perineum. In females, it can be performed in conjunction with a pelvic examination. Before the advent of serum prostate-specific antigen (PSA) testing in 1986, the digital rectal examination was the sole method of screening men for prostate cancer.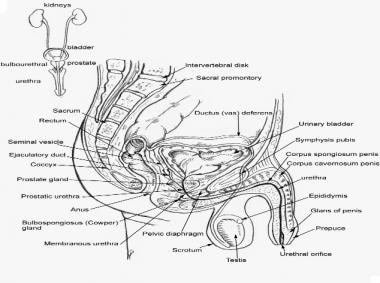 A sagittal midline view of the male pelvic anatomy that may be examined with a digital rectal examination in relation to all surrounding structures.
Indications
A digital rectal examination is indicated as part of a full physical examination and is often incorporated in a focused urologic, gynecologic, gastrointestinal, and neurologic examination. Disease processes that may be investigated with a digital rectal examination include, but are not limited to, the following:
An examination may also confirm proper Foley catheter placement and facilitate placement of rectal tubes and suppository medication. According to the American Urological Association (AUA), a digital rectal examination may be indicated for prostate cancer screening. This is only after discussing and determining the risks and benefits of screening with the patient using the process of shared decision-making.
[3]
Contraindications
Although there are no circumstances in which a digital rectal examination is overtly contraindicated, caution should be exercised in examining infants and young children, and vigorous manipulation, specifically of the prostate, should be avoided in severely neutropenic patients and patients with prostatic abscesses or prostatitis. The old medical adage often holds true: The only reason not to do a digital rectal examination is if the patient is without a rectum or the clinician is without a finger.
Technical Considerations
The examination should be performed with the patient in a safe position in case vasovagal syncope should occur (not an uncommon event, particularly in younger males). Ensuring a safe position may include providing a soft surface and limiting the distance the patient falls if syncope occurs.
If the patient has neutropenia or acute prostatitis and there is a need to check for a fluctuant prostate signifying abscess, antibiotic therapy should be started before the examination and after all cultures are obtained. The examination in a patient with prostatic abscess or acute bacterial prostatitis should be gentle and may consist of nothing more than feeling a hot, boggy prostate with a fingertip, then stopping the examination. Prostatic massage is only rarely indicated in patients without suspected chronic bacterial prostatitis.
What would you like to print?