Presentation
History
Patients with a peritonsilalr abscess (PTA) typically present with a history of acute pharyngitis accompanied by tonsillitis and worsening unilateral pharyngeal discomfort. Patients also may experience malaise, fatigue, and headaches. They often present with a fever and asymmetric throat fullness. Associated halitosis, odynophagia, dysphagia, and a "hot potato–sounding" voice occur.
Many patients present with ipsilateral referred otalgia with swallowing. Trismus (ie, a limitation in the ability to open the oral cavity) of varying severity is present in all cases, reflecting lateral pharyngeal wall and pterygoid musculature inflammation. Because of lymphadenopathy and cervical muscle inflammation, patients often experience neck pain and even a limitation in neck mobility. Clinicians need to be alerted to the diagnosis of a PTA in patients who have pharyngeal symptoms that persist despite an adequate antibiotic regimen.
As the degree of inflammation and infection proceeds, symptoms include progression in the floor of the mouth, the parapharyngeal space, and the prevertebral space. Extension in the floor of the mouth is worrisome because of airway obstruction; the clinician must be aware of an eventual airway emergency.
Physical Examination
The presentation may range from acute tonsillitis with unilateral pharyngeal asymmetry to dehydration and sepsis. Most patients have severe pain. Examination of the oral cavity reveals marked erythema, asymmetry of the soft palate, tonsillar exudation, and contralateral displacement of the uvula (see the image below).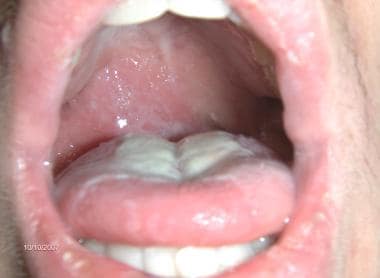 Right peritonsillar abscess. Soft palate, which is erythematous and edematous, is displaced anteriorly. Patient has "hot potato–sounding" voice.
Indications for considering the diagnosis of a PTA include the following:
Unilateral swelling of the peritonsillar area

Unilateral swelling of the soft palate, with anterior displacement of the ipsilateral tonsil

Nonresolution of acute tonsillitis, with persistent unilateral tonsillar enlargement
In a retrospective study from the University of Ottawa, Kilty and Gaboury reported that in 50 adults with PTA, clinical signs that had a significant association with the lesion included uvular deviation, trismus, and inferior displacement of the superior pole of the tonsil on the affected side. [5]
A PTA ordinarily is unilateral and located at the superior pole of the affected tonsil, in the supratonsillar fossa. At the level of the supratonsillar fold, the mucosa may appear pale and even show a small pimple. Palpation of the soft palate often reveals an area of fluctuance. Flexible nasopharyngoscopy and laryngoscopy are recommended in patients experiencing airway distress. The laryngoscopy is key to ruling out epiglottitis and supraglottitis, as well as vocal cord pathology.
The degree of trismus depends on the extent of lateral pharyngeal space inflammation. If it is very marked, one should be concerned about possible lateral pharyngeal space cellulitis. The finding of tender ipsilateral cervical lymphadenopathy involving single or multiple nodes is not uncommon. The affected lymph nodes may be quite firm. In presentations with significant nodal inflammation, the patient may experience torticollis and limitation of neck mobility. A more detailed evaluation is essential if suspicion of an accompanying cervical abscess exists.
What would you like to print?