Overview
Overview
Breast cancers usually are epithelial tumors of ductal or lobular origin. Breast cancers are classified as follows:
Ductal carcinoma in situ (DCIS)

Lobular carcinoma in situ

Invasive ductal carcinoma (ductal breast cancer)

Invasive lobular carcinoma

Medullary carcinoma

Mucinous (colloid) carcinoma

Tubular carcinoma

Papillary carcinoma

Metaplastic breast cancer (MBC)

Phyllodes tumors

Mammary Paget disease (MPD)

Inflammatory breast cancer
The following features are all important in deciding on a course of treatment for any breast tumor:
Size

Status of surgical margin

Presence or absence of estrogen receptors and progesterone receptors

HER2 status

Nuclear and histologic grade

Stage

DNA content

S-phase fraction

Vascular invasion

Tumor necrosis

Histologic grade
Ductal Carcinoma In Situ
Ductal carcinoma in situ (DCIS) is noninvasive breast cancer that is limited to the inside of the ducts of the breast. Increased use of screening mammography has resulted in a dramatic increase in the detection of DCIS. Approximately 64,000 cases of DCIS are diagnosed annually in the United States. Ninety percent of DCIS cases are identified on mammography as suspicious calcifications, with a linear, clustered, segmental, focal, or mixed distribution.
DCIS is categorized as low grade (grade I), intermediate grade (grade II), or high grade (grade III). Grading is based on characteristics of nuclei. Designation as low- and intermediate-grade DCIS implies that the cancer cells are growing at a relatively slow rate. Women with low-grade DCIS are at higher risk of developing invasive breast cancer than women without DCIS, but are less likely to have a recurrence of the breast carcinoma or to develop new cancers than women with higher-grade DCIS.
Low-grade DCIS cells appear very much like normal breast cells or atypical ductal hyperplasia cells. Grade II DCIS cells look less like unaffected cells and grow faster than normal. High-grade DCIS cells are growing rapidly; grade III DCIS has the highest risk of progressing to invasive cancer within the first 5 years after diagnosis.
Review of DCIS by a pathologist can identify prognostic features. Pathologists look at the following four distinct histologic features:
Tumor size

Necrosis presence

Nuclear grade

Width of surgical margin
The Van Nuys Prognostic Index [1] is an attempt to objectively determine the aggressiveness of DCIS and the probability that local recurrence will occur after breast-conserving therapy (surgery). See Table 1, below.
Table 1 The Van Nuys Prognostic Index (VNPI) Scoring System (Open Table in a new window)
Score*

1

2

3

Size

< 15 mm

16-40 mm

> 41 mm

Margins

> 10 mm

1-9 mm

< 1 mm

Pathologic

Classification

Non–high grade without necrosis (nuclear grade 1 and 2)

Non–high grade with necrosis (nuclear grade 1 and 2)

High grade with or without necrosis (nuclear grade 3)

*Scores for tumor size, surgical margin, and pathologic classification are added to produce a total VNPI score of 3 to 9, with increasing scores representing a progressively worse prognosis.
DCIS is divided into comedo (ie, cribriform, micropapillary, solid) and noncomedo subtypes.This division provides additional prognostic information on the likelihood of progression or local recurrence (see the images below). Less common subtypes of DCIS are as follows:
"Clinging" carcinoma in situ

[2]

Intraductal signet ring carcinoma

Cystic hypersecretory duct carcinoma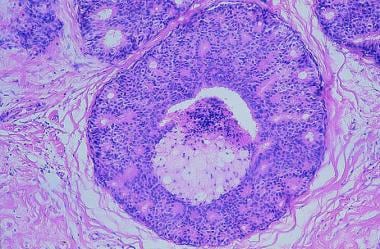 Breast cancer. Intraductal carcinoma, comedo type. Distended duct with intact basement membrane and central tumor necrosis.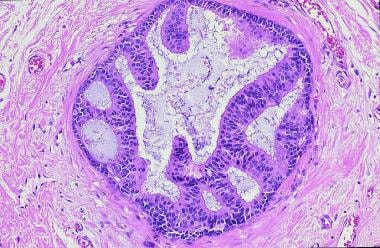 Breast cancer. Intraductal carcinoma, noncomedo type. Distended duct with intact basement membrane, micropapillary, and early cribriform growth pattern
Lobular Carcinoma In Situ
Lobular carcinoma in situ (LCIS) is noninvasive breast cancer that arises from the lobule at the terminal end of the duct and shows a rather diffuse distribution throughout the breast, which explains its presentation as a nonpalpable mass in most cases (see the images below). Over the past 25 years, LCIS incidence has doubled and is currently 2.8 per 100,000 women. The peak incidence is in women aged 40-50 years.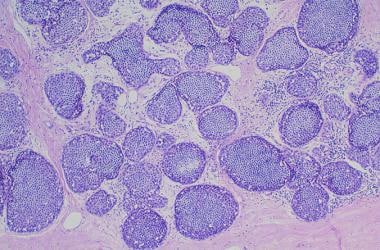 Breast cancer. Lobular carcinoma in situ. Enlargement and expansion of lobule with monotonous population of neoplastic cells.
A study by Tran-Thanh et al found that the prolactin receptor gene is a potentially important target in the pathogenesis and progression of lobular neoplasia. Because this gene was found to be potentially less important in ductal carcinomas, the conclusion is that lobular and ductal carcinomas may evolve along separate pathways [3]
Invasive Carcinoma
Invasive ductal carcinoma
Invasive ductal carcinoma is the most commonly diagnosed breast cancer and has a tendency to metastasize via lymphatics. This lesion, which accounts for 75% of breast cancers, has no specific histologic characteristics other than invasion through the basement membrane of a breast duct, as seen in the image below. This differentiates invasive ductal carcinoma from DCIS, as DCIS remains inside the duct. DCIS is a frequently associated finding on pathologic examination.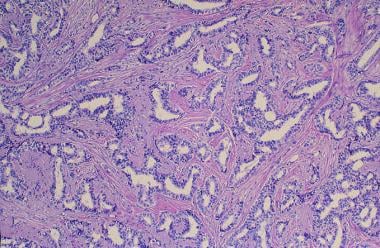 Breast cancer. Infiltrating ductal carcinoma. Low-grade carcinoma with well-developed glands invading the fibrous stroma.
For grading invasive carcinoma of the breast, use of the Nottingham Criteria [4] is recommended by the National Comprehensive Cancer Network [5] and is stipulated by the College of American Pathologists. Separate scores are given for gland (acinus) formation, nuclear atypica/pleomorphism, and mitosis counts. [4]
Gland (acinus) formation is scored as follows:
Score 1: > 75% of the whole carcinoma forming glandular/tubular structures

Score 2: 10-75% of the whole carcinoma forming glandular/tubular structures

Score 3: < 10% of the whole carcinoma forming glandular/tubular structures
Nuclear atypia/pleomorphism is scored as follows:
Score 1: Nuclei small with little increase in size in comparison with normal breast epithelial cells, regular outlines, uniform nuclear chromatin, little variation in size

Score 2: Cells larger than normal with open vesicular nuclei, visible nucleoli, and moderate variability in both size and shape

Score 3: Vesicular nuclei, often with prominent nucleoli, exhibiting marked variation in size and shape, occasionally with very large and bizarre forms
Mitosis counts, which involve a pathologist counting cells with definite mitosis in 10 consecutive fields, result in a score of 1-3.
Final grading results from the addition of all the above, with a total score between the range of 3-9. Scores and grades are as follows:
Total score 3-5 = grade 1

Total score 6 or 7 = grade 2

Total score 8 or 9 = grade 3
Invasive lobular carcinoma
Invasive lobular carcinoma has a much lower incidence than infiltrating ductal carcinoma, constituting less than 15% of cases of invasive breast cancer. It is characterized histologically by the "Indian file" arrangement of small tumor cells (see the image below).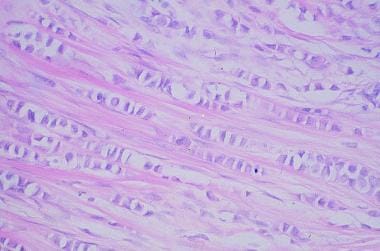 Breast cancer. Invasive lobular carcinoma.
Staining for E-cadherin can add in distinguishing lobular carcinoma from invasive ductal carcinoma. Studies have illustrated a link between cadherin (CDH1) gene and invasive lobular breast cancers, with approximately 50 % of this subtype of breast cancer containing E-cadherin mutations. However, like ductal carcinoma, infiltrating lobular carcinoma typically metastasizes to axillary lymph nodes first. However, it also has a tendency to be more multifocal. Despite that, the prognosis is comparable to that of ductal carcinoma. [1]
Medullary Carcinoma
Medullary carcinomas appear commonly in a younger patient population, and while it is a rare type of breast cancer, it has a higher prevalence in women who have BRCA1 gene mutations. These tumors carry a more favorable prognosis than infiltrating ductal carcinoma. Most patients present with a bulky palpable mass with axillary lymphadenopathy.
Histologically, medullary carcinomas have cells that are poorly differentiated (high grade), grow in a syncytial pattern, and have an intense associated lymphoplasmacytic infiltrate. Medullary breast cancer differs from invasive ductal carcinoma in the following ways [6] :
Younger patient age (47.4% are  <  50 years, versus 28.8% of patients with invasive ductal carcinoma)

A higher percentage of patients are African Americans (21% vs 9.3%)

Higher grade (grade III and IV, 63.8% vs 39.9%)

Larger tumor size (> 2 cm, 51.2% vs 34.9%)

Higher proportion of adjusted American Joint Committee on Cancer (AJCC) 6th edition stage II (54.8% vs 36.8%)

Higher likelihood of negative regional nodes (71.9% vs 65.3%)

More often estrogen receptor (ER) negative (78.5% vs 24.8%)

More often progesterone receptor (PR) negative (81.7% vs 34.4%)
Mucinous Carcinoma
Mucinous (colloid) carcinoma is another rare histologic type, seen in fewer than 5% of invasive breast cancer cases. It usually presents during the seventh decade of life as a palpable mass or appears mammographically as a poorly defined tumor with rare calcifications, and tends to be well circumscribed
Mucin production is the histologic hallmark. Two main forms occur, type A and B, with AB lesions possessing features of both. Type A mucinous carcinoma represents the classic variety with larger quantities of extracellular mucin (see the image below), whereas type B is a distinct variant with endocrine differentiation, with histology showing more granular cytoplasm then type A carcinomas. [7]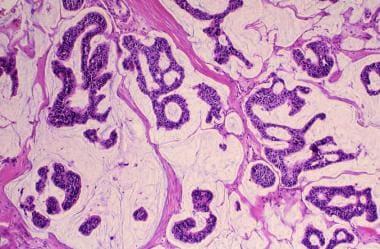 Breast cancer. Colloid (mucinous) carcinoma. Nests of tumor cells in pool of extracellular mucin
Tubular Carcinoma
Tubular carcinoma of the breast is an uncommon histologic type constituting 1-2% of all breast cancers. Characteristic features of this type include a single layer of epithelial cells with low-grade nuclei and apical cytoplasmic snoutings arranged in well-formed tubules and glands.
Tubular components constitute more than 90% of pure tubular carcinomas and at least 75% of mixed tubular carcinomas. This type of breast cancer has a low incidence of lymph node involvement and a very high overall survival rate. Because of its favorable prognosis, patients are often treated with only breast-conserving surgery and local radiation therapy.
Papillary Carcinoma
Papillary carcinoma of the breast encompasses a spectrum of histologic subtypes. There are two common types: cystic (noninvasive form) and micropapillary ductal carcinoma (invasive form). Papillary breast cancer is usually seen in women older than 60 years and accounts for approximately 1-2% of all breast cancers. Papillary carcinomas are centrally located in the breast and can present as bloody nipple discharge. They are strongly estrogen receptor (ER) positive and progesterone receptor (PR) positive.
Cystic papillary carcinoma has a low mitotic activity, which results in a more indolent course and a good prognosis. However, invasive micropapillary ductal carcinoma has a more aggressive phenotype, even though approximately 70% of cases are ER positive. A retrospective review of 1,400 cases of invasive carcinoma identified 83 cases (6%) with at least one component of invasive micropapillary ductal carcinoma.
Additionally, lymph node metastasis is seen frequently in this subtype (70-90% incidence), and the number of lymph nodes involved appears to correlate with survival.
Metaplastic Breast Cancer
Metaplastic breast cancer (MBC) accounts for less than 1% of breast cancer cases, tends to occur in older women (average age of onset in the sixth decade), and has a higher incidence in Black women. It is characterized by a combination of adenocarcinoma plus mesenchymal and epithelial components.
MBC encompasses a wide variety of histologic patterns, including the following:
Spindle-cell carcinoma

Carcinosarcoma

Squamous cell carcinoma of ductal origin

Adenosquamous carcinoma

Carcinoma with pseudosarcomatous metaplasia

Matrix-producing carcinoma
This diverse group of malignancies is identified as a single entity based on a similarity in clinical behavior. Compared with infiltrating ductal carcinoma, MBC tumors have the following characteristics:
Larger size

More rapid growth

Commonly node-negative

Typically ER negative, PR negative, and HER2 negative
Despite the perception of a worse prognosis, treatment is similar to that for other invasive breast cancers.
Phyllodes Tumor
Phyllodes tumors rare tumors of the breast, accounting for less than 1% of breast tumors. The name "phyllodes," which is taken from the Greek language and means "leaflike," refers to the fact that the tumor cells grow in a leaflike pattern. These tumors may be considered benign, borderline, or malignant depending on the following histologic features:
Stromal cellularity

Infiltration at the tumor's edge
Malignant phyllodes tumors behave like sarcomas and are known to metastasize hematogenously. Occurrence is most common in premenopausal women age 40 and 50. The hematogenous spread of this subtype of breast cancer makes wide local excisional biopsy paramount, as chemotherapy or radiation are not effective in recurrent or metastatic disease.
Mammary Paget Disease
Mammary Paget disease (MPD) is relatively rare, constituting 1-4% of all breast cancers. Peak incidence is seen in the sixth decade of life (mean age, 57 years).
This adenocarcinoma is localized within the epidermis of the nipple-areola complex and is composed of the histologic hallmark Paget cells within the basement membrane. Paget cells are large, pale epithelial cells with hyperchromatic, atypical nuclei, dispersed between the keratinocytes singly or as a cluster of cells.
Lesions are predominantly unilateral, developing insidiously as a scaly, fissured, oozing, or erythematous nipple-areola complex. Retraction or ulceration of the nipple is often noted, along with symptoms of itching, tingling, burning, or pain.
Inflammatory Breast Cancer
Inflammatory breast cancer (IBC) is a highly aggressive locally advanced breast cancer. It is rare, comprising only 1 to 5% of invasive breast cancers. Due to its aggressive nature, patients often have lymph node involvement and distant metastatic disease at the time of presentation. IBC is characterized by diffuse erythema and edema (peau d'orange) involving a third or more of the skin of the breast (see the image below).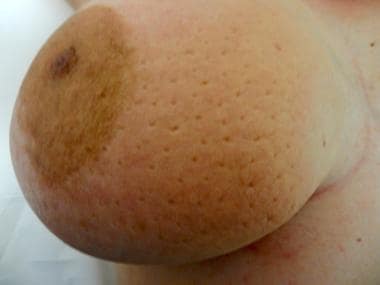 Inflammatory breast cancer illustrating the classical peau d'orange of involved skin. Courtesy of Dr Giorgio M Baratelli, Radiopaedia.org, rID 43353.
The classic histologic finding in IBC is dermal lymphatic invasion by tumor cells on skin punch biopsy of the affected breast. These malignant cells form tumor emboli (see the image below), which are responsible for both the local signs and clinically inflammatory symptoms. Despite these common histologic findings, IBC is a clinical diagnosis characterized by erythema and edema of a third or more of the skin of the breast.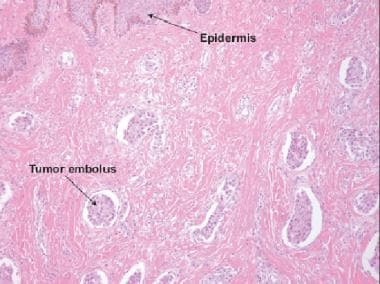 Histologic section of an inflammatory breast cancer specimen. Courtesy of Sofia D Merajver, MD, PhD.
What would you like to print?