Presentation
History
Typically, the symptoms of an anal fissure are relatively specific, and the diagnosis can often be made on the basis of the history alone. However, like other common benign anal pathologic conditions, anal fissure is sometimes misdiagnosed or mistaken for another condition of this type. [3]
Typically, the patient reports severe pain during a bowel movement, with the pain lasting several minutes to hours afterward. The pain recurs with every bowel movement, and the patient commonly becomes afraid or unwilling to have a bowel movement, leading to a cycle of worsening constipation, harder stools, and more anal pain. Approximately 70% of patients note bright-red blood on the toilet paper or stool. Occasionally, a few drops may fall in the toilet bowl, but significant bleeding does not usually occur with an anal fissure.
Physical Examination
Initially, the fissure is just a tear in the anal mucosa and is defined as an acute anal fissure. If the fissure persists over time, it progresses to a chronic fissure that can be distinguished by its classic features. The fibers of the internal anal sphincter are visible in the base of the chronic fissure, and often, an enlarged anal skin tag is present distal to the fissure and hypertrophied anal papillae are present in the anal canal proximal to the fissure. (See the images below.)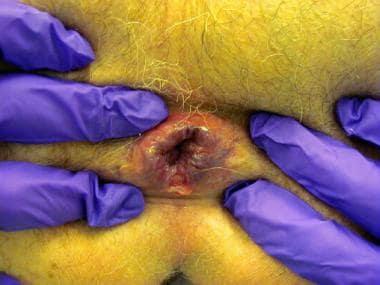 Acute anal fissure.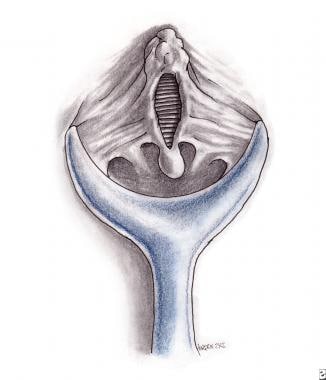 Anal fissure.
Most anal fissures occur in the posterior midline, with the remainder occurring in the anterior midline (99% of men, 90% of women). About 2% of patients have anterior and posterior fissures. Fissures occurring off the midline should raise the possibility of other bowel conditions (eg, Crohn disease), infection (eg, sexually transmitted disease or AIDS [4] ), or cancer.
What would you like to print?