Workup
Approach Considerations
A biopsy should be performed for any lesion suspected of being a cutaneous neoplasm. For most lesions, the biopsy can be readily accomplished in the clinic, under local anesthesia. The type of biopsy used depends on the size of the lesion.
In advanced-stage cSCC, CT scanning or MRI can be helpful in defining the extent of disease. CT scanning is useful for determining the presence of bone or soft tissue invasion and for evaluating cervical lymph nodes at risk for metastasis. For evaluation of perineural invasion and orbital or intracranial extension, MRI is the preferred imaging modality (see the images below).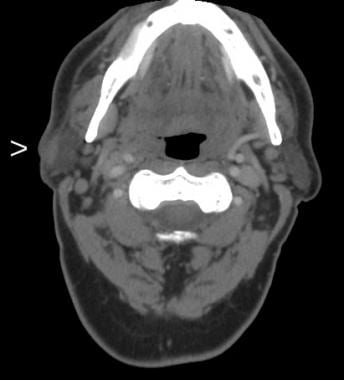 Contrast-enhanced, axial computed tomography (CT) scan of a patient with soft tissue invasion of the right parotid gland (arrow) by an ulcerative cutaneous squamous cell carcinoma.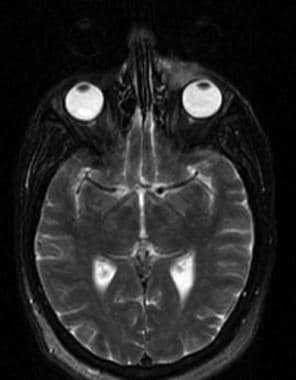 Axial magnetic resonance image (MRI) of a large squamous cell carcinoma of the left lower eyelid with invasion of the anterior orbit.
Biopsy
Small skin lesions in noncritical areas may be amenable to excisional biopsy, in which the entire area of concern is removed. This method has the benefit of being diagnostic as well as potentially therapeutic, without the need for a second procedure.
For larger lesions or those located in cosmetic or functionally critical areas, confirming the diagnosis is often preferable before embarking on surgical excision that may be extensive and require reconstruction. In these cases, an incisional or punch biopsy should be performed initially, with further treatment based on the pathology results.
Whichever biopsy method is chosen, the following principles should be observed:
The biopsy should contain the full thickness of the skin in order to evaluate the depth of the lesion; therefore, a shave biopsy is generally not recommended when malignancy is suspected

The biopsy should be centered over the transition point between normal and involved skin, thereby providing a reference for comparison by the pathologist

When possible, incisions should be made parallel to the natural lines of skin tension (Langer lines) for optimal cosmetic outcome

For punch biopsies, stretching the skin perpendicular to the Langer lines creates an ellipse oriented in this optimal direction and facilitates closure
Rarely, cutaneous squamous cell carcinoma (cSCC) presents as a parotid or neck mass, because of lymphatic spread from an occult cutaneous lesion or remotely treated skin cancer (see the image below). The median time from initial treatment to presentation with a parotid or neck mass ranges from 10 to 13 months. Fine-needle aspiration biopsy can be of assistance in the evaluation of any mass suspected to represent occult metastasis.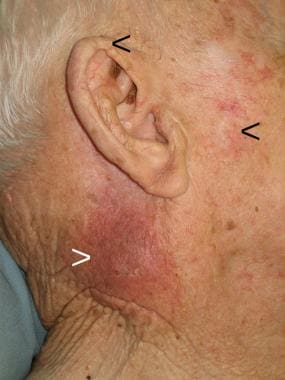 Preauricular and helical scars (black arrows) from prior excisions are noted in a patient who presented with cervical metastases (white arrow) from an occult cutaneous squamous cell carcinoma.
Staging
TNM staging system
Like many cancers, cSCC is classified according to the American Joint Committee on Cancer (AJCC)/International Union against Cancer (UICC) tumor-node-metastasis (TNM) staging system. This anatomy-based staging system is designed to stratify patients into general prognostic cohorts based on the size and extent of disease.
The TNM staging system for nonmelanoma skin cancers, including cSCC, is as follows (see also Table 1, below) [30] :
Primary tumor (T)
TX: Primary tumor cannot be assessed

T0: No evidence of primary tumor

T1: Tumor 2 cm or less that has fewer than 2 high-risk features

T2: Tumor larger than 2 cm or tumor of any size with 2 or more high-risk features

T3: Tumor with invasion of maxilla, mandible, orbit, or temporal bone

T4: Tumor with invasion of axial or appendicular skeleton or perineural invasion of the skull base
High-risk features include the following:
Hair-bearing lip as primary site

Poorly differentiated histology
Regional lymph nodes (N)
NX: Regional lymph nodes cannot be assessed

N0: No regional lymph node metastasis

N1: Single ipsilateral lymph node metastases ≤3 cm in greatest dimension

N2a: Metastasis in a single ipsilateral lymph node and >3 cm, but ≤6 cm in greatest dimension

N2b: Metastasis in multiple ipsilateral lymph nodes and ≤6 cm in greatest dimension

N2c: Metastasis in bilateral or contralateral lymph nodes and ≤6 cm in greatest dimension

N3: Metastasis in a lymph node and >6 cm in greatest dimension
Distant metastasis (M)
MX: Distant metastasis cannot be assessed

M0: No distant metastasis
Table 1. Stage Grouping (Open Table in a new window)
Stage

Primary Tumor

Regional Lymph Nodes

Distant Metastasis

Stage 0

Tis

N0

M0

Stage I

T1

N0

M0

Stage II

T2

N0

M0

Stage III

T3

N0

M0

T1-3

N1

M0

Stage IV

T4

N0

M0

Any T

N2-3

M0

Any T

Any N

M1
N1S3 staging system
In early 2010, Milross et al proposed an alternative nodal staging system for metastatic cSCC of the head and neck. This system, called N1S3, stages cSCC on the basis of the number (single or multiple) and size (smaller or larger than 3 cm) of lymph nodes involved, as well as incorporating the parotid as one of the regional levels. [45]
The stages of N1S3 are as follows:
Stage I - A single lymph node measuring 3 cm or less

Stage II - A single lymph node greater than 3 cm, or multiple lymph nodes measuring 3 cm or less

Stage III - Multiple lymph nodes greater than 3 cm
The N1S3 system was found to have a significant predictive capacity for locoregional control, disease-specific survival, and overall survival in a group of 215 patients. Testing in a different cohort of 250 patients provided validation of its predictive capacity. [45]
What would you like to print?