Overview
Background
In 1913, Ernest Heller reported the first successful cardiomyotomy for achalasia. [1] He used 8-cm parallel myotomies (anterior and posterior). These were considered extensive, and in 1918, De Brune Groenveldt and Zaaijer described the single incision known today. This transabdominal approach remained the criterion standard in Europe until it was superseded by minimally invasive techniques. [2]
In North America, however, the Heller myotomy approach of choice was via a left thoracotomy after being described in this way by Ellis et al in 1958. Traditionally, no associated antireflux procedure was performed. The transabdominal approach is now the most common way of performing an open Heller myotomy.
Pneumatic dilation, with its 2% risk of perforation, was historically the first choice for achalasia treatment, with surgery reserved for failures. Calcium-channel blockers and long-acting nitrates have been attempted as medical therapy to reduce lower esophageal sphincter (LES) tone but are relatively short-acting, do not improve LES relaxation in response to swallowing, have significant side effects (eg, headache), and have little overall success. Botulinum toxin injections can be temporarily successful, primarily in older patients.
Indications
The primary indication for Heller myotomy is benign achalasia with dysphagia. [3] Achalasia is a relatively rare condition (prevalence approximately 1/100,000 in Western countries [1] ), and the etiology is usually unknown. It consists of a hypertensive, nonrelaxing LES with a hypoperistaltic or aperistaltic esophageal body. [4] (See the image below.)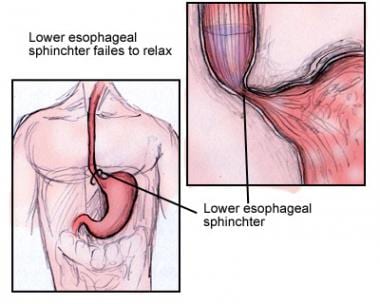 Nonrelaxing lower esophageal sphincter.
The pathophysiology is likely secondary to abnormal innervations (inhibitory nonadrenergic, noncholinergic ganglion cell degeneration, and neural fibrosis) of the myenteric plexus. Concurrent significant decreases in synthesis of nitric oxide and vasoactive intestinal peptide (mediators of relaxation) have been noted. Autoimmune conditions, viral infections, and protozoan infections (eg, Chagas disease from Trypanosoma cruzi in South America) have also been attributed as causes of achalasia.
Presenting symptoms have an insidious onset (usually over a duration of at least 2 years) and include progressive dysphagia, regurgitation, chest pain or heart burn, aspiration, and weight loss. Diagnosis is based on failure of the LES to relax completely with swallowing, confirmed by means of esophageal manometry (the criterion standard), contrast esophagography, or esophagoscopy. The classic description radiologically is a "bird's beak" narrowing of the esophagus observed during contrast esophagography.
Surgery is indicated for the following patients with achalasia:
Young patients (< 40 y) who will require lifelong dilations or botulinum toxin injections

Patients with recurrent or persistent symptoms after multiple nonsurgical treatments

Patients who choose surgery initially

Patients who are at high risk for perforation with pneumatic dilation (previous surgery in the esophagogastric junction [EGJ])
After the need for surgery is determined, indications for open versus laparoscopic approaches are considered (see Technical Considerations).
Contraindications
Heller myotomy is contraindicated in patients with prohibitive surgical risk factors and in those who refuse surgery. Previous pneumatic dilation should not be considered a contraindication for performing Heller myotomy.
Technical Considerations
Procedural planning
Currently, the procedure of choice is laparoscopic Heller myotomy. [5, 6] A laparoscopic approach provides less postoperative morbidity and shorter hospital stays with improved response rates (>90%) as compared with thoracoscopic approaches. [1] The literature also supports laparoscopic over open procedures, with equivalent or better surgical outcomes and superior quality-of-life measures. [7, 8]
The open procedure is reserved for the following special cases:
Patient who has undergone a previous failed Heller myotomy

Cases where a laparoscopic procedure is seen as not feasible

Presence of associated intra-abdominal pathology that is not amenable to laparoscopic treatment
The thoracic approach is recommended when a patient has undergone multiple prior abdominal operations, has had a failed transabdominal myotomy, or has diffuse esophageal dysmotility.
Robotic technology is being investigated for its usefulness in Heller myotomy because of the advantages afforded by its three-dimensional visualization; however, it is costly, and additional study is necessary. [11, 12, 13] Peroral endoscopic myotomy (POEM) is increasingly being used as primary treatment for esophageal achalasia. [14, 15, 16, 3]
Complication prevention
Botulinum toxin injection before the surgical procedure creates fibrosis and increases the risk of mucosal perforation during dissection.
Outcomes
Symptom improvement is reported in an average of 83% of patients undergoing transabdominal open Heller myotomy. [17] Objectively, a 74% decrease in LES pressure was seen. [1] Other sources reported that permanent relief of dysphagia could be expected in 85-100% of patients. [18] One literature review of transthoracic and transabdominal open procedures found that the length of the gastric myotomy did not influence postoperative results. [19] However, performing fundoplication improved both symptomatology and pH monitoring results.
What would you like to print?