Workup
Imaging Studies
The resting electrocardiography (ECG) findings may be normal, but nonspecific ST-T–wave abnormalities are often observed, sometimes in association with the chest pain. Approximately 20% of patients with cardiac syndrome X (CSX) have positive results on exercise tests. However, many patients with this syndrome do not complete the exercise test because of fatigue or mild chest discomfort. Left ventricular function is usually normal at rest and during stress, unlike in obstructive coronary artery disease, in which function often becomes impaired during stress.
Other Tests
Multislice spiral computed tomography coronary angiography, positron emission tomography, and cardiovascular magnetic resonance imaging may become part of the diagnostic algorithm in future.
Along with routine laboratory studies, tests for cholesterol levels and inflammatory markers should be considered.
Procedures
The criterion standard test to evaluate endothelial function is an invasive determination of coronary flow reserve via Doppler guidewire in the cardiac catheterization laboratory (ie, quantifying the coronary blood flow in response to nitroglycerine and acetylcholine infusion) (see image below).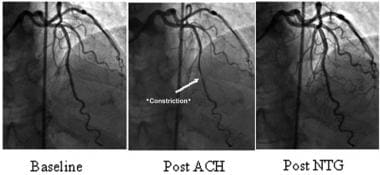 Coronary blood flow in response to nitroglycerine (NTG) and acetylcholine (ACH) infusion.
Although evidence of myocardial ischemia secondary to abnormal coronary reactivity testing can be detected noninvasively via single photon emission computed tomography, positron emission testing, and stress cardiac magnetic resonance imaging (see image below), the sensitivity and specificity of these measures remain incompletely characterized. [32]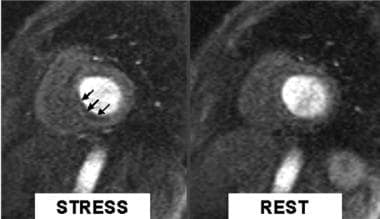 Cardiac magnetic resonance imaging.
What would you like to print?