Overview
Background
Bronchoplasty is a reconstruction or repair of the bronchus to restore the integrity of the lumen. Bronchoplasty, or vascular reconstruction, is a technique in which 2 separate pieces of bronchus or vessels are reanastomosed. The most common indication for bronchospasm is lung neoplasm. [1] Various novel techniques have been used to treat a wide range of pathologic conditions. Bronchoplastic procedures for benign and low-grade malignant tumors of the airway and benign stenosis allow preservation of maximum amount of pulmonary parenchyma (see the image below). [2, 3] Benign and low-grade malignancies require only minimally clear margins for cure and are ideally suited to bronchoplastic resections. In typical lung resection procedures, any airway involved with tumor is resected with its associated lung parenchyma. This results in extensive resections in the setting of central tumors involving the proximal airways. With bronchoplastic techniques, the involved airway may be resected to negative margins and the remaining ends anastomosed, thus preserving the distal lung parenchyma. [4]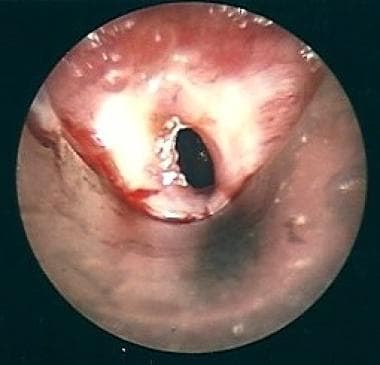 Tracheal stenosis.
Bronchoplastic techniques can also be used to repair traumatic airway injuries and benign strictures.
Types of bronchoplasty
Surgical bronchoplasty
Surgical bronchoplasty involves reconstruction or anastomosis of bronchus after lung procedures such as lobectomy, sleeve resection, wedge resection, and pulmonary artery angioplasty. In its most common form, this procedure involves resection of a portion of the airway without resection of the associated lung parenchyma and reconstruction of the airway with bronchial anastomosis (sleeve resection).
The typical scenario is a centrally located upper lobe lung cancer involving the origin of the right upper lobe bronchus and the origin of the bronchus intermedius. Without use of bronchoplastic techniques, a pneumonectomy would be required, but a right upper lobectomy may be performed with the resection extending to involve the proximal bronchus intermedius and reanastomosis of the right mainstem bronchus to the bronchus intermedius, thus preserving the right lower lobe. Tumors involving the main branches of the pulmonary artery can similarly be resected with pulmonary artery sleeve resection and reanastomosis.
Balloon bronchoplasty
Balloon bronchoplasty involves the use of balloons for symptomatic airway stenosis. Balloon bronchoplasty is a procedure essential to practice of interventional bronchoscopy. It is performed with both flexible and rigid bronchoscopy. This technique is generally used in conjunction with other techniques (eg, electrocautery, stent deployment).
Thermal bronchoplasty or bronchial thermoplasty (BT)
Severe asthmatics have increased airway smooth muscle (ASM) responsible for bronchoconstriction and increased resistance of airway. BT is a novel treatment modality that uses radiofrequency energy to reduce ASM mass and resistance of airway. It is safe, improves quality of life, and decreases severity and frequency of asthma exacerbations. [5]
Indications
Bronchoplasty is indicated for various benign and malignant pulmonary lesions. Surgical bronchoplasties are commonly performed in conjunction with lobectomy, wedge resection, and sleeve resection.
Open
Open bronchoplasty is performed via open thoracotomy or thoracoscopic video-assisted thoracoscopic surgery (VATS). VATS provides adequate visualization despite limited access to the thorax, allowing the procedure to be performed in patients in a state of debilitation and in patients who have marginal pulmonary reserve. [6, 7]
The criteria for VATS lobectomy with bronchoplasty are as follows [6] :
Tumor size less than 5 cm

No evidence of vessel invasion

No direct invasion to the surrounding organs requiring reconstruction

Patient and family agree to procedure
Closed
Closed bronchoplasties are performed via bronchoscope (rigid or flexible) mainly in central airway obstructions. The distribution of pathology for bronchoplastic surgeries are listed below. [2, 3]
Low-grade malignancy(most cases)
Carcinoid (typical/atypical; most common)

Non–small cell carcinoma (NSCLC)
Benign masses
Stenosis
Postinfectious stenosis due to histoplasmosis and bronchial tuberculosis
Balloon bronchoplasty
Balloon bronchoplasty is indicated in central airway obstructive lesions resulting in endoluminal stenosis due to endobronchial carcinoids, sarcoidosis, hamartoma, bronchogenic carcinoma, infections, Wegener granulomatosis, postintubation stenosis, idiopathic or posttraumatic stenosis, granulation tissue, and bronchial strictures after lung transplantation.
Bronchial thermoplasty
Bronchial thermoplasty is used for treatment of patients with symptomatic severe, persistent asthma who are 18 years and older.
Contraindications
Thoracic surgery
Thoracic surgery is contraindicated in the following cases:
Markedly unstable or shocked patient

Poor cardiopulmonary reserve
Video-assisted thoracoscopic surgery (VATS)
VATS is contraindicated for the following:
Extensive adhesions obliterating the pleural space (ie, prior talc pleurodesis, reoperation)

Extensive pleural diseases
Balloon bronchoplasty
Balloon bronchoplasty is contraindicated for the following:
Life-threatening arrhythmias

Recent myocardial infarction or angina
Thermal bronchoplasty
Thermal bronchoplasty is contraindicated for the following:
Patients with a pacemaker, internal defibrillator, or other implantable electronic device

Patient with allergies to lidocaine, atropine, or benzodiazepines

Active respiratory infection

Recent changes in corticosteroid regimen (< 2 weeks)
Technical Considerations
Surgical bronchoplastic procedures represent a fairly safe therapy in patients with centrally localized bronchial carcinoma and compromised pulmonary function. Complication rates are higher after sleeve resection of the bronchus than after wedge resection. [8]
Pulmonary complications, early
Early pulmonary complications include the following:
Excessive bronchial secretions

Erosion and bleeding of vessels

Transient vocal cord paralysis
Pulmonary complications, late
Late pulmonary complications include the following:
Bronchopleural fistulas [9]

Dehiscence of bronchial anastomosis
Cardiac complications
Cardiac complications include the following:
Miscellaneous
Other complications include the following:
Bronchopleural fistula (BPF) is a rare but severe complication that may occur following bronchoplasty. Although the complication rate of BPF after bronchoplasty is low, associated mortality is high. Peng and associates identified the following risk factors for BPF: higher Charlson Comorbidity Index (CCI), history of right middle and/or lower lobectomy, and presence of residual tumor in the bronchial margin. [9]
Balloon bronchoplasty
Balloon bronchoplasty is generally safe, but complications such as chest pain, bronchospasm, airway rupture, pneumothorax, hemothorax, and mediastinitis are possible.
Late complications include recurrent stenosis and stent displacement.
Thermal bronchoplasty
Complications associated with thermal bronchoplasty include a transient and self-limited increase and worsening of respiratory symptoms, atelectasis, hemoptysis, anxiety, headaches, and nausea.
Outcomes
Surgical bronchoplasty
Multivariable analysis demonstrated the following 4 risk factors for poor survival:
Type of bronchoplastic procedure

Presence of cardiovascular risk [11]
For patients with non–small cell lung cancer, 5-year actual survival rates were 60% in stage IB, 30% in stage IIB, and 27% in stage IIIA. [12, 13, 14] Published reports document a 30-day operative mortality of 0-5%. Most major reports document a 5-year survival of 40-50% and functional results that are significantly better than those obtained following pneumonectomy. [15]
Balloon bronchoplasty
Outcomes and survival are excellent. [16]
Bronchial thermoplasty
In a double-blind, randomized, sham-controlled clinical study of bronchial thermoplasty, patients with severe asthma that were treated with bronchial thermoplasty showed improvement on an asthma-related quality-of-life questionnaire (ARQLQ), as compared to control patients, and experienced the following significant benefits that were maintained for at least 2 years:
84% reduction in emergency room visits for respiratory symptoms

73% reduction in hospitalizations for respiratory symptoms

66% reduction in days lost from work or school due to asthma symptoms

32% reduction in asthma attacks
What would you like to print?