Periprocedural Care
Patient Education and Consent
Informed consent should be obtained from all patients. The possibility that a video-assisted thoracoscopic surgery (VATS) procedure may have to be converted to an open thoracotomy should be included in the discussion.
Preprocedural Planning
In the preoperative workup, it is important to find out the cause of the fibrothorax. [1] The two most common causes that lead to fibrothorax in North America are traumatic hemothorax and parapneumonic effusion. [17, 18, 19]
All thoracic surgery procedures carry definite risks as well as benefits. Preoperative identification and amelioration of these risks will enhance postoperative outcomes. Factors that increase postoperative risk include the following:
American Society of Anesthesiologists (ASA) physical status class 2 or higher

[20]

Advanced age

Coronary artery disease (CAD)

Chronic obstructive pulmonary disease (COPD)

Asthma

Emergency procedure

Extensive lung resection

Immunocompromise

Morbid obesity

Prolonged surgery

Extensive bleeding during surgery

Smoking
If any of the above issues are present, it is important to work up the patient to avoid unnecessary complications. Important details in the preoperative workup should include the following:
Thorough history and physical examination

Pulmonary function test

Spirometry

Blood gas

Cardiopulmonary exercise test
Routine pulmonary function tests that must be done for all patients undergoing thoracic surgery include lung volume, lung mechanism, airflow, and gas exchange. These tests can help define the degree of lung dysfunction and help the surgeon stratify the risk.
Pulmonary function testing may reveal moderate-to-severe lung function in patients with fibrothorax. However, these values should not be a contraindication for surgery, because the majority of patients will improve once the peel is removed.
Cardiac workup
It is also important to assess the cardiac risk factors in patients undergoing decortication. Thoracic surgical procedures have the highest incidence of associated postoperative congestive heart failure, arrhythmias, and myocardial reinfarction. A thorough cardiac history is vital in the preoperative valuation of patients, and the findings should be correlated with appropriate physical findings and results of laboratory testing.
Patients who are completely asymptomatic and have no cardiac risk factors for CAD, regardless of age, do not need testing. Patients with symptomatic heart disease or laboratory evidence of a cardiac dysfunction suggestive of cardiac disease need further assessment. If symptoms of cardiac disease are present, stress testing should be considered.
Preoperative education of the patient should include techniques for maintaining good bronchial hygiene. The patient must be taught how to generate an effective cough. Pillows should also be provided to help the patient forcefully exhale.
Diagnostic imaging
The first imaging modality in a patient with suspected fibrothorax or empyema is always chest radiography (see the first image below). However, computed tomography (CT) of the chest (see the second image below) is routine because it offers better resolution and localization and defines the fibrous peel and disease process. CT can also assess the presence of any associated lung disease (eg, pneumonia, bronchiectasis, or cancer).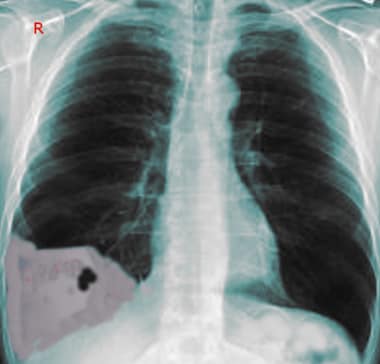 A 23-year-old man with a stab to the right chest presented 1 week later with fever, chills, and dyspnea. The radiograph shows an inflammatory process that did not drain via a needle.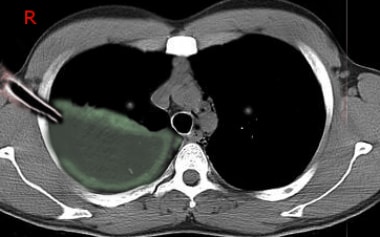 CT scan showing a large collection in the right chest. The collection is surrounded by a thick peel that is typical of empyema.
The presence of other lung diseases, such as tuberculosis or mesothelioma, may play a significant role in surgical decision-making. [1] It is important to rule out cancer in the differential diagnosis of fibrothorax because the treatment approach for a malignant mesothelioma is quite different from that for a benign fibrothorax. [21]
The improvement in shortness of breath, reexpansion of lung, and parenchymal function may be estimated on the basis of the lung function tests and the CT scan. Eventually, it is the surgeon's clinical judgment that plays a key role in the decision whether to perform surgery or to undertake a conservative medical approach.
The majority of early parapneumonic effusions are thin and readily aspirated. In the fibropurulent stage, the fluid becomes viscous, and a chest tube may not always work, especially if the fluid is loculated or there is clotted blood. In such cases, cleaning of the chest can be performed by means of VATS. The thin peel can be removed along with all the debris. This allows the underlying lung to reexpand. [22]
Patient Preparation
The patient is positioned in the lateral decubitus position with the affected side up. An axillary roll is essential, and a sandbag may be used for support. Great care should be taken to pad all pressure points. Both the front and the back of the patient should be supported with a sandbag. Pillows should be placed in between the legs. The patient's entire chest is prepared with povidone-iodine and draped. The draping should be wide enough just in case there is a need for a thoracotomy.
What would you like to print?