Overview
Background
The Ravitch procedure was developed for the surgical treatment of congenital chest-wall deformities, including pectus excavatum and pectus carinatum. These congenital abnormalities are thought to result from abnormal overgrowth of the rib cartilage adjacent to the sternum, displacing the sternum (1) anteriorly, resulting in pectus carinatum; (2) posteriorly, resulting in pectus excavatum; or (3) both anteriorly and posteriorly, resulting in an asymmetric deformity. [1, 2]
Pectus excavatum is usually observed at birth and may become more pronounced when the child experiences rapid skeletal growth during adolescence. The exact mechanism underlying abnormal cartilage growth in pectus deformities is unknown. Familial inheritance patterns are present in 37% of cases. [3] Most of the remaining cases are idiopathic. [4]
Pectus deformities are also known to be associated with connective-tissue diseases, including Marfan syndrome and Ehlers-Danlos syndrome, and can be associated with other skeletal abnormalities, including scoliosis and Poland syndrome. [5]
The goal of the Ravitch procedure is to remove abnormal rib cartilage while preserving the perichondrium, allowing regrowth of rib cartilage to the sternum in a more anatomic fashion. [6] (See the image below.) Other key elements of the operation include performing a sternal osteotomy to allow redirection of the sternum and stabilization of the sternum with a metal bar, when necessary. Safe performance of concomitant cardiac surgery, if necessary, appears to be possible. [7]
In Ravitch repair, deformed cartilage anchoring sternum is removed, and sternum is stabilized with metal bar.
The Nuss procedure is a minimally invasive alternative to the Ravitch procedure for the treatment of pectus deformities. It involves only internal bracing without resection of the abnormal cartilage. A study of the procedural preferences of 135 patients with pectus excavatum found that 62.2% preferred the modified Ravitch procedure and 37.8% the Nuss procedure; it thus appears desirable for surgeons to be experienced with both. [8]
Indications
Indications for surgical correction of congenital chest-wall deformities include cosmetic, psychosocial, and physiologic reasons. Despite the obvious deformity, the majority of patients have no symptoms except for embarrassment. Palpitations, exertional dyspnea, fatigue, and chest pain are reported symptoms attributed to pectus deformities in some patients. [9]
Some patients have reported exercise intolerance and increasing limitations in physical activity, which they attribute to their chest deformity. Other patients with pectus excavatum have been shown to have a dynamic restrictive pulmonary process. [10] That said, controversy over the association of pectus deformities with cardiopulmonary compromise still exists. There does not appear to be any correlation between the pectus deformity and the presence of symptoms.
Pectus deformities are often associated with body-image issues, especially for patients in their teenaged years, and these issues can predispose patients to psychological distress. For the most part, patients seek surgical care because of the poor cosmesis. (See the image below.) Surgical repair of pectus deformities has been shown to improve both physical limitations and psychosocial well-being in children. [11, 12] Improved physical ability after repair may be more a psychological response than a physiologic change.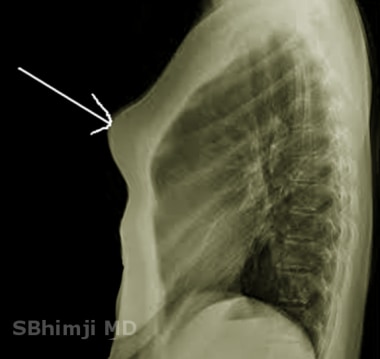 Male with pectus carinatum. Patient was bothered by poor cosmesis but was reluctant to undergo surgery.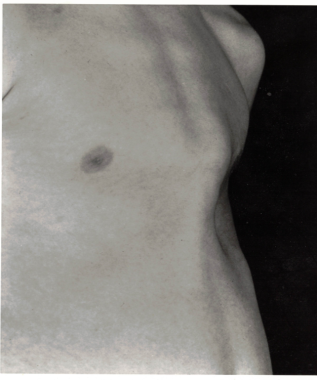 Teenaged male with pectus carinatum deformity. Because patient had no obvious symptoms, it was decided to simply observe him.
The Ravitch procedure is best done in young children since the skeleton and ribs are pliable and complaint. The procedure is more difficult in the older patient because of the stiffness of the sternum and the adjoining ribs.
Contraindications
Contraindications for the Ravitch procedure are patient-specific and are related to operative risk.
Patients need to be realistic because the surgery may not completely reverse the pectus deformity and because recurrences are not uncommon.
Technical Considerations
Procedural planning
Sternal stabilization bars of all sizes should be available in the operating room prior to the incision. A chest tube kit should be available in the event of iatrogenic pneumothorax during the dissection; the tube may be placed at the conclusion of the case.
Typing and crossmatching should be performed in order to ensure that crossmatched blood is available in the operating room before incision. Otherwise, no specific laboratory tests are needed preoperatively or postoperatively unless otherwise dictated by the patient's specific clinical situation.
If the patient has cardiopulmonary symptoms, pulmonary function testing is indicated, as well as echocardiography, arterial blood gas evaluation, and computed tomography (CT) of the chest. Consultation with a pulmonary expert, a cardiology expert, or both is helpful in such cases.
Complication prevention
One of the most common complications after the Ravitch procedure is seroma formation. For this reason, a drain can be left under the subcutaneous flaps to allow egress of fluid, which may otherwise accumulate. Antibiotics to cover skin flora should be given within 1 hour of incision.
Outcomes
Intraoperative iatrogenic pneumothorax occurs in as many as 3% of cases and is managed with tube thoracostomy at the conclusion of the operation.
In the immediate postoperative period, the most common complication is seroma formation. [2, 4] For this reason, a drain may be left under the skin flaps at the end of the operation and is removed before patient discharge.
The Ravitch procedure is associated with less postoperative pain than the Nuss procedure is. [7, 13] However, a meta-analysis of 19 studies (N = 1731) found that the postoperative length of stay (LOS) was similar for the two procedures and that the Nuss procedure (n = 989) was associated with shorter operating times and less blood loss than the Ravitch procedure (n = 742). [14]
Long-term patient satisfaction with cosmetic outcome is generally very good. [2, 4]
Rarely, complications that warrant operative revision result from displacement of the sternum or gross infection that necessitates incision and drainage. [4] Recurrence has been reported in 3-10% of patients. [2, 3, 10, 15, 16, 17] The Nuss procedure can be performed for recurrent pectus excavatum, regardless of the technique used for the initial repair; however, the Ravitch procedure is still a useful approach for severe recurrences involving sternocostal junction abnormalities and cartilage regrowth under the sternum. [18, 19]
Instances of fracture of the titanium bars used in a modified Ravitch procedure have been reported. [20]
Toci et al assessed outcomes in 290 adults undergoing Ravitch (n = 53) or Nuss procedures (n = 237) for pectus excavatum to determine whether postoperative complications and recurrence differed significantly between primary and redo operations. [21] There were no significant differences in postoperative complications or recurrence rates between Nuss and Ravitch repairs overall, between redo Nuss (n = 53) and Ravitch repairs (n = 26), between primary and redo Nuss repairs, or between primary and redo Ravitch repairs; however, there were significant differences between all Nuss and all Ravitch repairs with respect to age, length of stay, follow-up, bars inserted, and estimated blood loss.
In a retrospective study using data from the American College of Surgeons (ACS) National Surgical Quality Improvement Program (NSQIP), Brungardt et al compared the outcomes of minimally invasive (Nuss) and open (Ravitch) repair in 168 patients aged 18 years or older with pectus excavatum as the postoperative diagnosis. [22] Median operating time was 250 minutes in the Ravitch group and 122 minutes in the Nuss group; median LOS was 5 days in the Ravitch group and 3 days in the Nuss group. Postoperative complication rates were similar in the two groups.
What would you like to print?