Presentation
History
Most patients with cholecystocutaneous fistulae have a history suggestive of biliary disease; however, these symptoms are unlikely to be severe, in that an acute attack would have precipitated early presentation for surgical intervention. Depending on the stage of progression, patients may present with empyema necessitatis or a discharging sinus. [62] Empyema necessitatis simply refers to a cholecystic abscess prior to rupture.
The patient may report systemic symptoms (eg, fevers, sweats, and anorexia associated with the infection) or a tender lump at the site of impending perforation. Patients in whom fistulae have discharged may report loss of bilious fluid or small stones via the external opening. The fistula itself is usually painless.
Physical Examination
The patient may be febrile and diaphoretic because of the infection. Prior to rupture, a raised, erythematous, tender, hot area of affected skin may be observed (see the image below). The surrounding skin is often cellulitic, frequently leading to an initial diagnosis of abscess. An associated lump under the skin may be observed if the gallbladder has herniated through the overlying tissue or if an associated malignancy is present.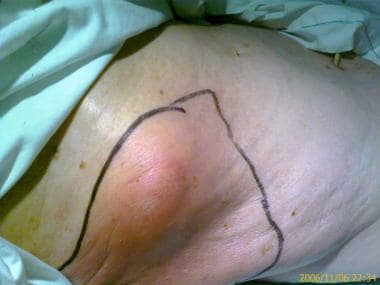 A 90-year-old man referred with abdominal wall abscess in the right upper quadrant.
The external opening is usually in the right upper quadrant, [1] though external openings in the periumbilical area, the lumbar area, and even the gluteal area have been described. The discharge varies depending on whether an obstruction is present. Discharge may be purulent in the presence of empyema, mucoid in the presence of a mucocele because of obstruction, or bilious in the absence of obstruction. Small stones within the discharge often confirm the diagnosis.
What would you like to print?