Workup
Laboratory Studies
Blood studies to be considered include the following:
Full blood examination (FBE) - Leukocytosis supports an infective and inflammatory process

C-reactive protein (CRP) - An elevated CRP level indicates the presence of an infective process

Liver function tests (LFTs) and alkaline phosphatase (ALP) - Levels are typically elevated because of extrahepatic duct (cystic duct) obstruction; however, jaundice is uncommon, even in the presence of choledocholithiasis

[64]
Microbiologic analysis of fluid discharged from the fistula reveals the type of fluid present (eg, bilirubin in bile) and provides bacteriologic results (purulent fluid guides antibiotic therapy). Common offending bacteria include Escherichia coli and Proteus species.
Imaging Studies
The following imaging modalities can be used in the presence of a cholecystocutaneous fistula:
Ultrasonography (US)

Computed tomography (CT)

Fistulography

Cholangiography
US is useful for demonstrating gallstones, a thickened gallbladder adjacent to the anterior abdominal wall, and an overlying abdominal wall that is edematous as a consequence of inflammation. Occasionally, it can demonstrate the gallbladder herniating into the subcutaneous tissue. [51] Inflammation of the skin occasionally limits examination because of pain.
CT can demonstrate the unusual position of the gallbladder adhering to the anterior abdominal wall. It also demonstrates the presence of edema, as well as inflammation within the overlying tissue (see the image below). In the event of a malignancy, a heterogeneous mass may be visible.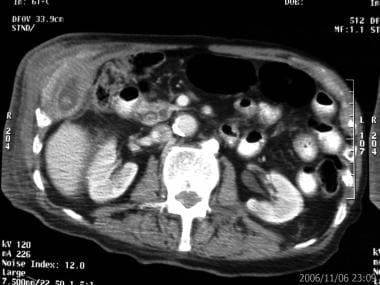 Computed tomography (CT) scan demonstrating a grossly inflamed gallbladder with a stone within the gallbladder, with partial gallbladder herniation into overlying abdominal wall musculature, marked overlying tissue inflammation, and fistulous tract.
Fistulography is useful in establishing the diagnosis. [68] The contrast demonstrates the tract and fills the gallbladder. In an unobstructed system, fistulography also demonstrates the common bile duct (CBD), allowing examination of biliary anatomy. Rarely, in the event of multiple fistulae, it demonstrates communication with other, neighboring viscera.
Cholangiography demonstrates biliary anatomy and excludes the concomitant presence of a CBD stone, which should be addressed during resection of the fistula and gallbladder. If the patient is to be treated conservatively, this is particularly important, in that an obstructed CBD can prevent spontaneous fistula closure.
What would you like to print?