Overview
Background
The evolution of the surgical incision has been closely correlated to the major developments in the field of surgery, medicine, and technology. In the early days, before the development of general anesthesia and positive-pressure ventilation, the incisions were mostly small and were used predominantly to drain localized infectious complications, or else they were ingeniously designed to be used via an extrapleural approach (especially to lower thoracic structures).
With the use of general anesthesia, incisions became bolder and larger, and the posterolateral thoracotomy was the most widely used approach. The ability to isolate the ipsilateral lung for surgery and the introduction of new stapling devices allowed the use of smaller, more focused incisions with muscle-sparing techniques and minimal rib-spreading.
Subsequently, video-assisted thoracoscopic surgery (VATS) introduced a whole new array of minimally invasive options. Thus, in a sense, thoracic surgeons have come full circle, once again using the same small incisions in the chest that were employed in years past, but now with the ability to do much more complex resections than were possible many decades ago. [1]
With the continued evolution of cardiac surgery, the median sternotomy and its many variations are currently among the most widely used incisions for cardiac procedures; they are occasionally used for thoracic procedures as well.
Technical Considerations
Anatomy
The appropriate thoracic incision is the one that will provide the best exposure to the region of the thorax being addressed in a given procedure. For making that judgment, a thorough understanding of the anatomy of the thorax is an absolute prerequisite. [2] For example, in most major lung resections, it is the hilum of the lung that should be well exposed.
Emphasis is often placed on the muscle groups that are be divided during the procedure. The latissimus dorsi and the serratus anterior are the main muscles of the lateral chest wall. The pectoralis and the rectus abdominis require attention during anterior incisions. The most important muscles of the posterior chest wall include the trapezius, the rhomboids, and the paraspinous muscles (see the image below). Special incisions that include partial sternotomies and first-rib resections require a thorough knowledge of the anatomy of the base of the thoracic cage.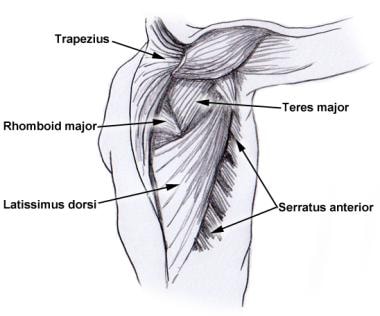 Muscles of the chest wall (muscles that are commonly encountered during the performance of thoracotomies).
What would you like to print?