Radiation Exposure Injuries
The tables below show the symptoms that manifest with localized cutaneous radiation injury, acute radiation syndrome, and lethal doses of radiation according to the Centers for Disease Control and Prevention. [1, 2]
Table 1. Clinical Symptoms of Localized Cutaneous Radiation Injury (Open Table in a new window)
| | |
| --- | --- |
| Localized Cutaneous Injury | Clinical Symptoms |
| 3 Gy | Hair loss |
| 6 Gy | Burns |
| 10-15 Gy | Dry desquamation |
| 20-50 Gy | Wet desquamation |
| 50 Gy | Cutaneous necrosis and ulceration |
Table 2. Clinical Symptoms of Acute Radiation Syndrome (Open Table in a new window)
| | |
| --- | --- |
| Acute Radiation Syndrome | Clinical Symptoms |
| >0.7 Gy | Hematopoietic syndrome - anemia, neutropenia |
| >10 Gy | Gastrointestinal syndrome - nausea, vomiting, dehydration, weight loss, anorexia, bloody diarrhea |
| >20 Gy | Cerebrovascular syndrome - cerebral edema, ataxia, hypotension, convulsions |
Table 3. Clinical Symptoms of Whole Body Lethal Doses of Radiation (Open Table in a new window)
| | |
| --- | --- |
| Lethal Doses | Clinical Symptoms |
| 3.5 Gy | Lethal without treatment at 60 days |
| >7 Gy | Lethal with treatment at 60 days |
| >100 Gy | Lethal within hours |
In March 2015, filgrastim (Neupogen) was approved by the US Food and Drug Administration (FDA) to increase survival in patients acutely exposed to myelosuppressive doses of radiation (suspected or confirmed exposure to radiation >2 Gy). [3, 4, 5]
A June 2015 update on radiation-related injuries and their management was published by Wunderle and Gill. [6]
See the image below.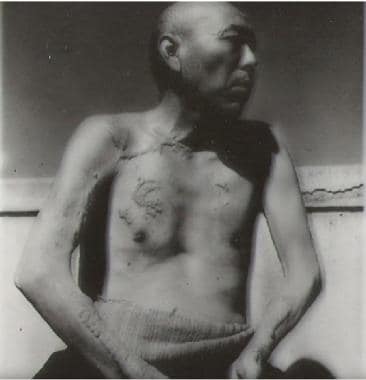 Japanese man with injuries after atomic bombing. Courtesy of US Military (public domain) via Wikimedia Commons.
For more information on radiation injuries and decontamination, see the Medscape topics CBRNE - Radiation Emergencies and External Decontamination for Radiation Exposure.
What would you like to print?