Presentation
History
One fourth of patients with primary myelofibrosis are asymptomatic, and the diagnosis is made as a result of detecting splenomegaly or checking blood cell counts for an unrelated cause. Symptoms may occur as a result of anemia, splenomegaly, hypermetabolic states, extramedullary hematopoiesis, bleeding, bone changes, portal hypertension, and immune abnormalities.
Anemia may occur as a result of ineffective erythropoiesis, erythroid hypoplasia, and hypersplenism. Anemia may cause easy fatigability, weakness, dyspnea, and palpitations.
Splenomegaly may result in early satiety and left upper quadrant discomfort. Splenic infarcts, perisplenitis, or subcapsular hematoma may occur, causing severe left upper quadrant or left shoulder pain. Occasionally, patients may have diarrhea related to pressure on the colon.
A hypermetabolic state occurs and can result in weight loss, night sweats, and low-grade fever. Gout and urate kidney stones may develop.
Bleeding is observed in one fourth of patients with primary myelofibrosis and varies in severity from insignificant cutaneous petechiae to severe, life-threatening gastrointestinal (GI) tract bleeding. Platelet dysfunction, acquired factor V deficiency, thrombocytopenia, disseminated intravascular coagulation (DIC), esophageal varices, and peptic ulcer disease may occur, contributing to bleeding.
Extramedullary hematopoiesis may cause symptoms, depending on the organ or site of involvement (see the image below). The condition may result in GI tract hemorrhage, spinal cord compression, focal seizures, symptoms related to brain tumors, ascites, hematuria, pericardial effusion, pleural effusion, hemoptysis, and respiratory failure.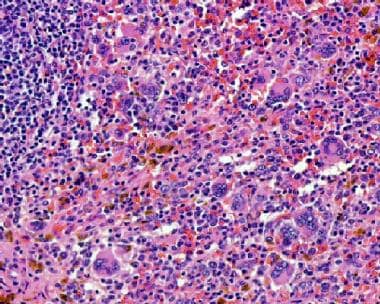 Extramedullary hematopoiesis in the spleen of a patient with primary myelofibrosis. Courtesy of Wei Wang, MD, and John Lazarchick, MD, Department of Pathology, Medical University of South Carolina.
Portal hypertension may occur as a result of markedly increased splenoportal blood flow and decreased hepatic vascular compliance. Ascites, esophageal and gastric varices, GI tract bleeding, and hepatic encephalopathy may occur. Hepatic or portal vein thrombosis may also arise as complications.
Patients with primary myelofibrosis develop osteosclerosis. This may cause severe joint and bone pain.
One half of patients with primary myelofibrosis have abnormalities of humoral immunity. A variety of autoantibodies and circulating immune complexes may be detected, and amyloidosis may develop. Infections, commonly pneumonia, may occur as a result of immune deficiency.
Physical Examination
Splenomegaly is the most common finding in patients with primary myelofibrosis, and it is present in approximately 90% of patients. Spleen size may vary from barely palpable to massive (observed in 35% of patients).
Hepatomegaly is found in 60-70% of patients with primary myelofibrosis, and pallor is observed in 60% of patients. Other physical findings include the following:
Petechiae and ecchymosis (20%)

Lymphadenopathy (10-20%)

Signs of portal hypertension (10-18%)

Gout (6%)
What would you like to print?