Workup
Approach Considerations
In addition to the history and physical examination, National Comprehensive Cancer Network (NCCN) guidelines recommend the following workup for patients with suspected myeloproliferative neoplasms [25] :
Complete blood cell count (CBC) with differential

Comprehensive metabolic panel with uric acid, lactate dehydrogenase (LDH), and liver function tests (LFTs)

Multiplex real time polymerase chain reaction (RT-PCR) (preferred) or fluorescence in situ hybridization (FISH) (if RT-PCR is not available) for BCR-ABL1to exclude the diagnosis of chronic myeloid leukemia

Examination of blood smear

Bone marrow aspirate and biopsy with trichrome and reticulin stain

Bone marrow cytogenetics (blood, if bone marrow is inaspirable) (karyotype ± FISH)

Molecular testing of blood for JAK2 V617F mutation; if negative, test for CALR and MPL mutations; or molecular testing using multigene next-generation sequencing (NGS) panel that includes JAK2, CALR, and MPL

Assessment of symptom burden using MPN Symptom Assessment Form Total Symptom Score (MPN-SAF TSS; MPN-10; MPN-E 2 of 2)

Human leukocyte antigen (HLA) testing, if allogeneic hematopoietic cell transplant (HCT) is being considered

Serum erythropoietin (EPO) level

Serum iron studies

Coagulation tests to evaluate for acquired von Willebrand disease (VWD) and/or other coagulopathies in selected patients
Complete Blood Count
A complete blood count (CBC) panel with careful examination of the peripheral smear is essential in patients thought to have primary myelofibrosis. Peripheral blood reveals leukoerythroblastosis with teardrop poikilocytosis, as depicted in the image below. Large platelets and megakaryocyte fragments may be observed.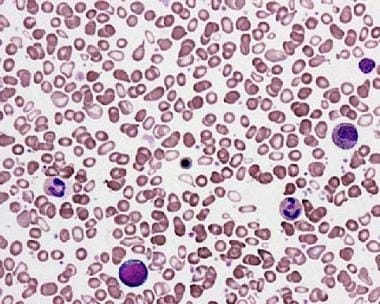 Primary myelofibrosis. Peripheral smear shows teardrop red blood cells (RBCs) and a leukoerythroblastic picture with nucleated RBC precursors and immature myeloid cells. Courtesy of Wei Wang, MD, and John Lazarchick, MD, Department of Pathology, Medical University of South Carolina.
Anemia
Anemia is present in most patients with primary myelofibrosis, with more than 60% having a hemoglobin concentration of less than 10 g/dL. Causes of anemia include hemodilution, ineffective erythropoiesis, and shortened red blood cell (RBC) survival. Approximately 15% of patients also experience a major hemolytic episode during the course of the illness. This may result from an erythrocyte defect similar to that observed in paroxysmal nocturnal hemoglobinuria or from antibodies to RBCs. Anemia resulting from blood loss or folate deficiency (because of increased consumption) may also occur.
Leukopenia and leukocytosis
Leukopenia is observed in up to one fourth of patients with primary myelofibrosis, whereas leukocytosis may be observed in one third. A small number of blasts and Pelger-Huet cells are observed.
Thrombocytosis and DIC
Thrombocytosis is more common than thrombocytopenia. Disseminated intravascular coagulation (DIC) is observed in 15% of patients. The condition is usually clinically silent, but changes in the form of decreased platelets, decreased clotting factors, and increased fibrin degradation products may be observed. Such changes may result in excessive bleeding at the time of surgery. Obtaining a preoperative DIC panel may therefore be prudent.
Imaging Studies
Skeletal radiographs show increased bone density and a prominence of bony trabeculae in persons with primary myelofibrosis. Increased bone density may be patchy, resulting in a mottled appearance.
Magnetic resonance imaging (MRI) may help the clinician to assess the severity and progression primary myelofibrosis. Marrow patterns observed on an MRI examination of the proximal femur appear to correlate with clinical severity. Liver and splenic enlargement is observed on ultrasonograms and computed tomography (CT) scans.
Genetic Testing
Cytogenetic studies of bone marrow are helpful in excluding chronic myelogenous leukemia (CML), myelodysplastic syndrome, or other chronic myeloid disorders. However, these studies may be difficult to obtain due to "dry tap" on bone marrow aspirates in over 50% of patients with primary myelofibrosis. Fluorescent in situ hybridization (FISH) studies or polymerase chain reaction (PCR) assay testing for bcr:abl may be helpful in excluding CML (this may also be performed on peripheral blood). FISH studies for abnormalities associated with myelodysplastic syndromes, such as del 7, 7q-, and 5q-, may also be helpful.
Procedures and Histologic Findings
Obtaining bone marrow aspirate and biopsy specimens is important to help establish the diagnosis of primary myelofibrosis. This is usually performed over the posterior iliac crest, using specialized needles. Biopsy specimens should not be obtained from the sternum; sternal aspirates are typically not useful because of the high frequency of dry taps and the inability to obtain a biopsy from this site.
Histology
Bone marrow aspirates are dry in up to 50% of patients with primary myelofibrosis. Performing a bone marrow biopsy is essential for confirming the diagnosis. Biopsy specimens reveal hypercellular marrow with increased megakaryocytes.
Characteristic features of primary myelofibrosis include patchy hematopoietic cellularity and reticular fibrosis. The amount of reticulin deposition varies from field to field. Megakaryocytes may be present in clusters and may show dysplasia. Distended marrow sinusoids, frequently containing intravascular hematopoiesis, are also observed. (See the images below.)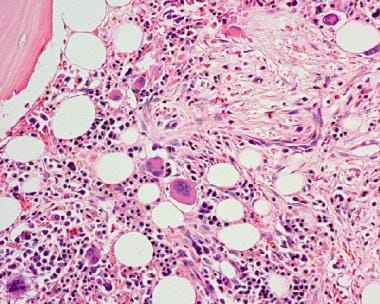 Bone marrow biopsy from a patient with primary myelofibrosis shows extensive fibrosis. Courtesy of Wei Wang, MD, and John Lazarchick, MD, Department of Pathology, Medical University of South Carolina.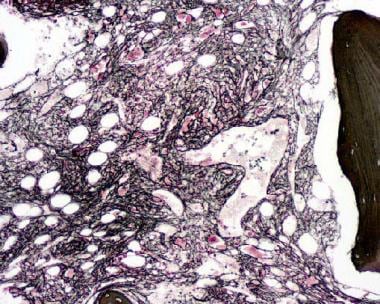 Reticulin stain on a bone marrow biopsy from a patient with primary myelofibrosis shows extensive fibrosis. Courtesy of Wei Wang, MD, and John Lazarchick, MD, Department of Pathology, Medical University of South Carolina.
Cytogenetic studies reveal chromosomal abnormalities in 50-60% of patients. The presence of an abnormal karyotype is associated with a poorer prognosis.
Liver biopsy specimens usually reveal normal histology or minimal portal fibrosis. Thrombotic lesions may occur in portal veins. Hepatic vein thrombosis may occur.
What would you like to print?