Treatment
Cervical Cerclage
Surgical treatment of cervical insufficiency has long consisted of cervical cerclage, which is the placement of a stitch in an attempt to improve the tensile strength of the cervix. A cerclage can be placed from a transvaginal or transabdominal approach, with the primary objective of reinforcing the cervix at the level of the internal os and, thus, increasing the functional length of the cervix. Of the most commonly performed transvaginal techniques, the McDonald cerclage is a purse-string suture that passes through the cervical stroma, whereas the Shirodkar cerclage requires dissection of the bladder anteriorly and the rectum posteriorly in order to place the stitch at the level of the internal os. Transabdominal cerclage is typically reserved for patients with anatomic limitations (eg, after trachelectomy) or those with a history of failure of a transvaginal cerclage. [1]
See the images below.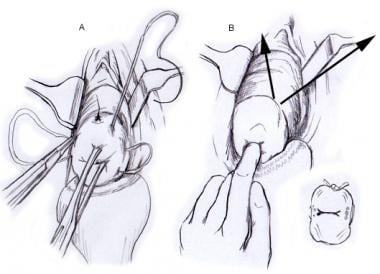 McDonald cerclage.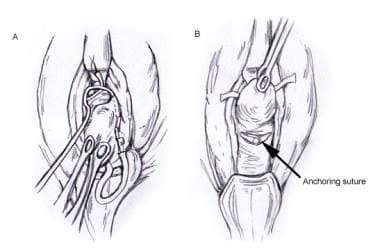 Shirodkar cerclage.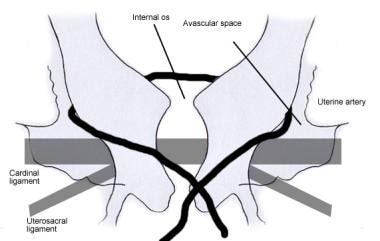 Transabdominal cerclage.
According to a 2014 practice bulletin from the American College of Obstetricians and Gynecologists (ACOG), [1] possible indications for cervical cerclage in women with singleton gestations include the following [39, 40, 41] :
History of second trimester pregnancy loss with painless cervical dilatation or prior cerclage placement for cervical insufficiency ("history-indicated cerclage")

Painless cervical dilatation in the second trimester ("emergency" or "rescue cerclage")

History of spontaneous preterm birth (prior to 34 weeks' gestation) and a short cervical length (eg, < 25 mm) prior to 24 weeks' gestation ("ultrasound-indicated cerclage")
Conversely, cerclage placement has not been shown to be beneficial in women with a short cervix who do not have a history of preterm delivery. [42, 43]
In women with multiple gestations and a short cervix, cerclage placement is not recommended, as this has actually been associated with an increased risk for preterm delivery. [43]
Preoperative evaluation prior to cerclage placement should include ultrasound assessment to ensure fetal viability, confirm gestational age, and rule out any clinically significant fetal anatomical abnormalities. Clinical evaluation for the presence of active bleeding, preterm labor, and preterm premature rupture of membranes (PPROM) should also be performed, as these are contraindications to cerclage placement. In women with evidence of cervical dilatation on physical examination, preoperative amniocentesis may be considered to rule out a subclinical intraamniotic infection, as the rate of infection may be as high as 30% in these cases. [6] Postoperative care should include consideration of the possible complications, including suture displacement, artificial rupture of membranes, and chorioamnionitis.
A review and meta-analysis by Ehsanipoor et al found that physical examination-indicated cerclage significantly increases neonatal survival and extends pregnancy by an average of 33.98 days compared with expectant management. [44, 45]
In a randomized controlled trial, Roman et al found that physical examination-indicated cerclage reduced perinatal mortality by 78% and decreased the incidence of early preterm birth by 50% among women with twin pregnancies and asymptomatic cervical dilation. [46]
Progesterone Supplementation
In a 2012 practice bulletin, the American College of Obstetricians and Gynecologists (ACOG) recommends that women with a prior spontaneous preterm birth should be offered progesterone supplementation (ie, weekly 17-alpha-hydroxyprogesterone caproate), starting at 16-24 weeks' gestation and continuing up to 36 weeks' gestation, in order to reduce the risk of recurrent preterm birth. [7, 32] Of note, cervical cerclage has not been shown to offer additional benefit for the prevention of recurrent preterm delivery in these women. [47]
In women without a history of preterm birth, vaginal progesterone has been shown to benefit women with a short cervix, which is defined as less than 20 mm in this population, resulting in a significant reduction in spontaneous preterm delivery. [10, 11] On the other hand, it is unclear whether vaginal progesterone is of benefit to women with a history of preterm delivery, as studies have demonstrated conflicting results. [8, 9] Of note, progesterone supplementation has not been shown to benefit women with multiple gestations. [32]
Cervical Pessary
The cervical pessary has been studied as a potential noninvasive treatment for cervical insufficiency in small series of patients for the past 50 years, but there are limited data from randomized controlled trials. A cervical pessary is thought to alter the axis of the cervical canal and displace the weight of pregnant uterus away from the cervix. [12, 13] One multicenter trial of singleton pregnancies in Spain showed a significant reduction in the preterm delivery rate (ie, < 34 weeks' gestation) in the pessary group (6%), compared with 27% in the expectant management group (odds ration, 0.18; 95% confidence interval, 0.08-0.37). [14] Further study regarding its use is necessary, but the cervical pessary may become an alternative treatment for cervical insufficiency.
A multicenter, randomized controlled trial by Nicolaides et al found that cervical pessary does not reduce the rate of spontaneous early preterm birth in women and girls with a shortened cervix compared with expectant management. The study's results found no significant difference between the pessary group (465 participants) and the control group (467 participants) in the rate of spontaneous delivery before 34 weeks and no significant differences in the rates of perinatal death, adverse neonatal outcome, or neonatal special care. [48, 49]
What would you like to print?