Treatment
Approach Considerations
Treatment of blunt abdominal trauma begins at the scene of the injury and is continued upon the patient's arrival at the emergency department (ED) or trauma center. Management may involve nonoperative measures or surgical treatment, as appropriate.
Indications for laparotomy in a patient with blunt abdominal injury include the following:
Uncontrolled shock or hemorrhage

Clinical deterioration during observation

Hemoperitoneum findings after focused assessment with sonography for trauma (FAST) or diagnostic peritoneal lavage (DPL) examinations
Finally, surgical intervention is indicated in patients with evidence of peritonitis based on physical examination findings.
Operative treatment is not indicated in every patient with positive FAST scan results. Hemodynamically stable patients with positive FAST findings may require a computed tomography (CT) scan to better define the nature and extent of their injuries. Operating on every patient with positive FAST scan findings may result in an unacceptably high laparotomy rate.
Resuscitative thoracotomy is not recommended in patients with blunt thoracoabdominal trauma who have pulseless electrical activity upon arrival in the emergency department (ED). The survival rate in this situation is virtually 0%. These patients may be allowed a thoracotomy in the ED only if they have signs of life upon arrival.
Prehospital Care
Prehospital care focuses on rapidly evaluating life-threatening problems, initiating resuscitative measures, and initiating prompt transport to a definitive care site. [41, 42] The injured patient is at risk for progressive deterioration from continued bleeding and requires rapid transport to a trauma center or the closest appropriate facility, with appropriate stabilization procedures performed en route. Hence, securing the airway, placing large-bore intravenous (IV) lines, and administering IV fluid must take place en route, unless transport is delayed.
A study by Nirula et al demonstrates the importance of field triage protocols that allow immediate transport to definitive care sites for very severely injured patients. [43] In the study, the odds of death were 3.8 times greater for patients initially triaged to a nontrauma center. Such responses require preplanning within a mature trauma system and mandate appropriate prehospital training and protocols.
Use endotracheal intubation to secure the airway of any patient who is unable to maintain the airway or who has potential airway threats. Secure the airway in conjunction with in-line cervical immobilization in any patient who may have suffered cervical trauma. Provide artificial ventilation by using a high fraction of inspired oxygen (FIO2) for patients who exhibit compromised breathing respirations. Maintain oxygen saturation (SaO2) at more than 90-92%.
External hemorrhage rarely is associated with blunt abdominal trauma. If external bleeding is present, control it with direct pressure. Note any signs of inadequate systemic perfusion. Consider intraperitoneal hemorrhage whenever evidence of hemorrhagic shock is found in the absence of external hemorrhage.
Initiate volume resuscitation with crystalloid solution; however, never delay patient transport while IV lines are inserted. En route, administer a fluid bolus of lactated Ringer or normal saline solution to patients with evidence of shock. [44, 45]
Titrate IV fluid therapy to the patient's clinical response. Because overaggressive volume resuscitation may lead to recurrent or increased hemorrhage, IV fluids should be titrated to a systolic blood pressure of 90-100 mm Hg. This practice should provide the mean blood pressure necessary to maintain perfusion of the vital organs.
Acquire expeditious and complete spinal immobilization on patients with multisystem injuries and on patients with a mechanism of injury that has potential for spinal cord trauma. In the rural setting, the pneumatic antishock garment may have a role for treating shock resulting from a severe pelvic fracture.
Promptly notify the destination hospital so that that facility can activate its trauma team and prepare for the patient.
Emergency Department Care
Upon the patient's arrival in the emergency department (ED) or trauma center, a rapid primary survey should be performed to identify immediate life-threatening problems.
The first priority is reassessment of the airway. Protection of the cervical spine with in-line immobilization is absolutely mandatory. If intubation is indicated, attempt nasotracheal (ie, if no contraindications) or endotracheal intubation. If possible, perform and record a brief neurologic examination prior to neuromuscular blockade and intubation. If intubation is unsuccessful, perform cricothyroidotomy (see the video below).
Surgical cricothyroidotomy Seldinger. Video courtesy of Therese Canares, MD, and Jonathan Valente, MD, Rhode Island Hospital, Brown University.
After an airway has been established, adequate ventilatory exchange is assessed by auscultation of both lung fields. Patients who display apnea or hypoventilation require respiratory support, as do those patients with tachypnea. Provide all patients with supplemental oxygen from a device capable of delivering a high fraction of inspired oxygen (FIO2) (eg, a nonrebreather mask).
Clinical diagnosis of a tension pneumothorax is treated with needle decompression followed by chest thoracostomy tube placement. Other mechanical factors that can interfere with ventilation include sucking chest wounds, a hemothorax, and pulmonary contusion. Treat these aggressively and expediently.
The next priority in the primary survey is an assessment of the circulatory status of the patient. Circulatory collapse in a patient with blunt abdominal trauma is usually caused by hypovolemia from hemorrhage. Identification of hypovolemia and signs of shock necessitate vigorous resuscitation and attempts to identify the source of blood loss.
Effective volume resuscitation is accomplished by controlling external hemorrhage and infusing warmed crystalloid solution via 2 large-bore (eg, 18-gauge) peripheral IV lines. Use central lines (preferably femoral by using a large-bore line such as a Cordis catheter) and cutdowns (eg, saphenous, brachial) for patients in whom percutaneous peripheral access cannot be established. Administer a rapid bolus of crystalloid.
Hemodynamic instability despite the administration of 2 L of fluid to adult patients indicates ongoing blood loss and is an indication for immediate blood transfusion. Administer type O, Rh-negative blood if cross-matched or type-specific blood is not available.
The CONTROL trial, the only prospective randomized trial of factor VII in trauma patients, evaluated the efficacy and safety of recombinant factor VIIa as an adjunct to direct hemostasis in major trauma. Results showed a small decrease in blood utilization but no mortality benefit. Currently available data do not support empiric use of factor VIIa for civilian trauma patients. [46]
The primary survey is completed with a brief neurologic assessment of the patient using elements of the Glasgow Coma Scale (see the Glasgow Coma Scale calculator). The patient is undressed and draped in clean, dry, warm sheets.
After the primary survey and initial resuscitation have begun, complete the secondary survey, as described earlier (see Physical Examination). Perform a thorough head-to-toe examination, paying attention to evidence of the mechanism of injury and potentially injured areas. Before the placement of a nasogastric tube and Foley catheter, perform appropriate head, neck, pelvic, perineum, and rectal examinations. "Log-roll" the patient to examine the back and palpate the entire spinal column.
On the basis of the injury mechanism and the findings from physical examination, obtain initial trauma radiographic studies. In general, trauma suite views include lateral cervical spine, anterior portable chest, and pelvis radiographs. In-line spinal immobilization must be continued until spinal fractures have been ruled out. Additional radiographs are indicated for other findings in the secondary survey.
Bedside ultrasonography using a trauma examination protocol (eg, FAST) can be used to determine the presence of intraperitoneal hemorrhage (see the images below). If findings are negative or equivocal, DPL may be performed in hemodynamically unstable patients.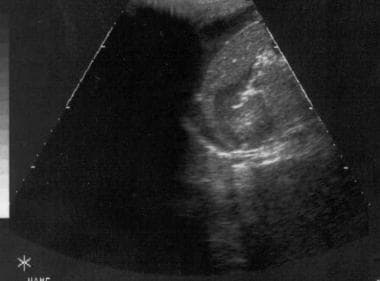 Ultrasound image of right flank. Clear hypoechoic stripe exists between right kidney and liver in Morison pouch.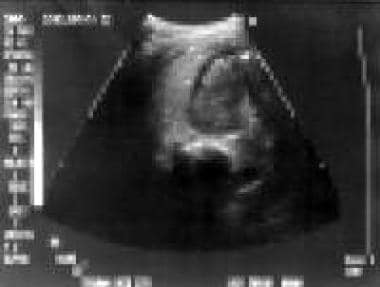 Ultrasound image of left flank in same patient, with thin hypoechoic stripe above spleen and wider hypoechoic stripe in splenorenal recess.
Depending on patient stability, injury mechanism, and likelihood of intra-abdominal injury, further investigation may be warranted for patients who are hemodynamically stable after the initial assessment and resuscitation and who have negative or equivocal FAST or DPL results. Further investigation includes contrast-enhanced CT scans of the abdomen and pelvis or serial examinations and ultrasonography.
Nonoperative Management
Nonoperative management (NOM) strategies based on CT scan diagnosis and the hemodynamic stability of the patient are now being used in adults for the treatment of solid organ injuries, primarily those to the liver and spleen. In blunt abdominal trauma, including severe solid organ injuries, selective nonoperative management has become the standard of care.
Angiography is a valuable modality in nonoperative management of abdominal solid organ injuries from blunt trauma in adults. It is used aggressively for nonoperative control of hemorrhage, thereby obviating nontherapeutic cost-inefficient laparotomies.
Splenic artery embolotherapy (SAE), although not standard of care, is another nonoperative management modality for adult blunt splenic injury. Requarth et al conducted a metaanalysis comparing outcomes data for observational management versus SAE by splenic injury grade cohort. Results show the failure rate of observational management increases with splenic injury grade, whereas the failure rate of SAE does not change significantly from splenic injury grades 1 to 5. In grade 4 and 5 injuries, SAE is associated with significantly higher salvage rates. The SAE success rate noted may in part be due to the fact that SAE was introduced later in the experience surveyed, and the improved NOM failure rate may be due to other factors that came into play as the experience proceeded. [47]
The trend toward simply observing hemodynamically stable patients with injuries involving the spleen, liver, or kidneys is becoming more popular. In a study of pediatric patients, those with blunt abdominal trauma who were hemodynamically stable after fluid replacement of less than 40 mL/kg, had proven evidence of solid organ injuries, and remained stable were admitted to the pediatric intensive care unit (ICU) under surgical management. No deaths and no immediate or long-term complications were reported in this group.
If the decision has been made to observe the patient, closely monitor vital signs and frequently repeat the physical examination. An increased temperature or respiratory rate can indicate a perforated viscus or the formation of an abscess. Pulse and blood pressure can also change with sepsis or intra-abdominal bleeding. Physical examination findings reflecting peritonitis are an indication for surgical intervention.
A study by Mora et al evaluated the differences in outcomes among children with blunt pancreatic injuries managed operatively and nonoperatively. The study concluded that overall, children managed nonoperatively have equivalent or better outcomes when compared with operative and delayed operative management in regard to death, overall complications, length of stay, ICU length of stay, and ICU use. [48]
Surgical Management
Resuscitative thoracotomy
Resuscitative thoracotomy in the ED is only occasionally life-saving. It is an aggressive, desperate measure intended to save a patient whose death is thought to be imminent or otherwise inevitable. Survival with good neurologic recovery is more likely for patients with penetrating trauma than for patients with blunt trauma. Thoracotomy may have a role in selected patients with penetrating injuries to the neck, chest, or extremities and those with signs of life within 5 minutes of arrival in the ED.
A resuscitative thoracotomy is seldom of benefit for patients with cardiac arrest secondary to blunt or head injury or for those without vital signs at the scene of the accident. Patients with blunt thoracoabdominal trauma with pulseless electrical activity upon arrival in the ED have a survival rate of virtually 0% and are poor candidates for resuscitative thoracotomy. Patients with blunt trauma may be allowed a thoracotomy in the ED only if they have signs of life upon arrival.
In a patient with hemoperitoneum from blunt thoracoabdominal trauma, the goals of a resuscitative thoracotomy in the ED are (1) to cross-clamp the aorta, diverting available blood to the coronaries and cerebral vessels during resuscitation; (2) to evacuate pericardial tamponade; (3) to directly control thoracic hemorrhage; and (4) to open the chest for cardiac massage.
Laparotomy and definitive repair
Indications for laparotomy in a patient with blunt abdominal injury include signs of peritonitis, uncontrolled shock or hemorrhage, clinical deterioration during observation, and hemoperitoneum findings after FAST or DPL examinations (see Workup).
When laparotomy is indicated, broad-spectrum antibiotics are given. A midline incision is usually preferred. When the abdomen is opened, hemorrhage control is accomplished by removing blood and clots, packing all 4 quadrants, and clamping vascular structures. Obvious hollow viscus injuries (HVIs) are sutured. After intra-abdominal injuries have been repaired and hemorrhage has been controlled by packing, a thorough exploration of the abdomen is then performed to evaluate the entire contents of the abdomen.
After intraperitoneal injuries are controlled, the retroperitoneum and pelvis must be inspected. Do not explore pelvic hematomas. Use external fixation of pelvic fractures to reduce or stop blood loss in this region. Explore large or expanding midline retroperitoneal hematomas, with the anticipation of damage to the large vascular structures, pancreas, or duodenum. Do not explore small or stable perinephric hematomas.
After the source of bleeding has been stopped, further stabilizing the patient with fluid resuscitation and appropriate warming is important. After such measures are complete, perform a thorough exploratory laparotomy with appropriate repair of all injured structures.
A study by Crookes et al suggests that the true morbidity of a negative laparotomy may not be as high as previously believed. [49] They conclude that in blunt abdominal trauma patients, exploratory laparotomy to establish a diagnosis does not result in increased morbidity in a 30-day period, compared with no laparotomy. In other words, it is safer to undergo laparotomy with negative findings than to delay treatment of an injury.
It must be stressed, however, that in this digital era with high-resolution imaging the need to take a patient for exploratory laparotomy only to establish a diagnosis may be unnecessary and expensive if, for instance, the CT is negative and the patient is hemodynamically stable.
Patients who had gross enteric contamination of the peritoneal cavity are given appropriate antibiotics for 5-7 days.
If a pelvic hematoma was found and the patient continues to lose blood after external fixation of a pelvic fracture, arteriography with embolization can be used to stop the small percentage of arterial bleeding found in pelvic fractures.
In adults, splenic artery embolization has been shown to improve nonoperative splenic salvage rates. A retrospective review showed that this procedure may be useful in the adolescent population as well, particularly in patients with high-grade injuries or with evidence of splenic vascular injury, although this is not the standard of care. [50]
A multicenter study found that delays in returning to the operating room after damage control laparotomy are associated with the failure to achieve primary fascial closure. The study also concluded that the best results were attained if the reoperation took place within 24 hours of the initial surgery. [51, 52]
Consultations
The best outcomes from trauma are obtained by involving consultants who possess specific expertise and training in managing trauma patients. Consider evaluation by a trauma surgeon for all patients with evidence of blunt abdominal trauma. Clearly, hemodynamic instability or the identification of significant abnormalities during physical examination or a diagnostic procedure necessitates the involvement of a trauma surgeon.
Specific physical examination findings that call for timely surgical evaluation are as follows:
History of blunt abdominal trauma, shock, or abnormal vital signs (eg, tachycardia, hypotension)

Evidence of shock without obvious external blood loss

Evidence of peritonitis (eg, marked tenderness, involuntary guarding, percussion tenderness)

Findings consistent with potential intra-abdominal injury (eg, lap belt signs, lower rib fractures, lumbar spine fractures)

Altered levels of consciousness or sensation, whether due to drugs, alcohol, or head/spinal injury

Patients who require other prolonged operative intervention (eg, orthopedic procedures)
Specific findings on diagnostic studies that call for timely surgical evaluation include evidence of free fluid or solid organ injury on sonograms or CT scans.
Although a trend toward nonoperative management of hepatic, splenic, and renal injuries in patients who are hemodynamically normal has occurred, a trained trauma surgeon must oversee this care.
Other specific findings that indicate timely trauma surgeon involvement are as follows:
Evidence of extravasated contrast or extraluminal air on an upper gastrointestinal series (eg, duodenal rupture), plain abdominal radiography, or cystography

Evidence of bladder rupture on contrast cystogram or gross hematuria

Elevated findings on liver function studies
If consultants with expertise in managing blunt abdominal injuries are unavailable, arrange patient transfer to the nearest appropriate trauma center as soon as injury is identified. Lengthy diagnostic workup is counterproductive once it is recognized that a patient cannot be managed at the initial facility. Physician-to-physician consultation must occur before transport to ensure that the receiving facility has the resources necessary to care for the patient.
Long-Term Monitoring
Before discharge, provide patients with detailed instructions that describe signs of undiagnosed injury. Increased abdominal pain or distention, nausea or vomiting, weakness, lightheadedness or fainting, or new bleeding in urine or feces mandates immediate return and further evaluation. Ensure that close follow-up care and repeat examinations are available for all patients.
What would you like to print?