Presentation
History
A pertinent history should be obtained, as for abdominal trauma in adults. However, obtaining the history is frequently difficult in young children, who may be stressed from the pain and the unfamiliar hospital environment and staff. The possibility of inflicted abdominal injury should be considered in a child with unexplained or unusual clinical history or physical findings.
Physical Examination
Any child with suspected abdominal trauma should be initially evaluated according to Advanced Trauma Life Support (ATLS) guidelines. [10, 11, 12] A focused primary survey aimed at rapidly assessing the ABCs (Airway, Breathing, Circulation) remains the initial priority. [13, 14, 15, 16] In addition, at the time of the primary survey, performing an abbreviated neurologic assessment (D) and completely exposing (E) the child to thoroughly search for injuries are appropriate.
This primary survey is followed by a secondary survey, which consists of a head-to-toe physical examination to identify all traumatic injuries. The abdomen is typically evaluated during the secondary survey. A tertiary survey, usually performed 24 hours after admission, is also recommended and includes a follow-up head-to-toe examination to minimize the risk of missed injuries.
The physical examination should include inspection, auscultation, and palpation. Inspection of the abdomen may reveal distention associated with bleeding or intraperitoneal air. [17] When a traumatic diaphragmatic hernia is present, a scaphoid abdomen might be observed. All abrasions and contusions should be documented because they may indicate associated intra-abdominal injury. For example, skin ecchymosis from a lap belt injury (see the image below) may indicate a hollow-organ injury and spinal fracture.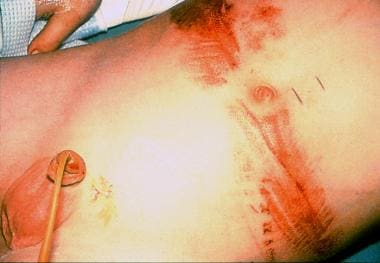 Abdominal wall findings in passenger who was restrained with only lap belt during motor vehicle accident.
Auscultation is helpful in determining the presence of intra-peritoneal fluid (dull to percussion) or free air (tympani); however, performing it reliably in the trauma bay may be difficult because of ambient noise.
Abdominal palpation reveals tenderness associated with injury in children who are neurologically healthy. Findings may include focal tenderness, which is often a result of abdominal-wall contusion, or rebound tenderness, which suggests an intraperitoneal process, such as hemorrhage or perforation. [18]
Patterns of abdominal organ injury vary according to mechanism of injury (see Table 1 below).
Table 1. Patterns of Abdominal Organ Injury by Mechanism of Injury (Open Table in a new window)
| | | |
| --- | --- | --- |
| Frequency of Organ Injury | Blunt | Penetrating |
| Liver | 15% | 22% |
| Spleen | 27% | 9% |
| Pancreas | 2% | 6% |
| Kidney | 27% | 9% |
| Stomach | 1% | 10% |
| Duodenum | 3% | 4% |
| Small bowel | 6% | 18% |
| Colon | 2% | 16% |
| Other | 17% | 6% |
In all children with suspected inflicted injury, the abdomen must be thoroughly evaluated (see Workup).
What would you like to print?