Follow-up
Further Outpatient Care
Home care programs with self-infusion of FIX concentrate at the earliest sign of bleeding have medical and psychological benefits to the patient. Home care allows prompt care for bleeding, minimizes delays, and reduces complications. Home care must be undertaken with caution and combined with intensive education, supervision, and support, with selection of appropriate patients for home care. The images below demonstrate tourniquet application prior to self-infusion.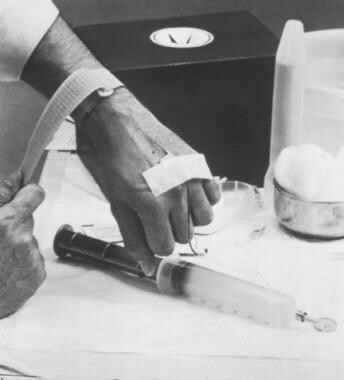 Application of Velcro tourniquet followed by self-infusion of concentrate as part of home therapy.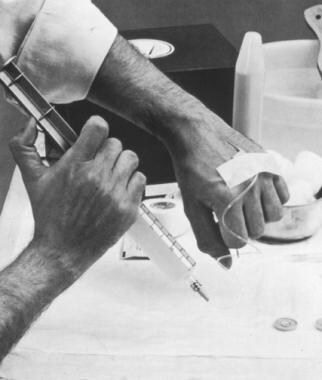 Application of Velcro tourniquet followed by self-infusion of concentrate as part of home therapy.
Complete annual physical examinations are performed, with laboratory testing for inhibitors, hepatitis, HIV, and other tests as needed. In addition, routine care as given to other patients, ie, mammography, rectal examination, prostate-specific antigen level, colonoscopy, and dental care should be undertaken.
Prophylactic care includes vaccination for hepatitis A and B, routine dental care, orthopedic care, physical therapy, and psychosocial and economic support. Although hepatitis A is transmitted infrequently by transfusion, superimposition of hepatitis A in a patient with chronic hepatitis increases the risk of acute hepatic failure. [43]
Further Inpatient Care
Patients are hospitalized only for serious complications requiring complex interdisciplinary care. Constant close clinical evaluation and serial laboratory monitoring are necessary to properly treat these patients, requiring the daily services of a trained hematologist.
Inpatient & Outpatient Medications
The availability of a continuous supply of products containing FIX to treat severe hemophilia as part of home therapy is essential for early and prompt self-treatment of bleeds. This minimizes the need for expensive hospitalization, reduces joint damage, and improves the quality of life for the patient.
Instruct patients to avoid use of acetylsalicylic acid, NSAIDs, and other over-the-counter and herbal medications that can precipitate or accentuate bleeding. Routine immunizations with hepatitis A and B vaccines and other routine care, as for influenza and pneumonia, should be provided.
Transfer
With the availability of qualified hematologists, surgeons, and laboratory support, many patients can be cared for at local community hospitals, many of which have access to sophisticated laboratory tests and thus allow local and convenient care. However, additional services are available at local hemophilia centers through state and federal programs to assist these patients in coping with the many consequences of a burdensome illness. Thus, it may not always be necessary to transfer such patients to university centers, where the cost of care may be higher.
Complications
Potential complications include severe arthropathy, with limitation of joint motion, pseudocysts, hepatitis, HIV-related illnesses, nephrotic syndrome, severe allergic reactions, development of inhibitors, CNS bleeding, infections, and death. Along with these, patients experience severe economic and social consequences.
Increased bleeding risk occurs with use of the following:
NSAIDs

Protease inhibitors, in HIV-infected individuals

St. John's wort ( Hypericum perforatum), an over-the-counter herbal medicine used for depression
Contribution of products of intermediate purity to immunosuppression is greater than with products of high purity.
Development of FIX inhibitors is a serious complication. Overall incidence of inhibitors in hemophilia B (3-5%) is less than in hemophilia A, but it rises to 12% in patients with severe hemophilia B. Hemophilia B is more likely to develop in patients with severe FIX deficiency because of large deletions or major abnormalities of the FIX gene. In these patients, development of severe allergic/anaphylactic reactions to FIX infusions is associated with the appearance of an inhibitor.
Data from children who developed inhibitors showed that the median number of infusion days of product prior to development of an inhibitor was 11; 50% of inhibitors develop before patients reach age 9 years. The frequency of anaphylaxis is higher on exposure to products containing FIX in patients with hemophilia B who subsequently develop inhibitors. Such anaphylaxis is rare in patients with hemophilia A.
An anamnestic rise in antibody titers in patients who already have an inhibitor can occur following transfusion of products containing FIX. Antibody development leads to failure of therapy usually effective for controlling bleeding, increases morbidity and mortality, and makes the performance of even minor surgery difficult.
Allergic reactions to older less pure coagulation factor concentrates can occur due to sensitization to foreign proteins. They include skin rash, fever, headache and, sometimes, anaphylaxis.
Acute decompensated DIC, myocardial infarction, or stroke can occur with the use of prothrombin complex concentrates (PCCs) or recombinant factor VIIa.
Hepatitis resulting from virus types A-E, hepatitis virus G, the SEN family of viruses A-H, with SEN d and SEN H transmitted parenterally and causing posttransfusion hepatitis; progression to cirrhosis; hepatic failure; and hepatocellular carcinoma are all problems that develop in individuals with hemophilia who were transfused with older less pure products.
Parvovirus B19 can be transmitted, depending on the product transfused, and it can cause aplastic anemia in immunocompromised hosts as well as a variety of illnesses. Human herpesvirus 8, HIV type 2, and HIV group O are other emerging pathogens. [44] Transfusion-transmitted virus (TTV) contamination of first-generation rFIX concentrate has been reported [45] ; second-generation recombinant products that do not use human serum albumin were free of TTV contamination.
HCV infection remains a serious problem, with progression to chronic hepatitis and hepatic failure in most patients, and it has been used as an indication for liver transplantation.
Other unidentified viruses (eg, those possibly present in Chinese hamster ovary cells, which are used to produce rFIX concentrates), can present potential health threats. HIV infection is possible. Transmission of other viruses currently is unknown.
Nephrotic syndrome is a concern, especially in patients with inhibitors undergoing long-term factor replacement. Anemia, leukopenia, or thrombocytopenia may occur. Gene therapy may be associated with an increased incidence of inhibitors.
Potential transmission of prions causing Creutzfeldt-Jakob disease (CJD) or its variant form (vCJD) in recipients of blood products was a serious concern early in this century. However, no individual with hemophilia nor any other blood product recipient in the United States is known to have developed CJD. A United Kingdom study found that as of May 2015, no new cases of transfusion-associated vCJD had occurred since 2007 and there was no evidence of transfusion transmission of sporadic CJD. [46] A sensitive and specific blood test for vCJD has been developed and has entered clinical use; it could be used to screen blood supplies. [47]
Hemophilia can also have a significant psychosocial impact, including addiction to narcotic analgesics and abuse of alcohol and other substances, which leads to unstable relationships. Lack of availability of appropriate jobs; inability to maintain a job due to recurrent illnesses; need for repeated job absences; and the need for repeated expensive medical care all lead to the likelihood of an inability of individuals with hemophilia to adequately support themselves.
Prognosis
Prognosis depends on the types of complications that develop, as well as the type of product replacement available when the patient started undergoing care. Currently, younger patients with hemophilia who receive recombinant products do much better than patients who received the older products. Gene therapy for these disorders is currently under evaluation.
Early and complete genetic testing of all persons newly diagnosed with hemophilia is key to anticipating and preventing serious complications.
Preventing or suppressing the anamnestic rise of FIX inhibitors in patients with severe FIX deficiencies may be feasible with the use of monoclonal antibodies, which target T-cell response to antigenic stimulation. The blockade of CTLA4 and CD28-B7 interactions with T cells is shown to have implications for successfully preventing destructive T-cell responses in autoimmune disease.
Patient Education
Registration with the National Hemophilia Foundation, educational seminars, and one-on-one discussions with patient and family members are essential. For patient education information, see Hemophilia.
What would you like to print?