Technique
Approach Considerations
Skin biopsies can be performed using various methods, including tangential shave, punch, incisional, or excisional techniques. A punch biopsy is performed with cylindrical instruments that can range from 2-8 mm. An advantage of a punch biopsy is the ability to evaluate into the subcutaneous fat. When choosing the appropriate instrument, how much tissue is necessary to obtain an adequate diagnosis while causing the least obvious cosmetic defect should be considered. [10]
Punch Biopsy
Once the area of the punch biopsy is selected, it is often helpful to outline the area prior to the procedure. Local anesthetics can blanch the skin, making it difficult to determine the intended biopsy location. The procedure can be performed using clean disposable examination gloves rather than sterile gloves. This enables the physician to perform the procedure and to administer the anesthetic in a sterile fashion without a completely sterile field.
After preparation of the site, the skin is stretched perpendicular to the lines of least skin tension so that the wound forms an oval. [10] While holding the stretched skin taunt, the punch instrument is introduced vertically using a smooth twisting motion. Once the instrument reaches its maximum depth or goes through the dermis and into the subcutaneous tissue, the punch can be removed. When removing the tissue specimen, caution should be taken to avoid crushing the biopsied tissue by using fine single-toothed forceps or the 30-guage needle used for anesthetic injection.
The wound may be closed and hemostasis achieved by gel foam or by suture. Gel foam is indicated as a hemostatic device for use with surgical procedures. The wound may also be closed with nonabsorbable suture to aid in hemostasis and to produce a better aesthetic result. [5]
The images below depict illustrations of a punch biopsy being performed.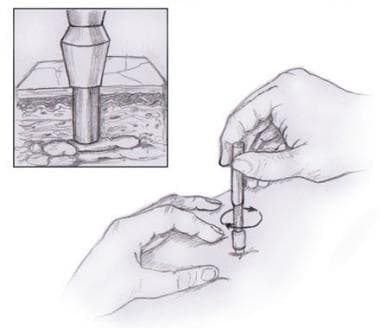 Illustration of punch biopsy being performed.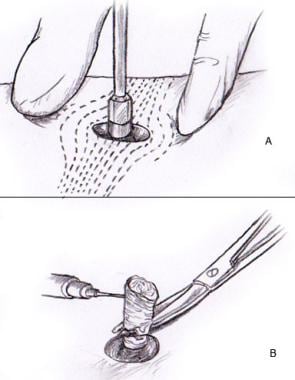 Illustration of punch biopsy being performed.
Shave Approach
When tissue sampling is limited to the epidermis and superficial dermis, a shave biopsy may be considered. The lesion can be elevated by intradermally injecting anesthesia into the surrounding area to produce a wheal. The skin is held taut by applying pressure to the skin with a slight lateral pull.
A No. 15 surgical blade on a scalpel handle or disposable, flexible single razor blade can be used to horizontally transect the lesion at the base using a steady cutting motion. The depth of the sample can be controlled by adjusting the angle of the blade. [5] Once removed, the tissue can be marked with inks or a suture for orientation or simply placed in the bottle containing a formalin fixative and transported to the laboratory. A styptic agent such as aluminum chloride or ferric sub sulfate solution and a bandage is then applied to control bleeding.
The images below depict illustrations of a shave biopsy being performed.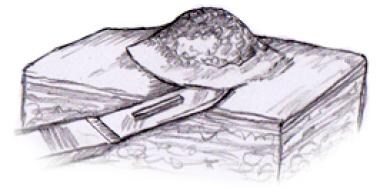 Illustration of a shave biopsy being performed.
Illustration of shave biopsy being performed.
What would you like to print?