Technique
Aspiration From Metacarpophalangeal Joint
After a thorough examination with or without anesthesia, the entire hand is prepared with a skin cleanser and draped in a sterile fashion, so as to allow repositioning and better control of the joint without sacrificing sterility.
Using the previously made marks on either side of the extensor tendon as guides, insert a 22- to 25-gauge needle briskly through the skin into the joint space, directing it toward the center of the joint space to a depth of 0.3-0.5 cm. [5] If bone is encountered, slowly withdraw the needle without exiting the skin, then redirect it. Distal traction of the finger may produce a depression on either side of the extensor tendon. These depressions may be used to guide needle insertion into the joint cavity.
If no fluid is aspirated, reevaluate the joint for an effusion, consider another site for aspiration, or seek another physician's perspective.
Aspirate analysis (see the image below) can be performed on 1-5 mL of fluid. If therapeutic injection into the joint is planned or additional fluid aspiration is needed, do not remove the needle from the joint space. Using a hemostat, grasp the base of the needle, being careful not to change position of the needle, and remove the syringe. Attach the second syringe, and continue either aspirating or injecting.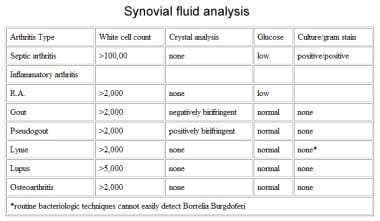 Synovial fluid analysis.
At the completion of the procedure, withdraw the needle and apply a bandage. Transfer the synovial fluid into the appropriate specimen tubes. Finally, document the procedure in the medical record, making special note of the fluid consistency and color. A mention of the joint's condition after the procedure may also be made, especially if an effusion was drained.
What would you like to print?