Periprocedural Care
Equipment
Equipment for amniotomy includes the following:
Vaginal speculum and spinal needle (if a controlled amniotomy is to be performed)

Amniotic membrane perforator: This may be an amniotomy hook, such as the AmniHook (Briggs Healthcare, West Des Moines, IA), or an amniotomy finger cot, such as the Amnicot (Allied Medical, Perth, Australia) or the AROM-Cot (Utah Medical Products, Midvale, UT).*
The AmniHook is a rigid, plastic device with a pointed tip at the end of smooth curve, attached to a 10-in. handle (see the first image below). The Amnicot has a pointed plastic tip embedded in a latex or latex-free finger cot (see the second image below); the AROM-Cot is similar.

Amniotomy hook.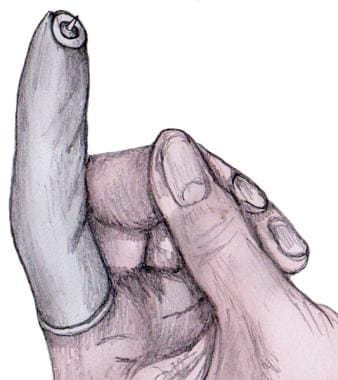 Amnicot
Patient Preparation
Amniotomy is usually performed with the patient supine in the labor bed, with knees and hips flexed (ie, "frog-legged"). It may also be performed with the patient in the lithotomy position, especially if a speculum is required.
Once the patient is positioned, sterile gloves are donned. The dominant hand is used to perform a cervical examination to assess dilation, effacement, position, and station. The presenting fetal part should be determined to be well applied to the cervix before performing amniotomy.
What would you like to print?