Periprocedural Care
Equipment
Equipment used for intravenous (IV) cannulation includes the following (see the images below):
Nonsterile gloves

Tourniquet

Antiseptic solution (2% chlorhexidine in 70% isopropyl alcohol)

Local anesthetic solution

1-mL syringe with a 30-gauge needle

2 × 2 in. gauze

Venous access device

Vacuum collection tubes and adaptor

Saline or heparin lock

Saline or heparin solution

Transparent dressing

Paper tape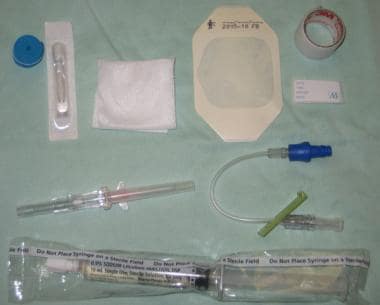 Partial selection of equipment required for IV cannulation.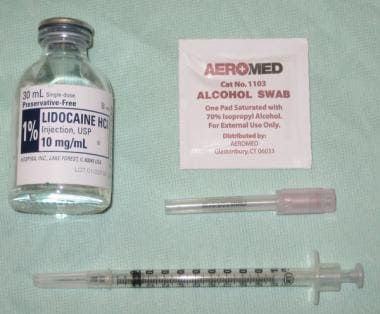 Partial selection of equipment required for IV cannulation.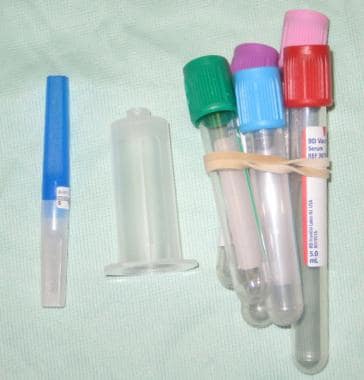 Vacuum collection tubes and adaptor for IV cannulation.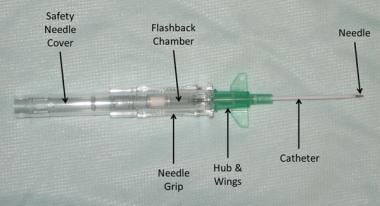 Over-the-needle IV catheter.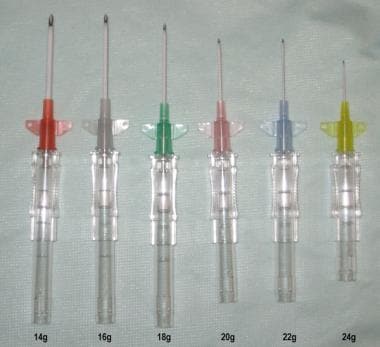 Various sizes of over-the-needle IV catheters.
Patient Preparation
Anesthesia
Both intradermal injection of a topical anesthetic agent just prior to IV insertion [5] and topical application of a local anesthetic cream [6] about 30 minutes prior to IV insertion have been shown to achieve significant reduction of the pain associated with the procedure. Both should be used unless the situation is an emergency. [7]
Positioning
Make sure that there is adequate light and that the room is warm enough to encourage vasodilation. Adjust the height or position of the bed or chair to make sure you are comfortable and to prevent unnecessary bending. Make sure the patient is in a comfortable position, and place a pillow or a rolled towel under the patient's extended arm.
The patient's skin should be washed with soap and water if it is visibly dirty.
What would you like to print?