Periprocedural Care
Patient Education and Consent
Review the phlebotomy order and the patient's written consent. Review the procedure with the patient, inform him or her about the tests for which the blood samples are being collected, and allow the patient to ask questions and express any preferences he or she may have for a site or side. Ask the patient if he or she ever experienced complications with phlebotomy in the past or is allergic to latex.
Equipment
Equipment used for phlebotomy includes the following:
Single-use nonsterile gloves

Tourniquet

Skin disinfectant (eg, chlorhexidine 0.5% in 70% alcohol or 70% alcohol swab or solution)

Evacuated tube system with needle and adapter (eg, Vacutainer; BD, Franklin Lakes, NJ; see the first image below) or syringe and needle or winged butterfly needle device

21-gauge (green) or 22-gauge (black) needles are recommended in adults; a 23-gauge (light-blue) winged butterfly device is recommended in young children or in patients with small and fragile veins

Blood collection tubes (see the second and third images below)

Gauze

Hypoallergenic tape (paper is preferred)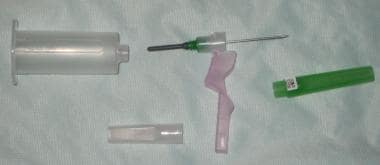 Vacutainer(R) needle and adapter.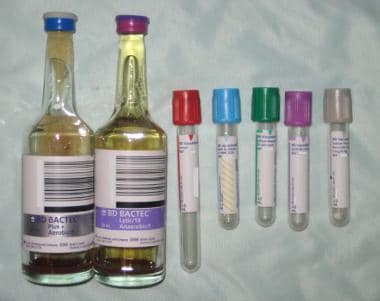 Blood collection tubes.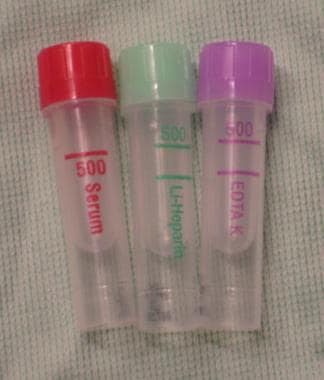 Pediatric blood collection tubes.
Patient Preparation
To alleviate potential anxiety, approach the patient in a professional, calm, and confident manner. If the patient is very anxious about the pain he or she expects to feel, a topical anesthetic cream may be applied 1 hour before phlebotomy.
Position the patient in a supine or sitting position with the arm resting on a flat surface. Make sure that the arm is positioned on a padded surface to increase comfort.
Verify the patient's identity against the laboratory requisition, using local patient identification standards. Assemble the required equipment for this blood draw, and verify that the correct number and type of blood bottles are available. Wash your hands with soap and water before putting on a pair of nonsterile single-use gloves.
What would you like to print?