Presentation
History
See the list below:
Obtaining a travel history is critical to assess whether a patient with eosinophilia has traveled to an area that is endemic for certain infections, including helminthic infections and coccidioidomycosis, which is the only fungal infection that is frequently associated with eosinophilia and is endemic in the southwestern United States and northern Mexico. [16]

Obtaining a medication and diet history is crucial to evaluate for allergic reactions associated with eosinophilia. Particularly the temporal relationship of medication changes to the onset of eosinophilia should be assessed. History of discontinued medications should also be obtained, as eosinophilia can persist long after cessation.

Obtaining a history of symptoms associated with lymphoma, especially Hodgkin lymphoma, is important.

A history that is suggestive of adrenal insufficiency, including the use and tapering of corticosteroid medications, can provide a clue that the observed eosinophilia is associated with adrenal insufficiency. Hypoadrenalism (ie, Addison disease) is the most common endocrine abnormality associated with eosinophilia.

Symptom evaluation for respiratory symptoms, as well as cardiovascular symptoms including exertional dyspnea, fatigue, fever, muscle pain, rash, visual changes, and weakness, may indicate specific organ involvement.
Physical
See the list below:
A complete physical examination is required in patients, because diseases associated with eosinophilia can involve any part of the body, including the skin, brain, eyes, lymph nodes, lungs, heart, liver, spleen, intestine, bone, and nervous system.

Cholesterol emboli due to atherosclerotic disease, with or without recent vascular catheterization, can present as eosinophilia and end-organ damage to the kidneys, skin, and lower extremities (causing blue/purple toes).
Causes
The mnemonic device CHINA (ie, connective tissue diseases, helminthic infections, idiopathic hypereosinophilic syndrome [HES], neoplasia, allergies) describes the categories of diseases that sometimes are associated with blood eosinophilia.
Connective tissue diseases include the following:
Churg-Strauss vasculitis (See the images below.)

Granuloma with a central core of eosinophilic debris surrounded by a peripheral palisade of epithelioid histiocytes and eosinophils from a patient with Churg-Strauss syndrome (allergic granulomatosis).

Magnified view of papules and nodules with central necrosis in a patient with Churg-Strauss syndrome (allergic granulomatosis).

Eosinophilic fasciitis (See the images below.)

High-power photomicrograph of fascia shows heavy inflammatory infiltration with numerous eosinophils, lymphocytes, and occasional plasma cells in a patient with eosinophilic fasciitis.

Lower back part of the legs in a patient with eosinophilic fasciitis shows hypopigmentation, induration, biopsy site, and asymmetric involvement.

Eosinophilia-myalgia syndrome (due to tryptophan in the United States in 1989)

Toxic-oil syndrome (due to contaminated rapeseed oil in Spain in 1981)
Helminthic (ie, worm) parasitic infections include the following:
Idiopathic HES is shown in the images below: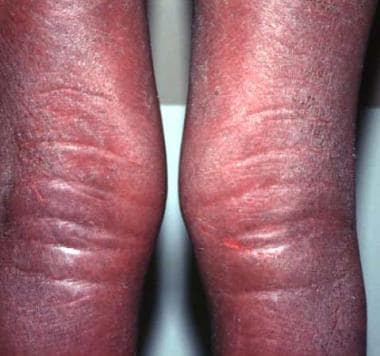 Indurated edematous plaques of hypereosinophilic syndrome on a patient's legs.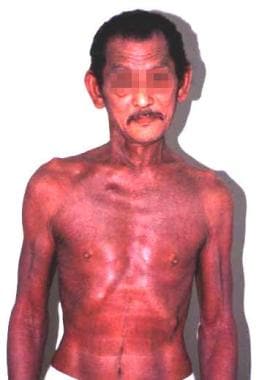 Erythroderma in a patient with hypereosinophilic syndrome.
Neoplasias include the following:
Lymphoma (eg, Hodgkin lymphoma, non-Hodgkin lymphoma)

Human T-cell lymphotropic virus I (HTLV-I) infection

Adult T-cell leukemia/lymphoma (ATLL)

Eosinophilic leukemia (very rare)

Gastric or lung carcinoma (ie, paraneoplastic eosinophilia)
Allergic/atopic diseases include the following:
What would you like to print?