Workup
Laboratory Studies
Laboratory studies begin with a complete blood cell (CBC) count with differential, to quantitate the percentage eosinophils and absolute number of eosinophils (AEC). Blood chemistries can indicate specific organ involvement (ie, liver, kidney).
Spinal fluid examination can assess cerebrospinal fluid (CSF) eosinophilia due to the following:
Worm infections (eg, Angiostrongylus cantonensis)

Drug reactions (eg, phenytoin)

Coccidioidomycosis meningitis
Patients with allergic symptoms should have a nasal smear for eosinophilia and Gram stain. Patients with asthma symptoms should have sputum examination for eosinophilia. [23]
In suspected cases of medication and some parasitic infections, evaluation of urine sediment may be helpful. Stool samples should be evaluated for ova and parasites if indicated by history.
If reactive causes are unlikely, a bone marrow biopsy should be done. Clues of clonality in peripheral blood include macrocytosis, thrombocytosis, left-shifted granulopoiesis and circulating blasts. In the bone marrow, myeloproliferation with dyshematopoiesis and reticulin fibrosis are suggestive of clonality. Staining for tryptase and immunophenotyping should be done.
If primary eosinophilia is suspected, screening of peripheral blood with fluorescent in situ hybridization (FISH) or reverse transcriptase–polymerase chain reaction (RT-PCR) is peformed to detect fusion genes. FISH for the CHIC2 gene deletion can indicate the presence of the FIP1L1-PDGFRA gene fusion, which places the disorder in the World Health Organization category of 'myeloid and lymphoid neoplasms with eosinophilia and abnormalities of PDGFRA, PDGFRB, or FGFR1; these conditions are exquisitely responsive to imatinib. [1]
T-cell receptor gene rearrangement can be evaluated by flow cytometry. Measurement for elevated serum levels of tryptase (seen in systemic mastocytosis [SM] and FIP1L1-PDGFRA-positive disease), interleukin-5 (common in clonal T-cell disorders), and IgE can also be peformed.
Imaging Studies
Computed tomography (CT) scanning may be used as follows:
CT scans of the lungs, abdomen, pelvis, and brain evaluate for focal defects due to diverse causes of eosinophilia

Worm infections of the liver (eg, Fasciola hepatica) can cause focal hepatic lesions

Coccidioidomycosis can cause focal lesions in the lung, which are visible on a chest radiograph or CT scan

Hodgkin or non-Hodgkin lymphoma can cause adenopathy in the abdomen, which is visible on a CT scan
Echocardiography can be used to assess for thrombi (eg, mural, endocardial) due to hypereosinophilic syndrome (HES).
Procedures
A bone marrow biopsy may be helpful (see Laboratory Studies).
The American Society for Gastrointestinal Endoscopy (ASGE) recommends biopsy be performed during endoscopy for removal of food impaction in suspected cases of eosinophilic esophagitis. [24]
A lumbar puncture may be performed to evaluate spinal fluid for CSF eosinophilia. CSF eosinophilia may be due to worm infections (eg, Angiostrongylus cantonensis), drug reactions, or coccidioidomycosis fungal meningitis.
Schistosoma hematobium typically causes eosinophilia and hematuria due to infection of the bladder. All patients with blood eosinophilia who have lived or traveled in Africa and have either gross or microscopic hematuria should have their urine examined for the eggs of S hematobium. Cystoscopy can used for definitive diagnosis but is usually unnecessary to make the diagnosis, because the terminal-spined eggs of this species of schistosome can often be found in the urine if specifically sought. See the image below.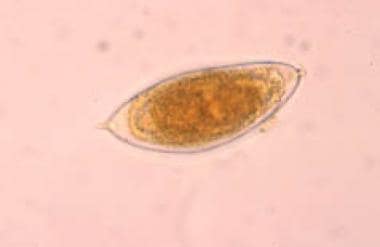 Egg of Schistosoma hematobium, with its typical terminal spine.
What would you like to print?