Periprocedural Care
Equipment
Several commercially available kits contain all the supplies necessary for arterial line placement. These include the Arrow UM-04018, for Seldinger-technique femoral lines, and the Arrow AK-04020 with integrated wire, for modified Seldinger-technique radial lines (Arrow International, a division of Teleflex Medical, Research Triangle Park, NC).
Devices and supplies required may include the following:
Ultrasound probe - 5-13 MHz linear array

Sterile ultrasound probe kit with sterile lubrication

Sterile gloves

Sterile gauze (4 × 4 in.)

Sterile towels

Chlorhexidine or povidone-iodine skin preparation solution

1% Lidocaine without epinephrine in a 3- to 5-mL syringe with a 25- to 27-gauge needle

5-mL syringe with heparinized flush

Appropriate-sized cannula for artery

Scalpel (No. 11 blade)

Nonabsorbable suture (3-0 to 4-0)

Adhesive tape or strips

Sterile nonabsorbable dressing

Three-way stopcock

Pressure transducer kit

Pressure tubing

Arm board of appropriate size for the patient (eg, neonate, pediatric, adult)

Needle driver

Intravenous (IV) tubing T-connector
Radial artery
Equipment for radial artery cannulation may include the following:
Catheter-over-needle technique - 20-gauge, 1.75-in. (4.45-cm) polyurethane catheter over 22-gauge introducer needle

Catheter-over-wire technique (Seldinger) - 20-gauge peripheral artery catheter kit with 20-gauge catheter, 22-gauge introducer needle, and compatible soft-tip wire (see the image below)

Catheter-over-wire technique (modified Seldinger) - 20-gauge peripheral artery catheter kit with integrated wire and catheter
Whereas a 20-gauge peripheral artery catheter kit is suitable for large children and adult patients, a 22- to 24-gauge angiocatheter is preferable for infants and neonates.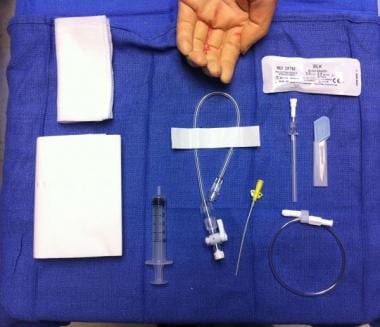 Radial artery cannulation (Seldinger). Catheter-over-wire arterial line kit.
Femoral artery
Commercial kits for the Seldinger technique (catheter-over-wire) are not generally available in the United States. Recommended equipment for catheter-over-wire femoral artery cannulation (see the image below) may include the following:
18-gauge, 3-in. (7.6-cm) introducer needle

18- or 20-gauge, 1.5-in. (3.8 cm) or 3-in. needle (an 18-gauge spinal needle will usually suffice)

Guide wire, appropriately sized for the catheter (eg, 45 cm in length and 0.64 mm in diameter); it should have a straight soft tip on one end and a J tip on the other

Plastic spring wire insertion adapter to straighten the J-tip end of the guide wire for insertion into the plastic catheter

18- or 20-gauge catheter, 15 cm or longer

Femoral artery cannulation (modified Seldinger). Catheter-over-wire arterial line kit.
Patient Preparation
Preparation of the patient for arterial line placement includes selection of the appropriate site and approach technique for catheter insertion (see Technique), as well as anesthesia, positioning, and creation of a sterile field (see below).
Anesthesia
In an emergency situation or when the patient is unresponsive, anesthesia is not required. In a conscious patient, local anesthesia can be provided by using a small amount of lidocaine 1% at the puncture site to prevent obscuring the site. Lidocaine with epinephrine should be avoided because it can constrict the artery, making cannulation more difficult. A lidocaine-tetracaine patch may also be an option for local anesthesia and obviates the need for subcutaneous infiltration. [15] (See Local Anesthetic Agents, Infiltrative Administration.)
If the patient is combative or if maintaining stability of the extremity is difficult, sedation or general anesthesia may be required. (See Procedural Sedation.)
Positioning
For radial artery cannulation, the patient is placed in the supine position. The arm is placed up on a flat surface in neutral position with the palm up and the wrist adequately exposed. The wrist is dorsiflexed to 30-45° and supported in this position with a towel or gauze under its dorsal aspect (see the image below). Hyperdorsiflexion should be avoided; this maneuver can compress the radial artery, making cannulation more difficult. Positioning is maintained by having an assistant hold the patient's hand or by taping the hand and fingers to the work surface.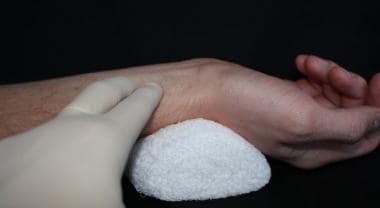 Wrist position for radial artery line placement.
For femoral artery cannulation, the patient is also placed in the supine position, with the hip in mild external rotation. The artery is palpated at the midpoint between the anterior superior iliac spine and the pubic tubercle.
Creation of sterile field
After the target vessel is selected, the area should be prepared with either chlorhexidine gluconate or povidone-iodine ophthalmic solution 5% and draped with sterile towels or drapes. Because arterial catheters can be a source of bloodstream infections (BSIs), sterile technique must not be overlooked. [14] Operators should don sterile gloves, a mask, and hair covering. When the procedure is done under ultrasonographic (US) guidance, a sterile probe cover and gel should also be utilized. After the equipment is inspected, it should be maintained on the sterile field. The vessel should then be reidentified by means of palpation or US after the sterile field has been assembled.
What would you like to print?