Workup
Approach Considerations
Workup for erythroleukemia includes blood studies, bone marrow aspiration and biopsy (the definitive diagnostic tests), analysis of genetic abnormalities, and diagnostic imaging.
Blood Studies
Findings on blood studies include the following:
Complete blood count – Most patients present with pancytopenia. The white blood cell (WBC) count can range from 1000 to 100,000/µL. Anemia may be mild.

Peripheral blood smear – Findings may vary and include blasts (though these may not be present in as many as 50% of cases), macrocytosis, nucleated erythrocytes, schistocytes, and thrombocytopenia.

Chemistry profile, liver function tests, and serum electrolytes – Abnormal findings may reflect organ dysfunction resulting from leukemic infiltration. Elevated lactate dehydrogenase (LDH) and uric acid levels may be present.

Blood cultures – Blood cultures should be obtained in patients with fever or signs of infection.

Rheumatoid factor, antinuclear antibody, Coombs test, and immunoglobulins – Autoantibodies and hypergammaglobulinemia have been reported in patients with erythroleukemia who have joint or bone pain.

Vitamin B12 and folate – Severe

pernicious anemia

sometimes mimics acute erythroleukemia.
Bone Marrow Aspiration and Biopsy
Bone marrow aspiration and biopsy are critical in making the diagnosis of acute erythroleukemia. Bone marrow smears from aspirate and touch preparations from biopsy should be stained with Wright-Giemsa and other histochemical stains.
The FAB classification used since 1985 is based on cell morphology to identify the lineage of the blasts, the degree of differentiation, the number of blasts (quantification), and cytochemistry. [17] This classification does not include cytogenetics. Erythroleukemia is required to have both erythroblastic and myeloblastic components (see the image below). The assessment of a bone marrow specimen is based on a 500-cell count.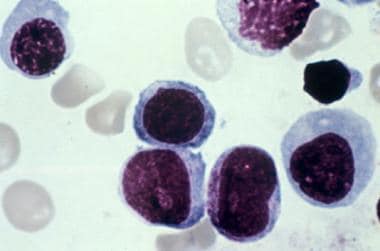 Bone marrow aspirate showing erythroblasts in a patient with erythroleukemia. Courtesy of Maurice Barcos, MD, PhD, Department of Pathology, Roswell Park Cancer Institute, Buffalo, NY.
FAB criteria require (1) a 50% or more erythroid component in all nucleated cells and (2) at least one of the following: 30% or more nonerythroid blasts, excluding erythroblasts, or less than 30% blasts in all nucleated cells. Nonerythroid blast cells are blast I (ie, myeloblast with no cytoplasmic granules, distinct nucleoli) or blast II (ie, granules, centrally placed nucleus) and monoblast.
Under the 2016 WHO classification, a diagnosis of pure erythroid leukemia requires the following [4, 18] :
>80% immature erythroid precursors with ≥30% proerythroblasts

< 20% myeloblasts

No prior therapy

No WHO genetic abnormality present
Severe pernicious anemia manifesting with pancytopenia can occasionally mimic erythroleukemia on bone marrow morphology. In such instances, waiting for the results of a complete workup, including cytogenetics and flow cytometry, before initiating treatment is recommended. B-12 and folate levels should similarly be reviewed before treatment.
Flow Cytometry
As a result of the multilineage nature of erythroleukemia, [19] the leukemic cells often express both erythroid and myeloid markers. They are often positive for myeloid markers, such as CD117, CD13, CD33, and MOP, whereas the expression of HLA-DR and CD34 is often decreased or absent. The megakaryocytes antigens CD41 and CD61 can be positive in some cases.
Erythroid markers such as glycophorin A and transferrin receptor (CD71 and CD45) may be increased, but they are negative in many patients with erythroleukemia. Therefore, whereas the expression of glycophorin A and/or transferrin receptor may be helpful, the absence of erythroid antigens does not exclude erythroleukemia.
Cytogenetic Analysis
The assessment of chromosomal abnormalities in patients with erythroleukemia is critical in the diagnosis and prognosis of disease. Multiple chromosomal abnormalities have been described, but none of them is specific for M6 acute myelogenous leukemia (AML).
Results from many studies demonstrate that certain chromosomal abnormalities are associated with different prognoses in all AMLs, including acute erythroleukemia, as follows:
Prognosis is favorable with t(8;21), inv16/t(16;16), and +14.

Prognosis is unfavorable with -5/5q, -7/7q-, inv3, 11q, 17p, del20q, +13, t(9;22), FT3 or more than 2 cytogenetic abnormalities.

Prognosis is intermediate with normal karyotype and all other cytogenetic abnormalities.

CEBPA associates with longer remission duration

NPM associates with increased response to chemotherapy
Echocardiography or Multiple-Gated Acquisition Scanning
Echocardiography or multiple-gated acquisition (MUGA) scanning is used to evaluate cardiac function before chemotherapy. Chemotherapy regimens contain cardiotoxic drugs.
Chest Radiography
Chest radiography may be helpful. Normal findings help exclude potentially complicating factors such as pulmonary infection, cardiomegaly, pulmonary vascular congestion, or pleural effusion.
Computed Tomography and Magnetic Resonance Imaging
Noncontrast computed tomography (CT) scanning of the head can be used to rule out central nervous system (CNS) bleed. Perform a CT scan or magnetic resonance imaging (MRI) if neurologic signs are present (the fifth and seventh cranial nerves are most commonly involved). The affected cranial nerve may show thickening of the nerve sheath. This can occur even in the absence of CNS involvement.
P-glycoprotein
P-glycoprotein (Pgp) is a product of the MDR1 gene. It can be measured by means of either (1) immunohistochemistry (low sensitivity) or (2) flow cytometry with MRK16 or U1C1 antibodies (specific). This test should be considered in patients who do not respond to induction chemotherapy.
Lumbar Puncture
Lumbar puncture (LP) is performed if CNS or meningeal signs are present. LP usually reveals an elevated opening pressure, increased protein, and a low glucose level in the cerebrospinal fluid (CSF). If circulating blasts are present at the time of LP, intrathecal chemotherapy should be administered. LP is also suggested for patients who are asymptomatic but have circulating leukemic cell counts higher than 50,000/µL or an elevated LDH level.
Other Tests
Periodic acid-Schiff (PAS) stain findings are usually positive in erythroblasts and abnormal erythroid precursors and negative in normal erythroid precursors of all stages of maturation.
A pregnancy test should be performed in young females. Fertility counseling should be considered for both male and females.
Urine cultures should be obtained in patients with fever or signs of infection.
What would you like to print?