Periprocedural Care
Equipment
Garner-Wells tongs can be used for traction during the procedure but are not required. Self-retaining retractions are needed to maintain exposure of the operative field once the vertebral bodies are reached. An operative microscope is used to magnify the operative field and to provide a strong light source into the field. A rongeur and up-angled curette toolsets are needed to remove both herniated disc and bony osteophytes once the appropriate disc space is reached. If a fusion is to be performed, a high-speed drill can also be used to decorticate both the superior and inferior vertebral body endplates to encourage postoperative fusion.
If autograft is to be used, the appropriate surgical tools to harvest bone graft from the fibula or iliac crest are required. Fusion procedures require the addition of an instrument spacer to determine the size of the cage to be placed in the removed disc space. The addition of plate instrumentation also requires an appropriate drill tool for placement of screws.
Patient Preparation
Anesthesia
General anesthesia is used for all anterior cervical discectomy procedures. Local anesthetic is used just prior to skin incision.
Positioning
The patient should be positioned supine with the head extended. Gardner-Wells tongs can be used for both traction and head fixation. The arms can be pulled downward to increase operative exposure, especially for procedures involving the lower cervical spine.
Monitoring & Follow-up
Lateral radiographs are often used for long-term monitoring. These films allow the surgeon to assess for possible plate and graft complications. Alignment of the cervical spine, as well as adjacent level disease, can also be monitored with lateral radiographs. Occasionally, a CT scan or MRI of the cervical spine can be obtained to assess for procedure failure.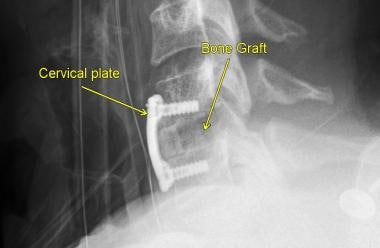 Upright lateral plain film following an anterior cervical diskectomy and fusion, demonstrating the bone graft between the vertebral bodies and the abutting cervical plate.
What would you like to print?