Periprocedural Care
Patient Education & Consent
Patient Instructions
Patients must be educated first about the expected length of analgesic effect. The duration of action of this block is variable, with one source reporting up to 36 hours of effective analgesia from a single injection. [3] Anecdotally, we find the TAP blocks to last anywhere from 18-24 hours. An expectation should be given to patients that this procedure is intended to eliminate somatic abdominal incision pain due to the procedure, but that visceral pain will not be affected. Patients should also be educated regarding any signs or symptoms of possible complications. These would include bruising at the injection site or signs of infection (ie, redness, fever, or chills).
Pre-Procedure Planning
Equipment
The equipment needed includes syringes for local anesthetic (the authors use 0.5% bupivacaine, 15-20 mL per side), a 21-gauge 100-mm needle with tubing, antiseptic for skin disinfection, and, if using ultrasound guidance, an ultrasound machine with high-frequency probe (10-5 MHz) and ultrasound gel (see the image below).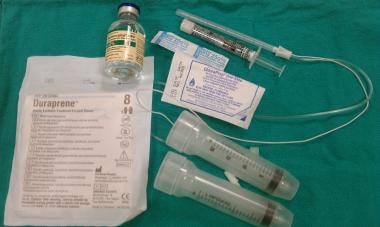 Equipment needed for TAP block (ultrasound probe not shown).
Patient Preparation
The TAP block can be performed preoperatively, intraoperatively, or postoperatively. The patient does not need to be awake for the procedure, and in fact, the authors prefer to do it while the patient is under either general or spinal anesthesia.
Monitoring & Follow-up
The type and duration of monitoring for this block do not differ from other peripheral nerve blocks preformed today. These include standard ASA monitors with ECG, blood pressure, and oxygen saturation. Additional monitoring beyond the acute time frame to perform the block is not required.
Complications
Overall, the TAP block is a relatively safe procedure with minimal complications. In addition to the common complications associated with any peripheral nerve block (ie, local anesthetic toxicity, intravascular injection, nerve injury, bleeding, and infection), inadvertent peritoneal puncture is a risk with this block.
The exact incidence of peritoneal puncture is unknown. One investigator who has preformed several hundred TAP blocks reported no complications related to peritoneal puncture. [3] A review article on this subject reported only an allergic reaction upon injection with no other listed complications. [1] However, one source does cite the incidence in intraperitoneal injection as 2%. [12] Bowel hematoma, enlarged liver laceration, and transient femoral nerve palsy are among serious but very rare reported complications. [13] Other organ injury, namely spleen and kidney, are also possible complications.
What would you like to print?