Technique
Approach Considerations
Ultrasound-Guided (Posterior Approach)
With the patient in the supine position, the ultrasound probe is placed in a transverse plane between the lower costal margin and the iliac crest in the midaxillary line (see the image below).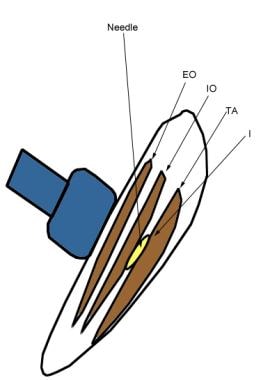 Illustration depicting the placement of the ultrasound probe along the abdominal wall, and the ideal placement of local anesthetic.
The needle is advanced using in-plane technique with an anteromedial-to-posterolateral direction (see the image below).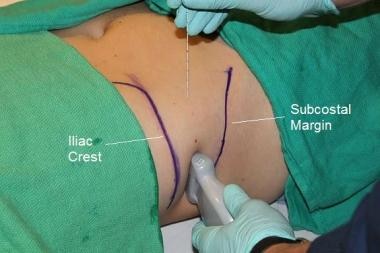 Positioning of the patient and ultrasound probe for TAP block (posterior approach).
The needle is advanced between the aponeurosis of the internal oblique and transversus abdominis muscles. With intermittent aspiration, the local anesthetic is deposited and seen as a hypoechoic shadow pushing the 2 layers apart (see the image below).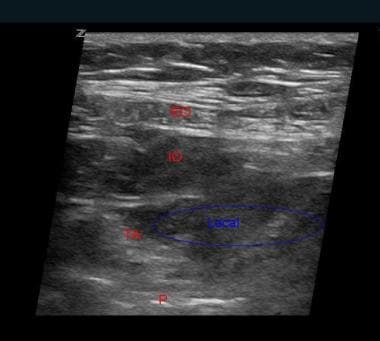 TAP block (posterior approach) demonstrating deposition of local anesthetic between transversus abdominis muscle and its fascial plane. EO - external oblique muscle, IO - internal oblique muscle, TA - transversus abdominis muscle, P - peritoneum
Visualizing hypoechoic spread, with the fascial layer above and the muscle layer below, ensures proper deposition.
A video depicting the posterior approach can be seen below.
Ultrasound-guided TAP block (posterior approach).
Ultrasound-Guided (Subcostal Approach)
With the patient supine, the ultrasound probe is placed parallel to the subcostal margin near the xiphoid process. The transversus abdominis muscle is identified as the more hypoechoic muscle layer just beneath the rectus abdominis muscle near the xiphoid (see the image below).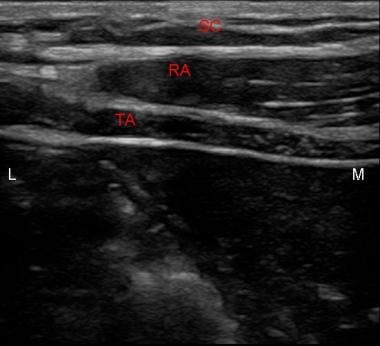 Ultrasound image of abdominal layers for subcostal approach. SC (subcutaneous tissue); RA (rectus abdominis); TA (transversus abdominis); L/M (lateral and medial)
Between the lateral edge of the rectus and the medial edges of the internal and external oblique muscles, the aponeurosis above the transversus abdominis is the first layer below the subcutaneous tissue. With the probe near the xiphoid, the needle is advanced in-plane, passing just below the rectus to the TAP. As with the posterior approach, local anesthetic is deposited with intermittent aspiration and visualized as a hypoechoic layer transecting the TAP. [11]
Traditional (Blind) Approach
In this approach, the lumbar triangle of Petit is identified. The triangle of Petit is formed by the iliac crest as the base, the external oblique muscle as the anterior border, and the latissimus dorsi muscle as the posterior border. [1] The floor of the triangle is made up of the fascia from both the external and internal oblique muscles (see the image below). A needle is inserted perpendicular to the skin just cephalad to the iliac crest near the midaxillary line. The TAP is identified using a 2-pop sensation (loss of resistance). The first pop indicates penetration of the fascia of the external oblique muscle, and the second indicates penetration of the fascia of the internal oblique muscle. Local anesthetic is then injected with multiple aspirations.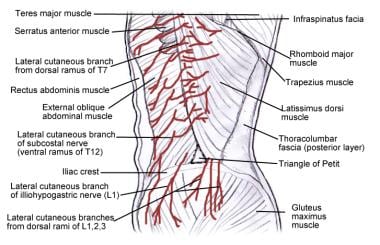 Anatomical depiction of the triangle of Petit from the lateral view.
What would you like to print?