Follow-up
Complications
Infections, especially upper respiratory tract infections, are a complication of γ-heavy chain disease (HCD). Infections are secondary to impairment of both cellular and humoral immunity. Edema of the lymphoid tissue of the oropharynx reduces the ability to rid the airway of pathogens, perhaps by impairing the cough reflex. Most patients with γ-HCD eventually succumb to bacterial infections.
The anemia observed in patients with γ-HCD may be either anemia of chronic disease or hemolytic anemia. An autoimmune hemolytic anemia is commonly seen in patients with γ-HCD.
Increased incidence of fractures of long bones and vertebrae from lytic bone lesions in patients with γ-HCD. γ-HCD, as with multiple myeloma, may be associated with lytic lesions leading to increased incidence of fractures. See the images below.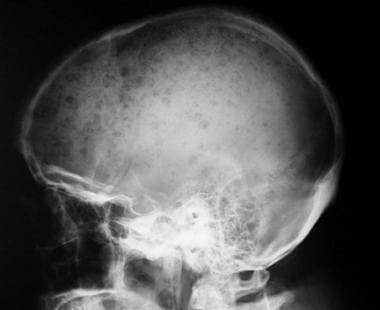 Lateral radiograph of the skull. This image demonstrates numerous lytic lesions, which are typical for the appearance of widespread myeloma.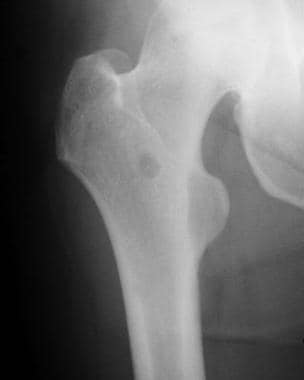 Radiograph of the right femur. This image demonstrates the typical appearance of a single myeloma lesion as a well-circumscribed lucency in the intertrochanteric region. Smaller lesions are seen at the greater trochanter.
Prognosis
The prognosis for patients with γ-HCD is poor. The clinical course varies because some patients remain asymptomatic for months to years, whereas others have a waxing and waning course. Still others experience a rapidly progressive course, with death occurring within months of diagnosis.
What would you like to print?