Specific Organisms and Therapeutic Regimens
General recommendations and organism-specific therapeutic regimens for myocarditis are provided below, including those for viral [1, 2, 3, 4] and bacterial organisms. [2, 3, 5] Special considerations are also discussed.
General recommendations
Most cases of myocarditis are post viral in origin [6, 7] ; therefore, supportive therapy is first-line treatment. [2]
Obtain hemodynamic stability with vasopressors and inotropic agents, if needed.
Use diuretics and vasodilators if high ventricular filling pressures are noted on echocardiography.
Consider a left ventricular assist device, transplantation, or both in patients with severe disease.
Once the patient is stabilized, follow the American College of Cardiology/American Heart Association (ACC/AHA) guidelines for the treatment of heart failure. [1] Angiotensin-converting enzyme inhibitors (ACEIs), beta-blockade, and an aldosterone antagonist are recommended if the patient has New York Heart Association (NYHA) grade III-IV symptoms). [3, 5]
Diagnostic criteria
Endomyocardial biopsy is the criterion standard for diagnosis of myocarditis. [2, 8, 9]
Historically, the Dallas criteria have been used for histologic diagnosis, although their utility is questioned.
Elevated troponin I (>0.1 ng/mL) is highly specific for the diagnosis of myocarditis; the creatine kinase–muscle-brain (CK-MB) fraction and the total creatine kinase (CK) level are not useful.
Echocardiography is recommended as the initial imaging test of choice in suspected myocarditis.
Cardiac magnetic resonance imaging (MRI) is useful to differentiate between myocarditis and other cardiomyopathies, as well as to target endomyocardial biopsy sites. Myocardial hyperemia assessment by contrast-enhanced first-pass MRI can be used as a quick diagnostic tool in patients with acute myocarditis. [10]
Etiological classification
The classification of myocarditis is based on etiology (see the chart below). [2, 8, 9] Recently, SARS-CoV-2 coronavirus (COVID-19) has been implicated in the etiology of fulminant myocarditis. [11, 12]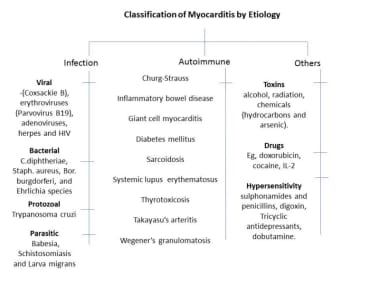 Classification of myocarditis by etiology.
Infectious causes and therapeutic guidelines
Infectious causes and treatment guidelines are summarized below.
Viral
Human immunodeficiency virus (HIV): Initiate antiretroviral therapy (see Antiretroviral Therapy for HIV Infection)
Cytomegalovirus (CMV)
Bacterial
Borrelia burgdorferi
First-degree atrioventricular (AV) block
Symptomatic, second- or third-degree AV block
Mycoplasma pneumoniae
Methicillin-resistant Staphylococcus aureus (MRSA)
Corynebacterium diphtheriae
Parasite
Babesiosis
Schistosoma mansoni, Schistosoma haematobium, Schistosoma intercalatum
Protozoa
Trypanosoma cruzi
Clinical therapeutic considerations for myocarditis scenarios
Scenarios for clinical therapeutic considerations for myocarditis are described below. [2, 8, 9, 19] An acute myocarditis flow chart is depicted in the first image below; a subacute myocarditis flow chart is depicted in the second image.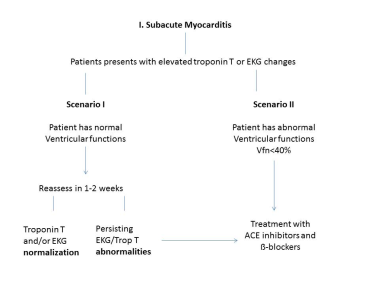 Acute myocarditis treatment flowchart.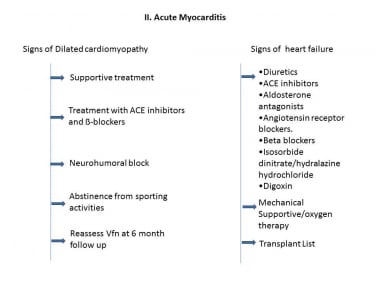 Subacute myocarditis treatment flowchart.
Forty percent of dilated cardiomyopathy patients not responding to treatment have myocarditis. [20, 21]
Ten percent of unexplained myocarditis cases are post viral in origin. [6, 7]
The prognosis depends on spontaneous complete resolution (acute fulminant myocarditis) or the development to dilated cardiomyopathy. [22, 23]
Inflammation has beneficial effects on clearing the viral particles; hence, immune suppression is not generally recommended. [24]
Infection with enterovirus and adenoviruses could be treated with 6 mIU interferon 3 times a week to reduce the viral load and improve ventricular function during an acute myocarditis episode. [9] Normalization of the inflammatory process and long-lasting left ventricular ejection fraction (LVEF) improvement is seen in patients with virus-negative chronic myocarditis. [25]
Studies investigating intravenous immunoglobulin (IVIG) therapy in adults with acute myocarditis and acute myopathy have failed to show any type of usefulness in treatment during an acute episode. However, in patients with HIV infection, a long-term follow up (at 5 y) with echocardiogram has shown that 8% show dilated cardiomyopathy changes. [26] However, it is unknown if ACEIs and beta-blockers are effective in these patients.
Hu et al reported an unusual case of coronavirus infection characterized by heart damage. After extensive testing the patient was diagnosed with fulminant myocarditis with cardiogenic shock and pulmonary infection. Pharmacotherapy included methylprednisolone, immunoglobulin, norepinephrine, diuretics, milrinone, piperacillin sulbactam, and pantoprazole. Myocardial injury markers fully recovered to the normal range after 3 weeks. [27]
Autoimmune and hypersensitivity
Giant cell myocarditis mediated by T lymphocytes is the only known cause of most fulminant heart failure with ventricular arrhythmias. [28, 29] Immunosuppression and mechanical cardiac support are recommended in this case and, possibly, cardiac transplantation, with a 20-25% recurrence rate post transplantation. Immunosuppression may have beneficial effects to some extent. [30, 31]
Hypersensitivity-related myocarditis often manifests as infiltration with lymphocytes, histocytes, and eosinophil, and sometimes it results in sudden death from complications of myocarditis.
Complications
Myopericarditis with acute coronary syndrome is a potential complication. Treat inflammation with colchicine at 2 mg/day PO with stepwise dose reduction, which should improve pericarditis in 3 months; NSAIDs are contraindicated in this condition. [32, 33]
Syncope with ventricular arrhythmia and cardiac block should be treated with hospital admission with continuous echocardiogram monitoring and conservative management, similar to acute arrhythmias.
Cardiogenic shock may require mechanical ventilator support, extracorporeal membrane oxygen therapy, and cardiac transplantation. [34, 35]
What would you like to print?