Overview
Overview
Aortic valve stenosis (AVS) is the functional narrowing of the orifice of the aortic valve and causes obstruction to blood flow from the left ventricle (LV) to the systemic circulation.
The image below shows the left ventricular outflow tract and aortic valve.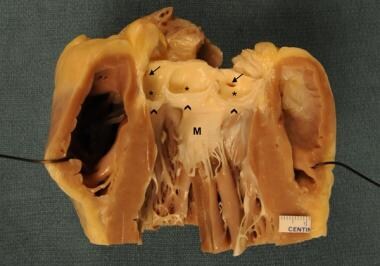 Aortic Stenosis Pathology. Longitudinally opened, left side of a heart showing the left ventricular outflow tract and the aortic valve. The aortic valve cusps are soft, pliable, and translucent (arrowheads). The sinuses of Valsalva (asterisks), the 2 coronary ostia, and the sinotubular junctions (arrows) are seen. M = anterior mitral leaflet, ventricular aspect.
Aortic valve stenosis is the most common type of valvular heart disease in the Western world. The largest contribution to this disease arises from calcific aortic valve stenosis, which affects 2-3% of the North-American population aged 65 years and older. [1] With the advancing age of the Western population, the number of affected individuals is only expected to rise. Although postinflammatory or rheumatic aortic valve stenosis is now a rarity in the Western world, it continues to be the most common cause of aortic valve stenosis worldwide. [2]
See also Aortic Stenosis, Pediatric Valvar Aortic Stenosis, Pediatric Rheumatic Heart Disease, and Pathology of Rheumatic Heart Disease.
Etiology
Disease processes that result in aortic valve stenosis (AVS) can be classified as congenital or acquired. The acquired group is largely consists of calcific (formerly "degenerative") and postinflammatory (or rheumatic) disease.
Congenital aortic valve stenosis
The congenitally stenotic aortic valve may be acommissural, unicommissural, bicuspid or, rarely, congenitally quadricuspid/quadricommissural. The presence of 1, 2, or 4 cusps instead of 3 is associated with abnormal valve hemodynamics and produces greater and earlier leaflet damage. Greater valve bending occurs during systole, and there is incomplete valve opening and increased friction during the valve's closure. [3, 4] The increased wear and tear of these congenitally abnormal valve leaflets promotes endothelial damage and fibrous change. Presumably, the same processes that lead to calcific stenosis of a tricuspid valve are at play here, although at an earlier age. (This is frequently associated with congenital changes in the aorta and pulmonary artery, with a resultant higher incidence of ascending aortic aneurysms.)
Acquired aortic valve stenosis
Calcific aortic valve stenosis
Earlier explanations for the development of calcific (formerly "degenerative") aortic valve stenosis cited the passive accumulation of calcium on the surface of the valve as the cause of disease. However, later studies suggested that calcific aortic valve stenosis may occur by a similar mechanism to that of vascular atherosclerosis. [5, 6, 7] Smoking, male sex, and elevated serum low-density lipoprotein (LDL) cholesterol are risk factors for both conditions. [5]
The process of valve disease is believed to be initiated with the development of atherosclerosis along the aortic surface of the valve which, subsequent to aortic valvular osteoblast differentiation, calcifies. [1] Early in the disease process, the thickened aortic valve is said to be sclerotic; that is, although thickening of the valves is present, there is not yet obstruction of the valve orifice. [2] Later in the disease process, as the thickening of the valve progresses and the valve orifice becomes significantly obstructed, the valve is said to be frankly calcific.
Postinflammatory, or rheumatic, aortic valve stenosis
In rheumatic fever, antistreptococcal antibodies produced by B lymphocytes cross-react with host-tissue epitopes, producing inflammation in a number of organ systems, including the heart and its mitral and aortic valves. [8] Any or all 4 valves may be involved.
Inflammation induces angiogenesis in the normally avascular valve layers; over a period of months or years, thickening of the valve develops as inflamed elastic tissue becomes replaced by irregular masses of collagen fibers. Recurrent episodes of rheumatic fever produce progressive damage to the host's valves.
Other causes of aortic valve stenosis
Rare causes of aortic valve stenosis include renal failure, familial hypercholesterolemia, Paget disease, systemic lupus erythematosus, ochronosis with alkaptonuria, and radiation.
Clinical Features
Symptoms
Aortic valve stenosis (AVS) is a slowly progressive disease, and not all affected patients report symptoms. The possibility that many supposedly asymptomatic individuals underreport symptoms or subconsciously reduce their activity to avoid symptoms certainly exists. The symptoms most commonly associated with aortic valve stenosis include angina pectoris, presyncope or syncope, and symptoms of heart failure, such as dyspnea.
Considering the growing evidence that coronary artery disease (CAD) and aortic valve stenosis may occur by a similar mechanism, the development of angina or anginalike symptoms in patients with aortic valve stenosis is not surprising. In fact, roughly 59% of patients affected with severe aortic valve stenosis have coexisting coronary artery disease. [9]
Symptoms of angina most often develop during periods of exertion. In patients without concurrent coronary artery disease, the largest contributors to chest pain are believed to be reduced diastolic coronary filling time and the severity of aortic valve stenosis. [10] Other contributors include left ventricular hypertrophy, which increases metabolic demand; increased diastolic filling pressures, which compress the endocardium and inhibit perfusion; and decreased capillary network density. [10]
As with angina, presyncope or syncope is often induced by strenuous activity in patients suffering from aortic valve stenosis. Syncope in these individuals is believed to be induced by a drop in blood pressure, which does not occur in healthy individuals whose blood pressure rises during activity. In patients with aortic valve stenosis, total peripheral vascular resistance falls during exercise, but because of significant aortic valve stenosis, cardiac output does not rise appropriately to maintain or increase blood pressure. [11] The subsequent fall in blood pressure produces syncope.
An alternative explanation is that rising left ventricular pressures produced as the ventricle attempts to increase stroke volume during exercise trigger left ventricular baroreceptors. [11] When stimulated, these baroreceptors induce arterial hypotension, a fall in venous return, and bradycardia. In patients with aortic valve stenosis, it is quite likely that both mechanisms described contribute to the development of presyncope and syncope during strenuous activity.
Symptoms of heart failure often follow when diastolic dysfunction develops and/or the point at which increasing pressure loads overwhelm left ventricular contractile reserve, producing left ventricular systolic dysfunction. At such points, the left atrium and pulmonary venous pressures become elevated, resulting in fluid in the lungs and peripheral tissues.
Rapid and accurate recognition of symptoms in patients with aortic valve stenosis is essential, as swift deterioration often ensues subsequent to symptom development.
Signs
Early in the disease process the thickened or sclerotic valve does not cause significant outflow obstruction. Auscultation of this patient reveals a normal S2 or a split S2 sound, and often, a typical crescendo-decrescendo systolic ejection murmur that peaks early in systole. The murmur frequently radiates to the neck and carotid arteries and is best heard over the ascending aorta in the second right intercostal space. Due to its greater proximity to the left ventricle, the carotid pulse provides a more accurate measure of the severity of aortic valve stenosis than the peripheral pulses.
As aortic valve stenosis progresses, the systolic murmur becomes louder; at its loudest, it is associated with a palpable precordial vibration. [12] Ventricular ejection through an increasingly narrowed valve produces a slow-rising pulse or pulsus tardus that peaks late in systole. Palpation over the heart reveals a sustained apical impulse, indicating prolonged left ventricular ejection. On palpation as well, an appreciable brachioradial or apical-carotid delay is also present, especially in severe aortic valve stenosis. [12, 13]
As stroke volume continues to decline, the affected individual develops a weak pulse or pulsus parvus. At this point, however, the left ventricular apical impulse remains forceful. The discrepancy between a powerful apex beat and a weakened carotid pulse is good evidence of an obstruction between the left ventricle and aorta. Due to increasing calcification and stiffening of the valve cusps, the valve neither opens nor closes well. Thus, the second heart sound may not contain the aortic component. Finally, an increased dependence on atrial contraction for diastolic filling produces a prominent fourth heart sound in patients in sinus rhythm.
Differentials
The following conditions should also be considered when evaluating a patient with suspected aortic stenosis.
Electrocardiography and Chest Radiography
Although the results of the electrocardiogram (ECG) and the chest radiograph are nonspecific, these studies may highlight features often associated with aortic valve stenosis. The ECG may show the strain pattern of lateral ST depression and T-wave inversion that marks left ventricular hypertrophy. As well, the P waves may show evidence of left atrial enlargement. Similarly, the chest radiograph may reveal a boot-shaped heart typical of concentric left ventricular hypertrophy and an enlarged left atrium. The chest radiograph may also reveal aortic valve calcification and poststenotic dilatation of the aorta.
Echocardiography and Doppler Imaging
Echocardiography is the chief method for diagnosis of aortic valve stenosis. This imaging modality helps the examiner to distinguish among congenital, calcific, and postinflammatory or rheumatic valve stenosis. [2] In the presence of significant calcification, however, distinguishing between a bicuspid and tricuspid valve is difficult, as valve opening during systole is reduced and echogenicity is increased. Rheumatic valves are distinguished by the presence of commissural fusion and, often, concomitant mitral valve involvement.
A study by Nguyen et al found that aortic valve stenosis progressed faster with increasing haemodynamic or anatomic severity. The study's results suggested that a medical strategy aimed at preventing aortic valve calcification progression may be useful in all subsets of patients with aortic valve stenosis. [14]
The most important data that can be gleaned from Doppler echocardiography are indices of transaortic flow velocities, which allow the calculation of the aortic valve annulus (AVA) and transaortic pressure gradients. Together, these values allow for grading the severity of aortic valve stenosis. [15, 16]
Discordance between the parameters evaluating aortic valve stenosis may exist. [17] In such a case, assessing the shape of the waveform produced on echocardiography may help. Waveforms are often triangular in mild to moderate aortic valve stenosis, whereas they are arched in severe aortic valve stenosis. [2]
In addition to revealing the degree of aortic valve stenosis, echocardiography also reveals the degree of ventricular dysfunction and the extent of hypertrophy. Altogether, the data elucidated from echocardiography influence the timing and type of intervention performed.
Stress Testing and Exercise-Stress Echocardiography
Stress testing may involve treadmills, recumbent bicycles, or low-dose dobutamine infusions. When used in combination with echocardiography, the test is termed exercise-stress echocardiography. Although stress testing should not be performed in patients with unequivocal symptoms or in patients whose aortic valve stenosis severity or comorbidity contraindicates strenuous activity, it should be considered when evaluating asymptomatic patients or patients with equivocal symptoms. [16, 18]
Exercise testing in supposedly asymptomatic patients has been shown to reveal symptoms hidden by inactivity or underreporting. [19] Stress testing in this group is important, as the development of symptoms or a drop in blood pressure on exertion is an indication for the need for aortic valve repair. [16, 18] Furthermore, when used in combination with echocardiography, exercise testing provides additional data pertaining to the severity of aortic valve stenosis.
Cardiac Catheterization
Cardiac catheterization provides information regarding the presence and severity of valvular obstruction. The procedure is required before aortic valve repair when either concurrent coronary artery disease is suspected or a patient's history, physical examination, and/or echocardiographic measurements provide discordant conclusions about the severity of aortic valve stenosis. [16]
During the procedure, measurements of the left ventricle and aortic pressures and, sometimes, cardiac output are taken and used to calculate transaortic gradients. The resulting gradients are more accurate than those measured indirectly by Doppler echocardiography, and they allow for more precise calculation of the aortic valve annulus using the Gorlin Formula. [20]
Additional information gleaned from cardiac catheterization includes left atrial and pulmonary artery pressures and the assessment of other valve disease. [1]
Gross Features
The gross features of congenital, calcific, and postinflammatory (or rheumatic) valve aortic valve stenosis (AVS) are briefly reviewed in this section.
Congenital aortic valve stenosis
In patients with congenitally abnormal valve leaflets, and, hence, abnormal valve hemodynamics, aortic valve stenosis begins with endothelial and fibrous damage. Early thickening begins at the raphe, the primary site of calcification, and then spreads laterally into the cuspal tissues, [3] significantly reducing the aortic valve annulus (AVA). Again, the processes believed to be at work in calcific aortic valve stenosis are also at work here. See the following images.
Calcific aortic valve stenosis
In calcific aortic valve stenosis, thickening and calcification begin at the base of the cusps and progress towards the orifice, [2] immobilizing the cusps and narrowing the valve orifice. Fusion of the valves' commissural regions can occur, although it does not usually involve the free edge of the valve cusps or all 3 commissures. See the images below.
Postinflammatory or rheumatic aortic valve stenosis
The inflammatory process associated with rheumatic fever produces organization, fibrosis, and retractile thickening of aortic valve cusps, as well as progressive commissural and cuspal fusion. Calcifications are found on all parts of the valve, and the surface is often covered by fibrin and platelet deposits. Maximal thickening is present at the site of the commissures, producing a triangular, severely stenosed, and often regurgitant, valve orifice. See the following images.
Microscopic Features
This section briefly discusses the microscopic features of congenital, calcific, and postinflammatory or rheumatic valve aortic valve stenosis (AVS).
Congenital and calcific aortic stenosis
The histopathologic changes associated with congenital and calcific aortic valve stenosis are not different. [21, 22] In both congenital and calcific aortic valve stenosis, areas of extensive fibrosis, elastosis, calcification, thickening, fat-cell infiltration, and distortion of the normal histology are present. Calcification often begins in the valvular fibrosa and gradually reaches the middle portion of the cusps without extending to the valvular edge. See the following images.
Postinflammatory or rheumatic aortic stenosis
Histologic examination of postinflammatory or rheumatic aortic valve tissues shows formation of new, thick-walled vessels and islets of inflammatory cells. With the exception of the fibrosa, calcifications are present throughout the tissue, as seen in the images below.
Prognosis
The prognosis for aortic valve stenosis (AVS) differs for treated and untreated patients. Furthermore, the prognosis is greatly influenced by the presence of comorbid conditions, the severity of the aortic valve stenosis, and the reversibility of its sequelae.
Treated patients
The average perioperative mortality for isolated aortic valve repair is between 3% and 4%. [16] However, advancements in surgical techniques and improvements in perioperative care have led to the trend of decreasing mortality rates over time. [23] Naturally, age and comorbid conditions such as cardiovascular disease, coronary artery disease, or renal dysfunction and the severity of left ventricular function or contractile reserve also influence the patient's outcome after aortic valve repair. [24]
In patients with indices of normal left ventricular function or cardiac reserve, aortic valve repair improves symptoms and survival. If left ventricular dysfunction results primarily from an afterload mismatch, aortic valve repair often improves left ventricular function by relieving the obstruction to flow. [24] Although patients with left ventricular dysfunction or minimal contractile reserve may have a higher operative risk, long-term recovery is similar and quality of life often improves after aortic valve repair. [24, 25]
Untreated patients
In the untreated patient population, marked variability with respect to disease progression exists. In general, however, after the development of moderate aortic valve stenosis, the average rate of progression is characterized by an increase in jet velocity of 0.3 m/s/y, an increase in mean pressure gradient of 7 mm Hg per year, and a decrease in aortic valve annulus (AVA) of 0.1 cm2/y. [16]
In patients with severe asymptomatic aortic valve stenosis, the risk of death is < 1% per year, [2] and the rate of cardiac death at 5-year follow up is 19%. [17] The rate of progression to symptoms and/or left ventricular systolic dysfunction is 4.3% per year [16] and changes the outlook dramatically. After the development of angina, syncope, or symptoms of heart failure, there is a high risk of sudden death, and the average survival with medical therapy is < 3 years. [26] Without treatment, 75% of individuals die within 3 years of symptom onset. [24] The impact of aortic valve stenosis on the quality of life is difficult to estimate.
What would you like to print?