Specific Organisms and Therapeutic Regimens
General recommendations and organism-specific therapeutic regimens for osteomyelitis (as shown in the radiograph below) are provided. However, treatment of bone infections can quickly become complicated, and significant morbidity and loss of function can result from failure to treat infections appropriately. It is recommended that consultation with an infectious diseases and orthopedic specialist be obtained to assist in management.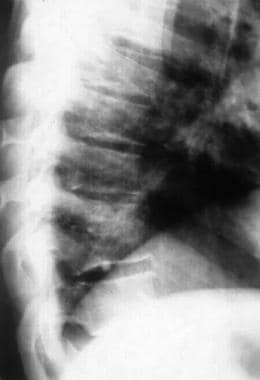 Osteomyelitis of T10.
Principles of treatment
Antibiotic therapy for hematogenous osteomyelitis should be pathogen-directed, based on the results of cultures from bone biopsy and/or blood cultures.
For osteomyelitis from contiguous spread of infection, wound culture is poorly correlated with bone biopsy culture for all organisms except methicillin-resistant Staphylococcus aureus (MRSA); unless MRSA is grown, surgical bone biopsy is recommended to define the correct pathogen.
Orthopedic surgical debridement and drainage is a mainstay of therapy and is necessary to remove sequestrum and prevent chronic osteomyelitis and disease recurrence.
For MRSA, a minimum of 8 weeks of antibiotic therapy is recommended. Parenteral therapy or administration of antibiotics with high oral bioavailability is preferred; however, oral therapy at the end of the course can be used, depending on the severity of the disease.
For MRSA, new data suggest that organisms with a vancomycin minimum inhibitory concentration (MIC) of 2 µg/mL or greater have a greater rate of treatment failure with vancomycin therapy. In this situation, an alternative agent such as daptomycin should be used.
For non-MRSA disease, 4-6 weeks of intravenous (IV) therapy or therapy with drugs with high oral bioavailability is preferred. However, a longer course may be indicated in any type of more complicated disease.
Chronic osteomyelitis with multiple recurrences of disease in the same location with the same organism, usually S aureus, may require extensive debridement followed by a prolonged (up to 8 weeks) IV antibiotic course for cure; however, failing this, lifelong suppression may be needed.
Treatment of osteomyelitis in conjunction with an infected orthopedic device is complicated and often necessitates surgical resection of the device or a very prolonged course of medication if the device is retained (and sometimes lifelong antibiotic suppression if further surgical manipulation can result in significant morbidity and loss of function). Appropriate consultation with an infectious diseases specialist and an orthopedic surgeon, both with experience in dealing with infected prostheses, is highly recommended.
Guidelines from the Infectious Diseases Society of America (IDSA) have provided guidance for management of osteomyelitis with prosthetic joints but not for other kinds of orthopedic hardware infections (though extrapolations can be made from the IDSA guidance). [6]
The IDSA guidelines advocate the removal of all hardware if at all possible, with reimplantation of the prosthetic joint after a 6-week course of targeted antimicrobial therapy. [6] During this period, the patient will require an internal cement spacer, an external fixator, or traction to maintain future limb function and joint integrity. For some individuals, this would result in unacceptable morbidity and loss of limb function. In such cases, the orthopedic surgeon may perform a one-stage explantation of the joint and immediate reimplantation of a joint or may perform a simple surgical washout and debridement of infected tissue without any exchange of hardware.
In cases where hardware is retained involving the knee, a 6-month course of targeted antimicrobial therapy is recommended, whereas in cases involving all other joints, a 3-month course is recommended. Between 2 and 6 weeks of the course should be with IV or IV-equivalent antimicrobial therapy. [6]
In cases involving rifampin-sensitive ​S aureus, the IDSA guidelines advocate adding rifampin at 450 mg PO q12hr if the patient can tolerate the medication and does not have significant liver disease. [6]
Vertebral osteomyelitis infections involving infected neurosurgical or orthopedic hardware often require a 2- to 8-week course of IV therapy followed by 1-2 years of long-term oral suppression in order to allow the vertebral bones to heal enough so that they will be stable enough for another washout or hardware resection if disease recurs.
Owing to the high rates of development of resistance to treatment, rifampin should never be used alone to treat S aureus.
Similarly, owing to the risk of development of resistance when there is a high burden of disease, trimethoprim-sulfamethoxazole should not be used as initial therapy alone for S aureus, even when the isolate is sensitive to trimethoprim-sulfamethoxazole; it should only be used after any necessary debridement of disease occurs and at least a 1- to 2-week course of treatment with another antibiotic.
Aminoglycosides generally have poor bone penetration and should only be used if all other antibiotic options are unavailable; however, they can theoretically be used synergistically to improve the bactericidal activity of beta-lactam antibiotics, vancomycin, and daptomycin in streptococcal and enterococcal infections, though clinical data are lacking.
As with any prolonged course of antibiotic treatment, monitoring for adverse effects is appropriate, and drug level monitoring of vancomycin and, in particular, aminoglycosides is necessary to avoid toxicity and maintain efficacy.
Long-term toxicities should be taken into account before any prolonged antibiotic course. Of particular concern are the following:
Methicillin-sensitive S aureus [1, 2, 3, 4, 5, 6]
Preferred:
Patients with penicillin allergy:
Oral therapy (to be used after an appropriate course of IV therapy only and if sensitivity testing suggests these agents will be effective):
Preferred:
What would you like to print?