Overview
Overview
Granulomatous prostatitis is an inflammatory condition of the prostate that histologically features the presence of granulomas. It is subclassified as infectious granulomas, nonspecific granulomatous prostatitis, postbiopsy granulomas, and systemic granulomatous prostatitis. [1]
Rarer forms of granulomatous prostatitis include xanthogranulomatous prostatitis and sarcoidosis. Xanthogranulomatous prostatitis is histologically similar to granulomatous prostatitis, the main difference being the prominence of foamy histiocytes, which constitute the xanthomatous component. [2]
In mycobacterial prostatitis, granulomas predominate within the peripheral zone of the prostate, although the transition or central zone may also be affected. Small suburethral granulomas are almost always present as well. [1]
Nonspecific granulomatous prostatitis and xanthogranulomatous prostatitis may occur in the transition and peripheral zones, whereas postbiopsy granulomatous prostatitis occurs around the resection site and along the biopsy tract. The granulomas in systemic granulomatous conditions may be centered on blood vessels.
Etiology
Infectious granulomatous prostatitis may be caused by bacteria, fungi, parasites, and viruses. [3] Fungi and Mycobacterium tuberculosis are the usual causes.
Blastomycosis, coccidioidomycosis, and cryptococcosis are the most common forms of mycotic prostatitis. Mycobacterial prostatitis may occur as a result of systemic/genitourinary tuberculosis or, more commonly, as a complication of bacillus Calmette-Guérin (BCG) immunotherapy for superficial bladder carcinoma. [1] The prostate gland is the most common site of tuberculosis in the male genitourinary tract; prostatic tuberculosis results from hematogenous spread from the lungs or direct invasion from the urethra.
Nonspecific granulomatous prostatitis and xanthogranulomatous prostatitis are likely caused by blockage of prostatic ducts and stasis of secretions. The resulting epithelial disruption leads to the escape of cellular debris, bacterial toxins, and prostatic secretions, including corpora amylacea, sperm, and semen, into the stroma. This in turn incites an intense localized inflammatory response. [3]
Postbiopsy granulomas occur as a reaction to cautery and thermal alterations to prostatic epithelium and stroma. [4, 5] Systemic granulomatous prostatitis may result from such causes as allergic granulomatous prostatitis, Churg-Strauss syndrome, Wegener granulomatosis, sarcoidosis, and rheumatoid nodules. [1, 3, 6, 7]
Epidemiology
In general, granulomatous prostatitis accounts for fewer than 1% of benign inflammatory conditions of the prostate. The epidemiologic correlations depend in part on the etiology. Infectious granulomatous prostatitis caused by fungal organisms usually occurs in immunocompromised patients with disseminated mycoses. [1] Nonspecific granulomatous prostatitis accounts for most cases of granulomatous prostatitis (up to 69%) [2] ; in a study of 25,387 benign prostate specimens, the incidence was reported to be 0.5%. [1]
Granulomatous prostatitis occurs over a broad age range, from 18 to 86 years; the mean and median age of patients is 62 years. Patients with postbiopsy granulomas have a history of transurethral resection of the prostate or, less frequently, core biopsy. The epidemiologic correlations of xanthogranulomatous prostatitis are similar to those of nonspecific granulomatous prostatitis.
Clinical Presentation
Patients may have a history of recent urinary tract infection, intravesical administration of bacillus Calmette-Guérin (BCG), tuberculosis infection, immunocompromise, or transurethral resection of the prostate. Patients with systemic granulomatous prostatitis may have a history of asthma, pulmonary hemorrhage, rapidly progressive renal failure, or peripheral blood eosinophilia.
Patients may experience fever, mild hematuria, and urinary frequency, especially patients with infectious and nonspecific granulomatous prostatitis. Postbiopsy resection granulomas are usually asymptomatic.
The prostate may feel hard and nodular on digital rectal examination, and cancer is usually suspected clinically. The serum prostate-specific antigen (PSA) level may be elevated. Hematuria and pyuria may be demonstrated on urine analysis.
Microscopic Findings
Granulomas are localized collections of activated macrophages (epithelioid histiocytes), usually surrounded by a collar of lymphocytes (see the image below). The activated macrophages may fuse to form multinucleated giant cells.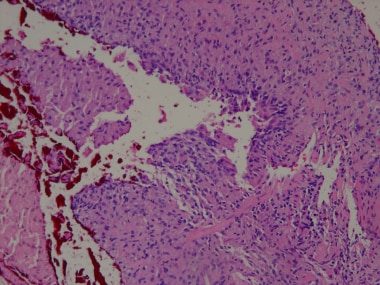 Nonspecific granulomatous prostatitis. Epithelium is disrupted and effaced by epithelioid histiocytes and polymorphs. Aggregate of histiocytes is observed within glandular lumen (left).
The differences and similarities of the different subtypes of granulomatous prostatitis are described in Table 1 (see below).
Table 1. Pathologic Comparison of Main Forms of Granulomatous Prostatitis (Open Table in a new window)
Pathologic Feature
Type of Granulomatous Prostatitis
Infectious
Postbiopsy
Nonspecific
Systemic
Distribution
Scattered
Related to cautery/surgery edge
Lobulocentric
Scattered, can be vessel-centric
Shape
Round, small, or large
Irregular, wedge-shaped, serpiginous, linear, stellate
Outlining disrupted glands/acini
Round, small, or large
Necrosis
Necrosis and caseation
Necrobiotic, infarctlike with ghost outlines
No caseation
Noncaseating necrosis, may be eosinophilic
Inflammatory component
Mixed with many multinucleated giant cells and epithelioid histiocytes
Mixed, with eosinophils in early lesions in immediate vicinity of granuloma [8]
Mixed, with variable eosinophils in vicinity of granuloma
Mixed, with eosinophils diffusely dispersed in prostate parenchyma
Vasculitis
Secondary vasculitis from adjacent inflammation may be present
Ghost outlines of vessels incorporated in necrobiotic zones
Usually absent
Primary vasculitis may be present
In xanthogranulomatous prostatitis, there is a lobulocentric accumulation of mixed inflammatory cells incorporating lymphocytes, plasma cells, and sometimes polymorphs with eosinophils (see the image below). Specifically, there are numerous foamy macrophages or histiocytes admixed with other inflammatory cells. These histiocytes may occur in sheets, giving a pale appearance on low-power microscopy.
Multinucleated giant cells are seen, either scattered individually or forming aggregates, as in granulomas. These inflammatory cells hug the walls of prostatic glands and ducts, the epithelial lining of which may be disrupted.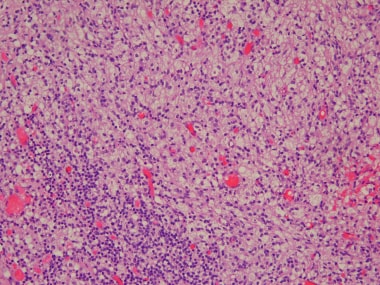 Xanthogranulomatous prostatitis. Sheets of foamy histiocytes are seen with admixed lymphocytes.
Multinucleated giant cells are seen, either scattered individually or forming aggregates, as in granulomas. These inflammatory cells hug the walls of prostatic glands and ducts, the epithelial lining of which may be disrupted.
Immunohistochemistry
Epithelioid cells are not reactive for prostate-specific antigen (PSA), prostate-specific acid phosphatase (PSAP), and pancytokeratin. [9] Histiocytic markers such as CD68 will highlight the epithelioid cells.
In xanthogranulomatous prostatitis, the foamy histiocytes are also negative for PSA, PSAP, and pancytokeratin, but they react with CD68, a histiocyte marker.
Best practice recommendations by the International Society of Urologic Pathology notes the use of immunohistochemistry to differentiate between nonspecific granulomatous prostatitis/xanthoma and high-grade adenocarcinoma of the prostate. [10]
What would you like to print?