Overview
Background
External jugular vein cannulation is an integral part of modern medicine and is practiced in virtually every health care setting. Venous access allows sampling of blood, as well as administration of fluids, medications, parenteral nutrition, chemotherapy, and blood products. [1]
This topic describes placement of an intravenous (IV) catheter into the external jugular vein. A similar technique can be used for placement of IV catheters at different anatomic sites.
Indications
Indications for external jugular vein cannulation include the following:
Repeated blood sampling

IV administration of fluid

IV administration of medications

IV administration of chemotherapeutic agents

IV nutritional support

IV administration of blood or blood products

IV administration of radiologic contrast agents (eg, for computed tomography [CT], magnetic resonance imaging [MRI], or nuclear imaging)
Note that many institutions will not allow administration of a high-pressure IV contrast agent into an external jugular vein.
Contraindications
No absolute contraindications exist for external jugular vein cannulation.
Peripheral venous access in an injured, infected, or burned extremity should be avoided if possible.
Vesicant solutions can cause blistering and tissue necrosis if they leak into the tissue. Irritant solutions (pH < 5, pH >9, or osmolarity >600 mOsm/L, including sclerosing solutions, some chemotherapeutic agents, and vasopressors) also are more safely infused into a central vein. Therefore, these solutions should only be given through a peripheral vein in emergency situations or when central venous access is not readily available.
Technical Considerations
Veins with high internal pressure become engorged and are easier to access. The use of dependent positioning, proximal compression with a finger, "pumping" via muscle contraction and the local application of heat or nitroglycerin ointment can contribute to venous engorgement.
The external jugular vein begins at the level of the mandible and runs obliquely across and superficial to the sternocleidomastoid (see the image below).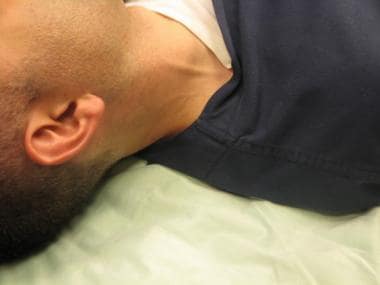 External jugular vein.
Some patients have double external jugular veins. Placing a patient in the Trendelenburg position, slightly tilting the head to the opposite side, and applying light pressure above the clavicle will help engorge the external jugular vein and facilitate its catheterization. [2]
What would you like to print?