Periprocedural Care
Equipment
This topic describes the use of the over-the-needle type of intravenous (IV) catheter, in which the catheter is mounted on the needle (see the first image below). Such devices are available in various gauges (16-24 gauge), lengths (25-45 mm), compositions, and designs (see the second image below).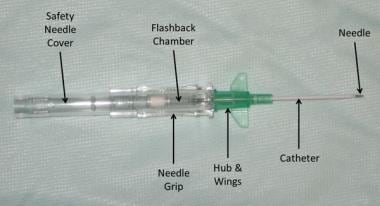 Over-the-needle IV catheter.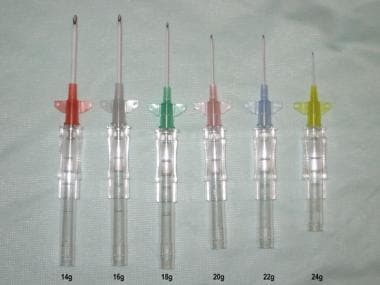 Various sizes of over-the-needle IV catheters.
In general, it is advisable to select the smallest-gauge catheter that can be used for the prescribed therapy so as to prevent damage to the vessel intima and ensure adequate blood flow around the catheter, thus reducing the risk of phlebitis. [6] In an emergency situation or when patients are expected to require large volumes infused over a short period of time, the largest-gauge and shortest catheter that is likely to fit the chosen vein should be used. The catheter chosen should always be slightly smaller than the vein.
Necessary equipment includes the following (see the image below):
Nonsterile gloves

Antiseptic solution (2% chlorhexidine in 70% isopropyl alcohol)

Local anesthetic solution

1-mL syringe with a 30-gauge needle

Gauze, 2 × 2 in. (5 × 5 cm)

Venous access device

Vacuum collection tubes and adapter

Saline or heparin lock

Saline or heparin solution

Transparent dressing

Paper tape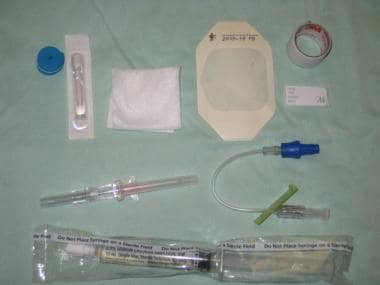 Supplies for insertion of IV catheter.
Patient Preparation
Anesthesia
Both intradermal injection of a topical anesthetic agent just before IV insertion [3] and topical application of a local anesthetic cream [4] about 30 minutes before IV insertion have been shown to significantly reduce the pain associated with IV catheterization. One or the other should be used unless the situation is an emergency. [5]
Positioning
Make sure that there is adequate light and that the room is warm enough to encourage vasodilation. Adjust the height of the bed to make sure that you are comfortable and to prevent unnecessary bending.
Make sure the patient is in a comfortable position. Most of the time, the pillow will have to be removed in order to facilitate visualization of the engorged external jugular vein. Place the patient in the Trendelenburg position, slightly tilting the head to the opposite side (see the image below). Application of light pressure above the clavicle (proximal to the vein entry point) will help engorge the external jugular vein and facilitate its catheterization.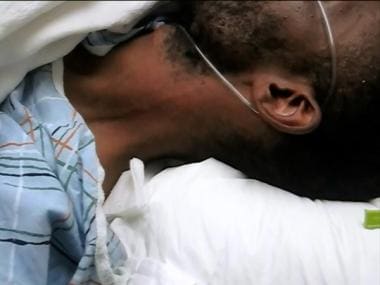 Visualization of external jugular vein.
The patient's skin should be washed with soap and water if it is visibly dirty.
Because infants and young children are unlikely to cooperate, it is recommended that an assistant aid in stabilizing the head and body during the procedure.
What would you like to print?