Workup
Approach Considerations
The workup in a patient with suspected non-Hodgkin lymphoma (NHL) should include the following:
Complete blood cell (CBC) count

Serum chemistry studies, including lactate dehydrogenase (LDH)

Serum beta2-microglobulin level

HIV serology

Chest radiography

Computed tomography (CT) scan of the neck, chest, abdomen, and pelvis

Positron emission tomography (PET) scan

Excisional lymph node biopsy

Bone marrow aspirate and biopsy

Hepatitis B testing in patients in whom rituximab therapy is planned, because reactivation has been reported
Other studies may be indicated, depending on the clinical presentation.
Complete Blood Cell Count
In the early stage of disease, patients with NHL may have blood counts within the reference range. As the disease progresses, a CBC count with differential and platelet count in patients with NHL may show the following:
Anemia secondary to bone marrow infiltration, autoimmune hemolysis (particularly associated with small lymphocytic lymphoma [SLL]/chronic lymphocytic leukemia [CLL]), bleeding, anemia of chronic disease

Thrombocytopenia, leukopenia, or pancytopenia secondary to bone marrow infiltration or autoimmune cytopenias

Lymphocytosis with circulating malignant cells (common in patients with low-grade lymphomas)

Thrombocytosis (paraneoplastic syndrome associated with lymphomas or reactive secondary to blood loss)
Serum Chemistry Studies
Serum chemistry studies may show the following:
Elevated lactate dehydrogenase (LDH): Indicates poor prognosis; correlates with increased tumor burden

Abnormal liver function test (LFT) results: Secondary to hepatic involvement, hypermetabolic tumor growth, chronic inflammation

Hypercalcemia: In patients with acute form of adult T-cell lymphoma-leukemia (ATLL)
Other Laboratory Studies
An elevated beta2-microglobulin level may be seen. Elevated levels correlate with a poor prognosis.
Occasionally, NHL is associated with monoclonal gammopathy. A Coombs test may be positive result (especially in SLL/CLL). Hypogammaglobulinemia may be present.
HIV serology should be obtained, especially in patients with diffuse large cell immunoblastic or small noncleaved histologies. HTLV-1 serology should be obtained in patients with ATLL.
In a February 2013 study, researchers measured serum levels of the chemokine CXCL13 in 179 men diagnosed with HIV-associated non-Hodgkin B-cell lymphoma (AIDS-NHL) and 179 male controls to determine whether levels are elevated before an AIDS-NHL diagnosis. Results showed that CXCL13 levels were elevated for more than 3 years, 1 to 3 years, and 0 to 1 year before diagnosis, suggesting CXCL13 may serve as a biomarker for early AIDS-NHL detection. [16]
Radiography
A chest radiograph yields positive information in approximately one fourth of patients with NHLs. It may identify hilar or mediastinal adenopathy, pleural or pericardial effusions, and parenchymal involvement. The chest radiograph may demonstrate a bulky mediastinal mass, which is associated with primary mediastinal large B-cell lymphoma or lymphoblastic lymphoma. See the images below.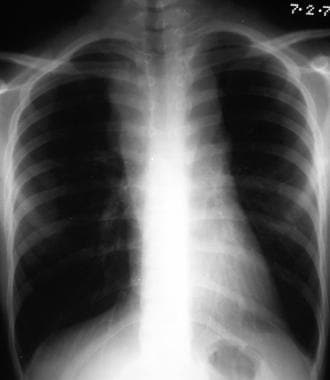 Posteroanterior (PA) chest radiograph in a man with thoracic non-Hodgkin lymphoma (NHL) shows mediastinal widening due to grossly enlarged right paratracheal and left paratracheal nodes.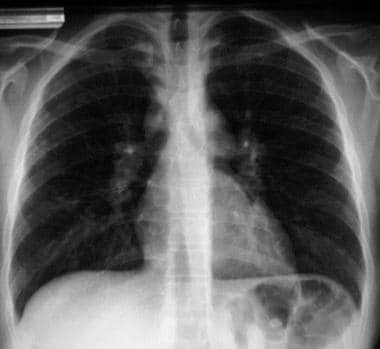 Posteroanterior (PA) chest radiograph in a 16-year-old male adolescent with thoracic non-Hodgkin lymphoma (NHL) shows subtle enlargement of the lower paratracheal lymph nodes.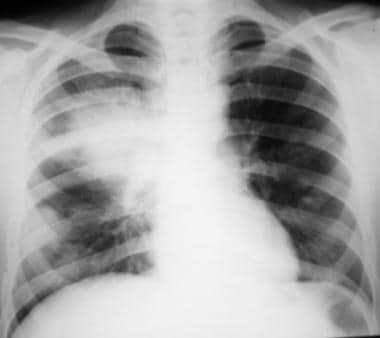 Posteroanterior (PA) chest radiograph shows a large mass in the right parahilar region extending into the right upper and middle zones, with silhouetting of the right pulmonary artery. Smaller mass is seen in the periphery of the right lower zone. The masses did not respond to a trial of antibiotics. Core-needle biopsy of the larger lesion revealed NHL deposits in the lung.
Obtain an upper GI series with small bowel follow-through in patients with head and neck involvement (eg, tonsil, base of tongue, nasopharynx, Waldeyer ring) and those with a GI primary lesion.
CT, Bone Scan, and Gallium Scan
A CT scan of the neck, chest, abdomen, and pelvis is used to detect enlarged lymph nodes, hepatosplenomegaly, or filling defects in the liver and spleen. Currently, it is the most widely used test for initial staging, assessing treatment response, and conducting follow-up care. [17] See the images below.
A bone scan is ordered only in patients with bone pain, elevated alkaline phosphatase, or both. Bone lesions are particularly associated with the acute form of ATLL and diffuse large B-cell lymphomas.
Gallium scans are an option in selected cases of NHL. These scans can detect initial sites of disease, reflect therapy response, and detect early recurrences. This scan is positive in nearly all patients with aggressive and highly aggressive lymphomas and in approximately 50% of patients with indolent lymphomas at diagnosis. See the image below.
Positron Emission Tomography and Ultrasonography
Whole body F-18 2-deoxyglucose (FDG) positron emission tomography (PET) scan can be used for the initial evaluation of patients with NHL; however, this scan is more useful for posttreatment evaluation to differentiate early recurrences or residual disease from fibrosis or necrosis. This PET scan has a higher predictive value for relapse than classic CT scan imaging. [18] A study by Zinzani et al determined that midtreatment scanning using PET allowed physicians to better make crucial decisions on further treatment. [19]
A study by Terezakis found that incorporating FDG-PET into CT-based treatment planning in patients with lymphoma resulted in beneficial changes in management, volume definition, and normal tissue dosimetry for a significant amount of patients. [20]
In a study of 130 patients with diffuse large B-cell lymphoma, Khan et al found PET-CT scanning to be highly accurate in identifying marrow disease. [21] PET-CT scanning identified 33 of 35 patients found to have marrow involvement, compared with 14 cases identified by marrow histology. The investigators found that PET scanning had a sensitivity of 94% and a specificity of 100%, whereas iliac crest biopsy had a sensitivity of 40% and a specificity of 100%. See the image below.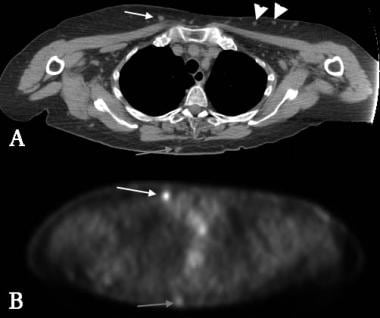 Positron emission tomography (PET) CT in an 80-year-old woman with diffuse, large B-cell NHL of the skin and subcutaneous tissues that recently transformed from previous low-grade non-Hodgkin lymphoma (NHL). PET shows high level of uptake in the anterior subcutaneous nodule in the chest (white arrows). CT scan of similar nodules (arrowheads) on the anterior left chest does not show PET uptake; these may represent regions of lower-grade NHL. PET image of posterior lesions shows only mild uptake (gray arrow).
Obtain an ultrasound image of the opposite testis in male patients with a testicular primary lesion.
Multiple Gated Acquisition Scanning
A multiple gated acquisition (MUGA) scan should be performed to measure the left ventricular ejection fraction (LVEF) of patients who are being considered for treatment with anthracyclines, given the risk of cardiotoxicity with that drug class. In general, anthracyclines should not be administered to patients with an LVEF of less than 50%.
Magnetic Resonance Imaging
Obtain an MRI of the brain and spinal cord of patients who are suspected of having primary CNS lymphoma, lymphomatous meningitis, paraspinal lymphoma, or vertebral body involvement by lymphoma. An MRI scan can also be performed to identify focal areas of marrow involvement in those patients suspected to have bone marrow involvement but in whom random bone marrow biopsy findings have been negative. See the images below.
T1-weighted coronal MRI of the thorax in a 55-year-old woman with lower dorsal pain. Note the signal-intensity changes in the body of D12; these are associated with a right-sided, large, paravertebral soft-tissue mass involving the psoas muscle. Biopsy confirmed non-Hodgkin lymphoma (NHL).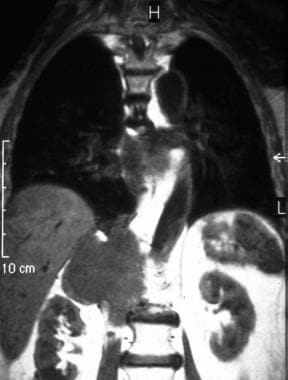 T1-weighted coronal MRI of the thorax in a 55-year-old woman with lower dorsal pain (same patient as in the previous image). Note the signal-intensity changes in the body of D12; these are associated with a right-sided, large, paravertebral soft-tissue mass involving the psoas muscle. Biopsy confirmed non-Hodgkin lymphoma (NHL).
Biopsy
A well-processed hematoxylin and eosin (H&E)–stained section of an excised lymph node is the mainstay of pathologic diagnosis. Excisional lymph node biopsy is required because lymphoma diagnosis relies heavily on careful assessment of altered nodal architecture accompanying lymphomatous infiltrates. Fine-needle aspiration (FNA) is insufficient for establishing a diagnosis; needle-core biopsies have a limited role in establishing a diagnosis of NHL.
Bone marrow aspirate and biopsy
Perform this procedure for staging rather than diagnostic purposes. Bilateral bone marrow aspirate and biopsy should be performed because bone marrow involvement is usually patchy. In bone marrow sections, the neoplastic cells may infiltrate in a focal (ie, paratrabecular or nonparatrabecular, depending on the type of lymphoma), interstitial, or diffuse pattern.
Biopsy of extranodal sites
In approximately 30-35% of adult patients with NHL, the extranodal sites are the primary presenting sites. The most common site is the GI tract.
Processing extranodal biopsy material for lymphoma protocol studies is important whenever suspicion of a hematolymphoid neoplasm exists.
Lumbar Puncture
Lumbar puncture for cerebrospinal fluid (CSF) examination should be performed in patients with the following conditions:
Diffuse aggressive NHL with bone marrow, epidural, testicular, paranasal sinus, or nasopharyngeal involvement, or two or more extranodal sites of disease

High-grade small noncleaved cell lymphomas (eg, Burkitt and non-Burkitt types)

Neurologic signs and symptoms
Histologic Findings
NHLs are a heterogeneous group of lymphoproliferative malignancies, with varying morphologic features depending on the specific subtype. The abnormal lymphocytes in the lymph node, bone marrow, or extranodal sites can be small cleaved or noncleaved, intermediate, or large cell and can have a follicular or diffuse pattern. In contrast with reactive follicular hyperplasia, lymphomas usually alter the lymph node architecture, and the capsule is usually involved.
Immunophenotypic Analysis
Immunophenotypic analysis of lymph node, bone marrow, peripheral blood (if positive for neoplastic cells), or a combination of these complements and confirms the results of routine tissue section and may be useful in resolving a diagnostic dilemma in patients with an atypical morphology.
This analysis provides information about lineage and clonality, which are complementary to the histology of a given case. Analysis is also useful for subclassifying certain lymphoma subtypes, which has therapeutic and prognostic importance.
Immunophenotypic analysis helps to distinguish reactive from neoplastic lymphoid infiltrates, lymphoid from nonlymphoid malignancies, and specific lymphoid neoplasms. Although bcl -2 expression distinguishes follicular lymphoma from reactive follicular hyperplasia, bcl -1 expression strongly favors a diagnosis of mantle cell lymphoma. CD30 expression is important for the recognition of anaplastic large cell lymphoma, and it can also be found in the majority of Hodgkin lymphomas.
Cytogenetic Studies
These studies have contributed to the understanding of the biology and prognosis of lymphoma. Cytogenetic studies are critical to the discovery of oncogene abnormalities that now are known to be intimately involved in the pathogenesis of NHL.
Staging
Staging is important in selecting a treatment and determining prognosis. CT scans of the neck, chest, abdomen, and pelvis, as well as bilateral bone marrow aspirate and biopsy, are necessary to stage the lymphoma. Noncontiguous lymph node involvement, uncommon in Hodgkin disease, is more common among patients with NHL.
The Ann Arbor staging system is the most commonly used staging system for patients with NHL. This system divides NHL into 4 stages, as follows:
Stage I NHL involves a single lymph node region (I) or localized involvement of a single extralymphatic organ or site (IE)

Stage II NHL involves 2 or more lymph node regions on the same side of the diaphragm (II) or localized involvement of a single associated extralymphatic organ in addition to criteria for stage II (IIE)

Stage III involves lymph node regions on both sides of the diaphragm (III) that also may be accompanied by localized involvement of an extralymphatic organ or site (IIIE), spleen (IIIS), or both (IIISE)

Stage IV represents disseminated or multifocal involvement of one or more extralymphatic sites with or without associated lymph node involvement or isolated extralymphatic organ involvement with distant (nonregional) nodal involvement
In addition to the 4 stage designations, subscript letters designate involvement of extralymphatic organs, as follows:
E - Extranodal lymphoid malignancies in tissues that are separate from but near the major lymphatic aggregates
The stages can also be appended by A or B designations. Patients with A disease do not have systemic symptoms. The B designation is applied in patients with any of the following symptoms:
Unexplained loss of more than 10% of body weight in the 6 months before diagnosis

Unexplained fever with temperature above 38°C
Risk stratification scoring systems
In addition to staging, risk stratification is important in patients with NHL. Prospectively validated scoring systems that can be used to determine prognosis include the International Prognostic Index (IPI) for patients with diffuse large B-cell lymphoma and the Follicular Lymphoma International Prognostic Index, (FLIPI) for patients with follicular B-cell lymphomas. The greater the number of risk factors present, the higher the risk.
The IPI for NHL is as follows:
ECOG grade greater than or equal to 2

Two or more extranodal sties

Ann Arbor stage III or IV
The FLIPI score is as follows:
Number of nodal sites of 5 or more

Hemoglobin value less than 12 g/dL
What would you like to print?