DDx
Diagnostic Considerations
Torsion of the cryptorchid testis can be very challenging to diagnose. Many patients present with scrotal pain, but only a fraction of these have torsion. [32, 33] This condition may be mistaken for incarcerated hernia, appendicitis, or other causes of acute abdomen.
Testicular torsion can occur in boys who have undergone prior orchidopexy, though this is very unusual. Hence, testicular torsion should be suspected and considered in the differential diagnoses of acute scrotum in this group. [15, 34]
Torsion of the appendix testis may present similarly to testicular torsion. The age of the patient may be helpful, in that torsion of the appendix testis is more common in prepubertal boys. [6] These boys are less likely to have nausea and vomiting than boys with testicular torsion.
Upon examination, a classic "blue-dot sign" (ie, a tender nodule with blue discoloration on the upper pole of the testis) may be seen; this finding on the upper scrotum is a typical finding in torsion of the appendix testis (see the image below). However, in the acute setting, differentiating testicular torsion from torsion of the appendix is often difficult and sometimes impossible, and scrotal exploration should be performed whenever the diagnosis is uncertain. (See Torsion of the Appendices and Epididymis.)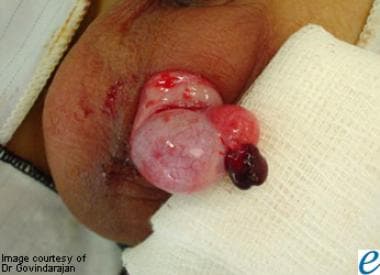 Torsion of appendix testis.
Other problems to consider in the differential diagnosis of testicular torsion include the following:
Hydatid of Morgagni

Idiopathic scrotal edema (dermatitis, insect bite)

Scrotal abscess/cellulitis

Tumor

Obstructed or incarcerated hernia

Furuncle (boil)

Hemangioma

Abdominal trauma with hemiscrotum

Splenogonadal fusion

Adrenal neuroblastoma

Meconium peritonitis

Antenatal Meckel diverticulum perforation

Hernial sac torsion

Pyocele (pus-filled cavity)

Ventriculoperitoneal shunt migration
Differential Diagnoses
What would you like to print?