Treatment
Approach Considerations
Most symptomatic adults with tetralogy of Fallot (TOF) require some type of surgical procedure, of which pulmonary valve replacement is the most common (usually performed under cardiopulmonary bypass).
In general, the majority of adult patients with tetralogy of Fallot are managed with elective surgery. Unlike infants with this condition, emergency surgery is very rare in the adult patient population. Once the diagnosis of pulmonary valve insufficiency is established, the patient is referred to the surgeon. Because the repair surgery is considered a "redo" surgery, albeit many years after the initial procedure, the surgeon will perform an exhaustive workup to ensure that the patient has a complication-free procedure.
In tetralogy of Fallot, the right ventricle (RV) can be dilated and hypertrophied and, hence, it may adhere to the posterior sternum. This is vital information to know before opening the chest with the mechanical saw. Thus, obtain a lateral chest x-ray to confirm this finding. If the RV is adhered to the posterior sternum, the surgeon may opt to have the patient go on bypass via the groin vessels, decompress the heart, and then open the chest with an oscillating saw. Once the chest is opened, the rest of the procedure is like that of any open heart surgery.
Risk factors for surgery in adults with tetralogy of Fallot
Factors that increase the risk for surgery in adult patients with tetralogy of Fallot include the following:
Diminutive pulmonary arteries

Other major associated anomalies, such as tricuspid atresia or an anomalous coronary artery

Multiple previous surgeries

Severe annular hypoplasia

High peak RV–to–left ventricular pressure ratio

Multiple ventricular septal defects (VSDs)

Right-sided heart failure
See also the Guidelines section for the 2018 American Heart Association/American College of Cardiology (AHA/ACC) recommendations for the management of adults with tetralogy of Fallot.
Medical Treatment
There is no effective medical treatment for pulmonary insufficiency. Although afterload-reducing agents and diuretics have been attempted, most patients with tetralogy of Fallot (TOF) with pulmonary insufficiency do not show any benefit and the condition continues to progress. If the pulmonary artery pressures are high, some cardiologists place the patient on sildenafil. But long-term studies are lacking on the benefits of this agent in adult patients with tetralogy of Fallot.
For those adults who develop acute cyanosis, place them in a knee-chest position. In addition, provide oxygen and administer intravenous (IV) morphine. IV propranolol can be used in severe cases, as it is known to relax the infundibular muscle spasm and relieve the right ventricular outflow tract obstruction. [6]
Pulmonary vasodilator drugs
Research is being conducted on drugs that can dilate the pulmonary vasculature and lower the pulmonary insufficiency. Initial studies using nitric oxide suggest that such a strategy may be effiective. Sildenafil has been used to treat such patients, [26] but there are no long-term studies to determine if this agent can prevent progression of the pulmonary insufficiency.
Surgical Treatment
Primary correction in infants is the ideal operation for treatment of tetralogy of Fallot (TOF), and it is usually performed under cardiopulmonary bypass (CPB). The aims of the surgery in this population are to close the ventricular septal defect (VSD), resect the area of infundibular stenosis, and relieve the right ventricular (RV) outflow tract (RVOT) obstruction.
Before cardiopulmonary bypass is initiated, previously placed systemic-to-pulmonary artery shunts are isolated and taken down. Patients then undergo cardiopulmonary bypass. Associated anomalies, such as atrial septal defect (ASD) or patent foramen ovale (PFO), are closed.
Surgery for adults with tetralogy of Fallot
Before any surgery is undertaken, the risks of the procedure must be weighed against the benefits. If the patient is not adequately worked up and the patient has irreversible RV dysfunction, surgery will be futile and nothing short of a transplant will be lifesaving.
Surgery to repair tetralogy of Fallot in adults is usually performed under cardiopulmonary bypass using cardioplegia. Once the heart is arrested, the VSD is closed with a patch, the infundibulum is widened, and the pulmonary valve is repaired. Unlike in infants, transannular patching is rarely performed in adult patients because this procedure often leads to pulmonary insufficiency later in life. Currently, most surgeons replace or repair the pulmonary valve in adults rather than performing a transannular patch.
The ideal treatment for pulmonary valve insufficiency is pulmonary valve replacement, which can help decrease the RV size as well as improve RV function over the long term. In general, however, the incidence of arrhythmias remains unchanged. [27]
Timing of surgery in adults with tetralogy of Fallot
Although it is no longer in question that adult patients with pulmonary valve insufficiency require surgery, there is still some debate over when the surgery should take place. Previously, surgery was usually recommended based on the presence of whether the QRS interval was longer than 180 milliseconds on electrocardiography (ECG). More recently, some surgeons believe that pulmonary valve replacement is only necessary when there is evidence of RV dysfunction. Others state that it should be performed when the patient is symptomatic. Still others opine that earlier surgery based on echocardiographic findings irrespective of symptoms is appropriate.
In addition, conflicting arguments exist about whether to undertake surgery early or late. The general consensus is that waiting for symptoms to develop before undertaking surgery may be too late and the RV may then become irreversibly damaged. Nevertheless, regardless of the existing debate, the pulmonary valve should be replaced before heart failure develops. However, if the patient has no symptoms and has only mild RV dilatation and normal RV function, then no surgery is indicated. [28]
Mechanical versus bioprosthetic replacement valves
Once the decision has been made to perform the surgery, the next step is to select the type of prosthetic valve. Because the right side of the heart and pulmonary artery vessels are a low-flow system, insertion of a mechanical prosthetic valve is associated with a very high risk of thrombosis. Patients will require lifelong anticoagulation, which also exposes them to a risk of bleeding in case of trauma. In addition, women who become pregnant may not be able to receive warfarin because of its teratogenic effects. [29]
Most often, surgeons implant a bioprosthetic valve, of which two types are available: human tissue (homografts) or animal tissue (bovine pericardium or porcine heart valve). Both types of valves can be implanted as solo valves or as part of a conduit in the RVOT.
Although bioprosthetic valves eliminate the need for lifelong anticoagulation, they are not durable in young patients, which is a major concern. Most adults with tetralogy of Fallot are still young (second or third decade of life). In addition, nearly 40-55% of bioprosthetic valves fail within the first decade after implantation, almost guaranteeing that an otherwise healthy 30-40-year-old patient will need to undergo one or more open heart procedure(s) in the future, which also increases the risk of complications.
Automatic implantable cardioverter defibrillator
Some patients continue to have ventricular arrhythmias despite surgical repair; they are at greater risk for sudden death. These patients may benefit from placement of an automatic implantable cardioverter defibrillator (AICD). The procedure can be performed under local anesthesia and is relatively safe. [30]
Radiofrequency ablation
Relatively recently, the use of radiofrequency ablation (RFA) has become another option to treat arrhythmias in adult patients with tetralogy of Fallot. This technique may help to resolve atrial or ventricular arrhythmias. [1, 2, 31]
Postoperative Monitoring and Results
All infants who undergo open-heart procedures are sent to the pediatric intensive care unit (PICU). with close monitoring of hemodynamic parameters. One study of children who underwent complex open heart surgery procedures found short-term outcome may be predicted by the amount of inotropic and pressor support received in the ICU. The greater the support, the worse the outcome. [32] All infants initially remain intubated on a ventilator until cardiac and respiratory statuses stabilize. To maintain systemic peripheral perfusion, adequate cardiac output and atrial pacing may be required. Patients are weighed daily to follow volume status. Those with heart block typically have temporary atrioventricular (AV) pacing; if intrinsic conduction has not returned in 5-6 days, the patient probably needs a permanent pacemaker.
Revision/reoperation
The literature suggests that approximately 5% of individuals with tetralogy of Fallot (TOF) who underwent repair in childhood will need a revision/reoperation at some point. Indications for early reoperation include a residual ventricular septal defect (VSD) or a residual RV outflow tract obstruction (RVOTO).
Residual VSDs are poorly tolerated in patients with tetralogy of Fallot because these individuals cannot tolerate an acutely imposed volume overload. Small, residual VSDs are common after surgical repair and are usually clinically insignificant. In a cross-sectional prospective study that evaluated the effect of volume overload on global and regional RV and left ventricular (LV) deformation, and their relationships with conventional diagnostic parameters, Menting et al reported a reduction in RV free strain and strain rate in adults late after repair of tetralogy of Fallot, with the apical segment particularly affected. [33] LV septal strain also decreased, which the investigators suggested was likely due to mechanical coupling of the ventricles in which RV dysfunction negatively impacted LV function. [33]
A residual VSD with a 2:1 shunt or an RVOTO of greater than 60 mm Hg is an urgent indication for reoperation. Surgery can be performed with low risk and can result in dramatic improvements. Occasionally, pulmonary valve insufficiency may increase and may be associated with RV failure.
Once tetralogy of Fallot has been repaired in infancy or childhood, about 5% of individuals require repair or replacement of the pulmonary valve. Because of better surgical results in the present era, long-term survivors are increasingly reported. In most of these individuals, pulmonary regurgitation is the clinical presentation and can be treated with a prosthetic tissue valve. [34]
Porcine valves are preferred over mechanical valves because they have lesser tendency to thrombose.
Results in adults with tetralogy of Fallot
The few surgical series on adults patients report varying postsurgical results, with mortality ranging from 6% to 10%. After pulmonary valve replacement, some studies have shown a 5-year survival in excess of 90% and 86% at 10 years. However, although the short-term results after pulmonary valve replacement are good to excellent, the long-term outcomes are poor to fair. [35, 36, 37]
In almost all case series, a number of patients have required redo procedures and/or pacemaker insertion, and some individuals have persistently elevated RVOT pressures. Others have even required re-replacement of their porcine valves.
Postoperative follow-up of adults with tetralogy of Fallot has shown that the pulmonary valve replacement also slows down or reverses the progression of some complications associated with pulmonary valve insufficiency, including RV dysfunction and tricuspid regurgitation. However, whether the surgery ameliorates the ventricular arrhythmias remains in debate. Some short-term studies reveal that there is a low incidence of arrhythmias in the postoperative period, but other long-term studies have not shown any difference. In general, arrhythmias continue to persist even after surgery in a number of patients tetralogy of Fallot who've undergone pulmonary valve replacement. [38]
Surgical Complications
Early postoperative complications following repair of tetralogy of Fallot (TOF) include the creation of heart block and residual ventricular septal defects (VSDs). Ventricular arrhythmias are more common and are reportedly the most frequent cause of late postoperative death. Sudden death from ventricular arrhythmias has been reported in 0.5% of individuals within 10 years of repair. The arrhythmias are thought to occur in fewer than 1% of patients having an early operation. As with most heart surgery, the risk of endocarditis is lifelong, but the risk is much less than in a patient with an uncorrected tetralogy of Fallot.
Surgery to manage tetralogy of Fallot has both short and long-term complications. As is the case with most heart surgeries, the risk of endocarditis is lifelong because the patient now has a prosthetic valve.
Short-term postoperative complications include the following:
Persistent elevation in right ventricular (RV) pressures
Long-term postoperative complications include the following:
Pulmonary valve insufficiency

Persistent RV outflow tract obstruction

Atrial and ventricular arrhythmias
Long-Term Monitoring
It was previously believed that surgery for tetralogy of Fallot was curative; it is now acknowledged that even after primary repair, a fair number of individuals who underwent surgery as children will present as adults with symptoms of pulmonary valve insufficiency and arrhythmias. In the past, many of these children with repaired tetralogy of Fallot were lost to follow-up or never followed up because of the erroneous belief that their heart condition was cured.
It is currently recommended that all children with tetralogy of Fallot be followed closely, because many will present with symptoms in their third decade of life. Some pediatric cardiology centers specialize in looking after patients with tetralogy of Fallot; they recommend a baseline magnetic resonance imaging of the heart even in the absence of symptoms. The results can then be used to monitor the patient for any changes every 3-7 years.
The Future
In the present day, some patients with tetralogy of Fallot survive for longer than 15-20 years after their first operation. The major problem encountered by these individuals is the development of pulmonary valvular regurgitation. It appears that a number of these individuals require pulmonary valve replacement. [39] Most individuals receive a pericardial homograft, and only time will tell how long these valves will last. However, the last decade has seen great advances in percutaneous technology and tissue engineering, and perhaps the role of surgery may decline. [40]
Percutaneous valve replacement
With innovations in endovascular technology, the potential for percutaneous pulmonary valve replacement is becoming a reality in the near future. For example, the Melody transcatheter pulmonary valve can be implanted percutaneously (see the image below) via the femoral vein, guided by fluoroscopy; early case reports indicate that the technique is feasible and safe. These few case reports reveal that after valve implantation, there is a moderate reduction in pulmonary valve insufficiency and the ventricular size, as well as marked improvement in exercise tolerance. Thus far, the Melody valve is the only one approved for use through a humanitarian device exemption protocol for patients with a prior pulmonary artery conduit who now have developed pulmonary insufficiency or stenosis. If future studies regarding transcatheter pulmonary valve implantation prove to be durable, this may change how tetralogy of Fallot in adults is managed. [41] ​ [42, 43]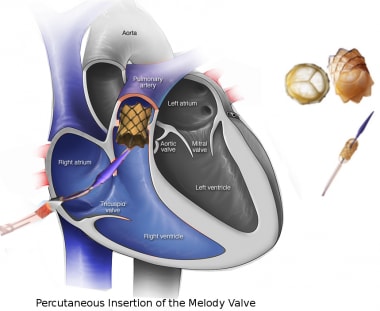 Melody pulmonary valve.
What would you like to print?