Presentation
History
Intravaginal testicular torsion produces a sudden onset of severe unilateral scrotal pain followed by inguinal and/or scrotal swelling. Pain may lessen as the necrosis becomes more complete. Gradual onset of pain is an uncommon presentation. Torsion can occur with sports or physical activity, can be related to trauma in 4-8% of cases, [16] or can develop spontaneously.
Approximately one third of patients also have gastrointestinal upset with nausea and vomiting. In the pediatric population, nausea and vomiting has a positive predictive value of greater than 96%. [19] Duration of pain of less than 6 hours, fever, vomiting, history of trauma or activities, absence of cremasteric reflex, and abnormal testicle direction have all been determined to be significantly associated with a diagnosis of testicular torsion. [20]
Patients rarely report voiding difficulties or painful urination.
In some patients, scrotal trauma or other scrotal disease (including torsion of appendix testis or epididymitis) may precede the occurrence of subsequent testicular torsion. Patients may describe previous episodes of recurrent acute scrotal pain that has resolved spontaneously. [21] This history is highly suggestive of intermittent torsion and detorsion of the testicle.
Patients who complain of what sounds like torsion-detorsion should be referred promptly to a urologist, since patients with symptoms of intermittent torsion who electively have surgical exploration are less likely to develop subsequent torsion and loss of the testicle. [22] Creagh et al reported that acute torsion developed in 10% of patients with intermittent torsion while they waited for surgery. [23]
In neonates, prenatal extravaginal torsion presents as a hard, nontender testis that is fixed to the overlying discolored scrotal skin. It is thought that unilateral absence of the testicle with blind-ending vessels is a manifestation of early in utero torsion as hemosiderin is often found in the distal section of the spermatic cord. [6] However, if acute scrotal swelling and tenderness are present without fixation to the scrotal wall, this may represent a postnatal torsion with some hope of subsequent testicular salvage with surgical management.
Physical Examination
The physical examination is useful, but imperfect, in diagnosing acute testicular torsion. [24] The physical examination, moreover, may be difficult to perform, as the testicle is typically very tender and patients are often in significant discomfort. Patients may also have a reactive hydrocele or massive scrotal edema, making testicular examination event more difficult.
Prenatal torsion manifests as a firm, hard, scrotal mass, which does not transilluminate in an otherwise asymptomatic newborn male. The scrotal skin characteristically fixes to the necrotic gonad.
In an older patient, a physical examination may reveal a swollen, tender, high-riding testis with abnormal transverse lie and loss of the cremasteric reflex (see the image below).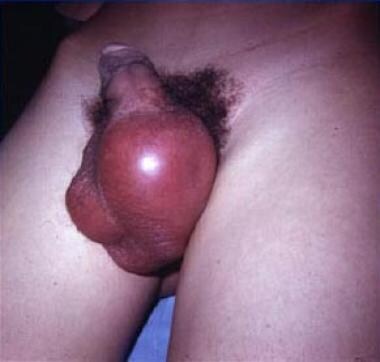 A 17-year-old adolescent boy with a 72-hour history of scrotal pain.
In the pediatric population, there is a higher likelihood for testicular torsion if the testis is high riding compared with the other side. [12] While abnormal lie can help diagnose testicular torsion, fewer than 50% of cases demonstrate true horizontal lie. [24]
The cremasteric reflex is almost always absent or diminished on the affected side in patients with testicular torsion, and its presence may help to distinguish other causes of acute scrotal pain from testicular torsion. Case reports, however, have noted the opposite to be true. [24]
Although a negative Prehn sign (relief of pain with elevation of the testicle) is classically thought to be a predictor of torsion, this is unreliable for diagnosis.
Other symptoms may include the following:
Enlargement and edema of the testicle; edema involving the entire scrotum

Scrotal erythema

Fever (uncommon)
In one study of 523 patients presenting to the ED with acute scrotum, no single clinical finding had 100% sensitivity for the presence of testicular torsion, but all patients with testicular torsion had one or more of the following [12] :
Nausea or vomiting

Pain duration of less than 24 hours

High position of the testis

Abnormal cremasteric reflex
What would you like to print?