Treatment
Approach Considerations
Immediate surgical exploration is indicated for patients with testicular torsion. For reliable salvage of the testicle, surgical repair must occur within 6 hours of symptom onset. [39, 45] If treatment is delayed, the patient may experience decreased fertility or may require orchiectomy. [46]
Surgical detorsion is the definitive treatment for testicular torsion. Manual detorsion of the torsed testis may be attempted but is usually difficult because of acute pain during manipulation. Nonoperative detorsion is not a substitute for surgical exploration, but it may improve rates of surgical salvage, [47] can protect testicular viability in cases of surgical delay, and also provides significant pain relief. Color Doppler ultrasonography can be used to determine the direction of testicular torsion and guide manual detorsion. [48]
If manual detorsion is successful (ie, confirmed by color Doppler sonogram in a patient with complete resolution of symptoms), the patient should undergo definitive surgical fixation of the testes before leaving the hospital, so that the operation can be performed as an urgent—rather than emergent—procedure.
In rat models of testicular torsion, various agents have successfully decreased ischemia-reperfusion injury. Benefit has been shown with nicotinamide, tadalafil and verapamil, and rapamycin and metformin. [11, 49, 50]
Historical perspective
Testicular torsion is treated with orchiopexy, in which the testis is anchored to the scrotal wall. This surgical procedure was initially developed as treatment for cryptorchidism, with the first successful orchiopexy performed in the 1870s by Annandale. Subsequently, the main technical improvements have been in how the testis is anchored to the scrotal wall. Anchoring mechanisms have ranged from using an external cage to fastening the testis to the fascia lata of the thigh or the contralateral testis for lengthening of the spermatic cord.
The current method of attaching the testis to the scrotal pouch was initially described the 1930s. [51] With testicular torsion, the testicles need only be secured in the correct orientation to the scrotal wall, as the spermatic cord does not need to be lengthened. In current practice, a bilateral scrotal orchiopexy is often recommended to treat the torsed testis and prevent torsion of the other testis.
Surgical Detorsion
Treatment of testicular torsion varies according to patient age.
Neonatal torsion is controversial, but is most often treated with elective exploration and contralateral orchiopexy (anchoring) because bilateral (synchronous or asynchronous) neonatal testicular torsion has been described.
The potential for salvage of a neonatally torsed testis is exceptionally small, making the risk of immediate surgery before complete stabilization of the newborn unwarranted. However, some controversy lies in the fact that there is a risk of synchronous or asynchronous testicular torsion in the neonate and therefore possible loss of both testes if surgery is not available immediately. In addition, neonatal anesthesia is becoming safer, especially in the hands of a pediatric anesthesiologist. [52] A newborn with a normal testis at birth who subsequently undergoes torsion, on the other hand, definitely requires immediate exploration.
Similarly, if clinical evaluation reveals testicular torsion in an older patient, transfer the patient to the operating room for urgent scrotal exploration, regardless of the number of hours since the onset of presenting symptoms.
Intraoperative details
Either a midline raphe incision or bilateral transverse scrotal incisions can be made. Enter the ipsilateral scrotal compartment, incise the tunica vaginalis, and then deliver the testicle for examination. The spermatic cord is then untwisted. Evaluate the testis for viability. If viability is in question, place the testicle in warm sponges and reevaluate after several minutes.
If the testis is necrotic, perform an orchiectomy to avoid prolonged, debilitating pain and tenderness. In addition, retention of a necrotic testis may exacerbate the potential for subfertility, presumably because of development of an autoimmune phenomenon.
To prevent subsequent torsion, fix viable gonads to the scrotal wall with 3-4 nonabsorbable sutures. A dartos pouch can be made, into which the testicle is placed. Contralateral orchiopexy is always performed when testicular torsion is confirmed intraoperatively, in order to prevent future torsion of that testicle.
Signs of a viable testis after detorsion (see the image below) include a return of color, return of Doppler flow, and arterial bleeding after incision of the tunica albuginea. However, Lian et al reported that even when the testis was intraoperatively assessed as viable, half of their patients who underwent salvage therapy for testicular torsion developed testicular atrophy. Factors that predicted testicular atrophy were pain duration of longer than a day and heterogeneous echogenicity on sonographic examination. [53]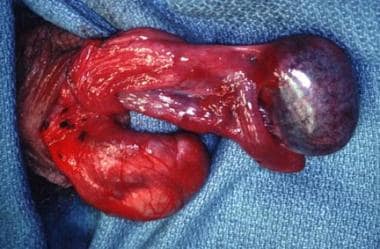 Intraoperative findings in testicular torsion.
Working on the assumption that invasion of the tunica albuginea has a negative impact on spermatogenesis, Kozminski et al employ orchiopexy without use of a fixation suture that pierces the tunica albuginea. These authors report a high rate of favorable outcomes in a study that included 155 procedures performed in 101 patients to remedy testicular torsion. [54]
Testicular prosthesis placement
Patients requiring an orchiectomy because of a nonviable testis may benefit from the placement of a testicular prosthesis.
The placement of a testicular prosthesis is usually delayed for 6 months, until healing is complete and inflammatory changes resolve. However, some early studies show that simultaneous testicular prosthesis placement is safe in postpubertal males who have reached full testicular size. [52]
The prosthetic placement should be performed through an inguinal incision.
What would you like to print?